In the Rearview Mirror: Busing in Charlotte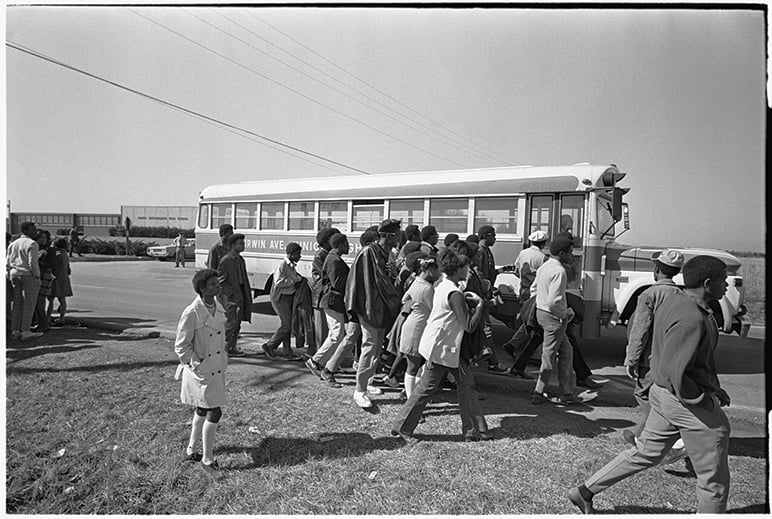 "James has never known the meaning of racial segregation," Darius Swann wrote of his six-year-old son in a September 2, 1964 letter to the Charlotte-Mecklenburg Board of Education. "We have been happy to watch him grow and develop with an unaffected openness to people of all races and backgrounds."
Darius Swann was a Johnson C. Smith-educated black man on the faculty at the university. From 1948 to 1964, he was a Presbyterian educational missionary to China and India, so his son had only experienced integrated schools—and the Swanns wanted to keep it that way.
James was assigned to Biddleville Elementary, an all-black school that was farther from the Swanns' home than Seversville, one of the few integrated schools in the city by the mid-1960s. Swann appealed to the school board, but it refused James's admission to Seversville. In 1964, the Swanns, along with nine other families, sued the school board.
When U.S. District Judge J. Braxton Craven first heard the Swann case in 1965, he ruled that Charlotte's school district was not required to create a desegregation plan. But the NAACP didn't give up. After the Supreme Court required a rural school district in Virginia to desegregate, the Swann plaintiffs reopened their case. In 1969, led by attorney Julius Chambers, the case reached District Court Judge James McMillan. On April 23 of that year, McMillan ruled that the Charlotte-Mecklenburg school board must create a student assignment plan aimed at achieving racial balance. He received death threats and was hanged in effigy. The Concerned Parents Association, an anti-busing group, convened and protested.
On the first day of school in 1970, six Charlotte-Mecklenburg schools didn't open due to bomb threats. Both black and white students were bused. (See below for a first-hand account.) Eventually, the school board appealed McMillan's decision to the Supreme Court, making Charlotte's struggle nationally significant. On April 20, 1971, the Supreme Court ruled in favor of the Swann family, ordering the rearranging of school attendance zones and busing for the purpose of achieving school desegregation. The decision provided lower courts with the power to oversee each desegregation case. By the beginning of the next school year, 40 judges nationwide had ordered integration plans.
Hundreds of kids got into fights. Thousands of white kids changed school systems in what was called "white flight." Like any transition, it took time, but eventually, the busing plan was revised, people adjusted to the change, and Charlotte became known nationally as the city that made integration work. Busing continued for nearly three decades.
Fifteen years ago this month, in September 1999, the Swann decision was overturned. This story examines what happened next. —Virginia Brown