In with the Old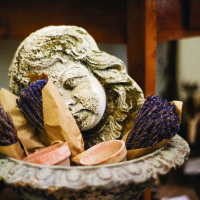 Finding the perfect antique for your home is like hunting for the perfect bottle of wine to go with Thanksgiving dinner. You've spent hours gathering everything you need, preparing the courses, and putting the finishing touches on your table settings. Now you're looking for that extra-special touch to turn lovely into exquisite. You need an antiques sommelier to help you find the finest selections of what your house needs.
We consulted with the area's top designers and design connoisseurs to find out where you need to start your search for antique lighting, furniture, and artwork in Charlotte.
Lighting
Myers Park's Rococo (2850 Selwyn Ave., 704-377-5733), a funky, chic antique shop with a midcentury modern slant, is lit with a collection of artsy chandeliers, any of which could be a fascinating focal point for a modern, eclectic space. While it does have a few nineteenth-century French fixtures, it's the early twentieth-century items that stand out, like the orb of woven driftwood encompassing three lights.
If you need something a little more traditional, Dilworth Antique Lighting (307 W. Tremont Ave., 704-376-5799) carries early twentieth-century chandeliers perfect for mahogany-heavy, formal dining rooms. Italian gold, French empire, and crystal chandeliers hang like stalactites from the ceiling, but you'll also have a hard time missing the walls packed with French iron sconces, great for adding a formal touch to a foyer or bathroom.
The queen of shades in Charlotte, however, is Neal Johnson Ltd. (601 S. Cedar St., 704-377-1099). Johnson's specialty is turning antique objects (think Scottish pottery, Black Forest carvings, and English architectural fragments) into some of the most unique lamps imaginable. A nineteenth-century English tobacco jar or French candlestick (with a silk shade, of course) can be the perfect antidote to a barren side table or commode.
Furniture
Myers Park is the mother ship for this type of furniture, and two Selwyn neighbors are the perfect starting points for your antiquing adventure. Mary Frances Miller Antiques (2900 Selwyn Ave., 704-375-9240) and Sterling Manor (2900 Selwyn Ave., 704-358-3155) both carry collections of elegant eighteenth- and nineteenth-century British and continental European furniture, accessories, and artwork. Miller carries a fantastic selection of furniture, such as a 1790 French walnut bookcase. Sterling Manor offers mahogany dining chair sets from nineteenth-century England as well as elegant dressers and desks.
Up a few more blocks, on Providence Road, is Windsor Hall Antiques (1035 Providence Rd., 704-333-2020), an eighteenth- and nineteenth-century French and English specialty dealer where painted and carved armoires, commodes, dressers, and secretaries can make for a dramatic (but beautifully detailed) furniture addition. You'll find an imposing, turn-of-the-nineteenth-century pine buffet from Normandy, intricately carved, as well as smaller accents like a marble-topped side table.
Of course, you may be looking for a less imposing piece that could blend into a den or bedroom, and Circa Interiors & Antiques' (2321 Crescent Ave., 704-332-1668) large warehouse of European antiques from the eighteenth to twentieth centuries has sofas, arm chairs, and ottomans that have been reupholstered with one of Circa's thousands of custom fabric selections. Mrs. Howard and Max & Company (1001 E. Morehead St., 704-376-8900) also offers elegant and subtle wall fillers, such as a black, hand-painted chinoiserie accent table or an elegant chaise lounge (not to mention inspiring room displays). Co-owner and decorator Phoebe Howard's taste for distinctive, sophisticated antiques of all periods and styles, as well as her knack for assembling a jaw-dropping room, have caught the eye of The New York Times and several national interior design magazines. Howard has laid out her stores like an actual (if magnificent) home, providing accessible design inspiration for both buyers and browsers.
Home Accessories
It's time to stop pretending the carpet in the dining room looks fine on its own. After all, a well-decorated room needs a chic foundation. For a floor touch-up, check out Persian Rugs and Antiques (611 Providence Rd., 704-342-1117). This showroom boasts gorgeous antique rugs including traditional Persians, detailed with warm taupes and brown patterns, and softer, more faded Oushak rugs from nineteenth-century Turkey.
For a kitchen in need of some decorative quirks, Windwood Antiques (2318 Crescent Ave., 704-372-4577), an old-fashioned antique retailer off Providence Road, has an incredible selection of late nineteenth- and early twentieth-century European kitchen accents waiting to happen. Copper pots and pitchers light up just about every corner, and a bright selection of French and English majolica plates and pitchers have great promise as wall hangings.
If you have a cabinet in need of a formal porcelain set, South End's Rooney Robinson (1719 South Blvd., 704-334-2002) carries one of the most extensive selections in the city, with intricate imari and rose medallion plates and pitchers for ogling. Its other English antiques, like a silver umbrella handle, an 1880 tea caddy, and a painted wood muffin stand, make your shopping trip feel like a walk through a history museum (and your home feel like a Jane Austen novel).
Nine years ago LaDonna Harris left a corporate job to open her interior design store, and has since formed plenty of connections with French dealers abroad and honed a sharp eye for antiques with unique forms. The result: LaDonna's Finds & Designs (2216 Hawkins St., 704-375-0082), which boasts regal French, Italian, Scandanavian, and British knickknacks (look for gilded picture frames, French finials, and even pieces of coral), which can dress up bookshelves or mantelpieces. Harris is also not afraid to take a vintage or midcentury piece of furniture from a flea market and give it a shot of elegance with a marble top, or turn a European architectural fragment into a one-of-a-kind lamp.
Artwork
Jenko's (102 Middleton Dr., 704-375-1779), an interior design company with a sunny Myers Park storefront, carries a huge collection of prints—eighteenth-century French architectural drawings, watercolor Audobon limited editions, and antique maps, just to name a few. Even if you don't see anything framed that suits you, ask to flip through Jenko's loose prints—you'll find treasures like an authentic, hand-painted seventeenth-century Emmanuel Sweert botanical. If you'd rather peruse, purchase, and worry about framing later, flip through Interiors Marketplace's (923 Providence Rd., 704-377-6226) stacks of unframed prints and antique maps—it has several bins full of prints in all sizes and styles.
Jenko's neighbor, Icon (102 Middleton Dr., 704-373-1200), specializes in American paintings, and while it's started to accrue contemporary oil paintings, it's Icon's late nineteenth- and mid twentieth-century pieces, bought mainly on the East Coast, that really dazzle. You'll find plenty of New England water scenes, like Carl W. Peters's Sunday at the Dock, a complement for summer homes and sunny sitting rooms.
Thrifty antique art shoppers need look no further than South End Exchange (1616 Camden Rd., 704-353-4600), a high-end consignment shop whose interior is packed (to the ceiling) with art ranging from the elegant to the kitschy, from the 1800s to today. You might need to spend some time wading through piles of loose tea sets and porcelain figurines, but you're likely to find unusual, elegant items such as Japanese wood blocks, vintage masks, and oil paintings at prices that are as wallet friendly as the art is wall friendly.