Inanity for January 11: In Which a Misbehaving Puppy Represents Bank of America's Bad Deal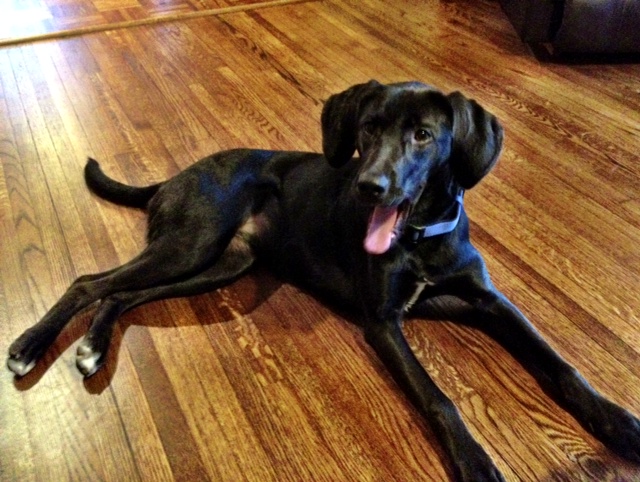 This week, I got a puppy. My wife and I adopted a 9-month-old lab/hound mix from the Charlotte Humane Society. Her name is Lucy, and she won't leave me alone. I knew this was coming. Bringing a pet into the family is a lot of work, and we're already training her to stay, fetch and to stop eating the furniture.


Bringing a pet into the family is like a merger. You suddenly have two different operating systems and philosophies under one roof. We like Downton Abbey, pasta and crossword puzzles. Lucy likes Kong Balls, Science Diet and hole-digging. But when we looked at the other dogs at the Humane Society, and saw how Lucy acted around them, we figured this would be a good acquisition for us. It was. Wife and I and Lucy can co-exist without being exactly alike. We won't be sharing a can of Alpo for dinner, unless times get tough. Nobody poops on the floor.


Five years ago today, Bank of America made a bad adoption. It announced that it would buy Countrywide. This turned out to be a terrible decision, because it happened right as the housing market turned from a bowl of chili to a bowl of chili powder. Today, Bank of America is still dealing with the bad loans Countywide made, as well as all of the legal headaches that came with them.


So what if Wife and I were Bank of America, and Lucy was Countrywide? How would that go? Something like this, probably:


ME: Lucy! Welcome to your new home!

WIFE: She's so good and well behaved. I know the guy at the shelter was really urging us to adopt her, and she seems like a good dog. I know there were older more mature dogs out there, and we probably should have looked through the paperwork more closely, but Lucy is–

(Lucy poops on floor)


ME: Well, I guess you'll have that. She's still a puppy. Lucy? Lucy! Bad dog.

WIFE: I'll clean this up. Wait, this isn't poop. This is motor oil. This isn't coming up. Lucy, why are you pooping motor oil?

ME: You figure it out, I'll take her outside.


(Door opens, Lucy runs out)


ME: Fetch!


(Lucy's leg falls off)


ME: Huh.

ATTORNEY: Excuse me, sir? Do you own this dog?

ME: The hell did you come from?

ATTORNEY: I represent the dog's fleas, sir. They've filed a class action suit against you.

ME: For what?

ATTORNEY: Well, my clients were misled when they infested your dog. Lucy offered them an adjustable blood rate, and when that rate reset on them, it went up and the fleas couldn't afford to stay in their homes anymore, so Lucy foreclosed on them.

ME: I thought she was just scratching.

ATTORNEY: Anyway, we'll just be taking your car in the settlement. And by the way, my clients have been complaining about their diet. They say Lucy kinda tastes like 10W40.
ME: Lucy, have you been drinking motor oil?

LUCY: What's it to you?


(Ken Lewis crawls out from under the deck)


ME: Oh, what are you doing here?

KEN LEWIS: I was just leaving.


And scene.


—


Remember after last season when Panthers Offensive Coordinator Rob Chudzinski was a hot commodity, and we thought he might leave to become a head coach somewhere? Then the Panthers had an underwhelming 2012 season and some people thought Chud might lose his job, and after Ron Rivera kept his position, we thought anyone who remained would be lucky to be employed? And Chud went from a wunderkind to a scapegoat? We were just thinking that yesterday. Remember that moment, then, because the Cleveland Browns just hired him to be their new head coach. Oh Cleveland Browns, of all the Cleveland Browns out there, you're the Cleveland Browniest.


Sweepstakes parlors reopened in Charlotte, and somebody already went out and robbed a pregnant woman at one. 

The Charlotte Observer is looking to interview Beliebers who are probably too old to be Beliebers.
Jonathan Stewart's Anthony Weiner moment, minus the incriminating pictures.
You've got three years to live, neighborhood in Matthews.