Inaugural North Carolina Brewers Celebration this Saturday at BB&T Ballpark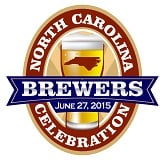 On Saturday, craft brewers, specialty beer bars and hop and grain farmers from across the state will descend upon Charlotte to pour some of the best beers in North Carolina – all for your enjoyment.
It's all part of the inaugural North Carolina Brewers Celebration, which will take place at BB&T Ballpark from 1 p.m. to 5 p.m. The festival is presented by All About Beer magazine, which is partnering with the North Carolina Craft Brewers Guild. More than 50 N.C breweries and brewpubs are participating and more than 150 beers will be featured.
"We've been doing beer festivals and events for 20 years, and have always wanted to do one in Charlotte," says Chris Rice, who is the publisher of All About Beer and producer of the NCBC. "We brought the idea to the N.C. Brewers Guild and wondered whether there was an opportunity to develop an N.C.-only festival. Turns out they had already been thinking of something similar – something that promotes the entire beer community, not just the brewers but also the farmers who have established themselves and are providing ingredients for the beer and also the retailers across the state who are handling and taking care of our beer the right way."
And when discussing the location, both groups were on the same page there as well.
"As Charlotte is a great centerpiece to host this type of statewide event, we believe that the N.C. Brewers Guild and community will be great facilitators, and with that comes a great space in BB&T Ballpark," Rice says. "The hope is to continue to do this for years to come; we want to bring this event back for many years."
Of the numerous breweries scheduled to be in attendance (click here for a complete list of breweries and beers), 10 are from the Charlotte area: Ass Clown, Birdsong, D9, Lake Norman Brewing, Lenny Boy, NoDa, Olde Mecklenburg, Unknown, Triple C and Wooden Robot. There are also noted N.C. breweries such as Foothills, Highland, Natty Greene's and Olde Hickory, along with several new ones – one of the most exciting things about this celebration, according to Rice.
"Of course, the beer speaks for itself, as the brewers are educated more than ever," he adds. "And each has such a unique story; we'll have breweries coming from Southport on the coast all the way to the mountains."
One sure-to-be highlight is the NCBC collaboration beer, a red IPA brewed with Azacca, Bravo, Chinook, Equinox and Pacific Jade hops. This all came as a result of 10 North Carolina breweries getting together to brew this beer in early June. The beer was brewed at NoDa, and the other participating breweries were Boondocks, Check Six, Duck-Rabbit, Four Saints, Mystery Brewing, Natty Greene's, Triple C, White Street and Wise Man. Festivalgoers can sample the collaboration beer at any one of those tents during Saturday's festival, and each participating brewery will also have it in their respective taproom the following week.
"It was great to see everyone come together, because brewing a beer at the end of the day is a very enjoyable thing to do," Rice says. "What's so exciting about this collaboration is that the NC breweries are very proud of what's evolving in the state. And the idea to come together and celebrate with a beer is really unique."
Other highlights at Saturday's North Carolina Brewers Celebration include a small cask ale festival featuring cask-conditioned beers from six state breweries, homebrewing demonstrations and beer seminars, including one on the history of North Carolina brewing by CharlotteBeer.com's Daniel Hartis. Click here to see all the events.
Tickets for the North Carolina Brewers Celebration are $45 and include a tasting glass and unlimited 4-ounce samples. Click here to purchase tickets.