Indaco Targets August Opening in South End
Indigo Road's Steve Palmer gives a preview of his anticipated Italian restaurant coming to Atherton Mill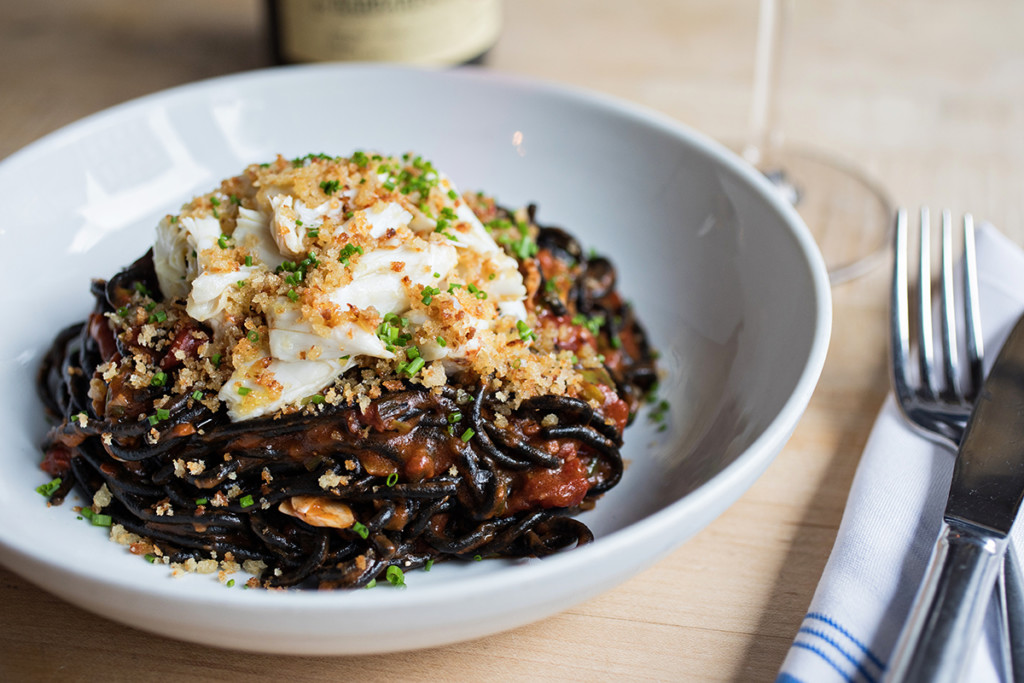 AT 49 YEARS OLD, Steve Palmer recently tasted chicken parm for the first time. That may sound unbelievable for someone who has worked in the restaurant industry for more than three decades, but for Indigo Road's managing partner, it was a reminder that certain dishes are classics for a reason. "I think there's something to be said for doing the classics really well," he says. "That to me is essence of Italian, a sort of less-is-more mentality. It's not 12 ingredients; more often it's four, but it's four done really well."
The menu at Indaco, his hotly anticipated spot coming to Atherton Mill, aims to do just that. "Our meatballs are some of the best you've ever eaten in your life, and our margherita pizza is just really good," he says. As a "rustic Italian" restaurant, Palmer isn't trying to reinvent the cuisine—or box himself in to one region of Italy. "You could line up 12 people and to them, Italian could mean 12 different things," he says. "What we attempt to do is strike a balance between a traditional Italian eater and the foodie who's more progressive."
Known for their wood-fired pizzas and handmade pastas, Palmer says Indaco isn't a special occasion spot; it's a place you could come twice a week. "Pizza and pasta is universal, and the average per person here is about $40. It's somewhere you can have a pizza and grab a glass of wine, or enjoy a three-course family-style dinner. You can have an incredible experience for not a lot of money."
This will be the second location for Indaco, whose flagship restaurant is in Charleston. "We're a little bit of a contradiction," Palmer says. "I adamantly say we're not a chain restaurant. The chef has the freedom to do as he sees fit. With Oak Steakhouse (also part of Indigo Road's portfolio), each location uses the same beef, but otherwise the chefs have full autonomy. So in that way, [Indaco] won't be a replica." He says he hasn't named his executive chef for Indaco Charlotte yet, but he'll put Justin Shoener, who is also director of operations at O-Ku, in charge of his Charlotte restaurants.
When scouting locations for Indaco, Palmer—who also has restaurants in Atlanta, Nashville, and Columbia—zeroed in on Atherton Mill. "South End is super exciting, and O-Ku Charlotte is the busiest of all of our O-Kus," he says. "We usually build our restaurants in old historic buildings, which is both beautiful and challenging all at same time. Atherton Mill has that look and feel we go for, so it seemed like the right place to do it."
For vibe and décor, think modern and airy with lots of glass and butcher block. The 3,100-square foot space will have an open kitchen, and 80 seats inside plus 40 more on the outdoor patio. Guests can also expect a vibrant cocktail program. "We'll have Negroni on tap and 10 to 12 signature cocktails, plus some robust Italian sodas," Palmer says. The Limonada—a favorite of his—is made with rosemary, thyme, and lemon, which you can also spike with vodka or gin for an adult beverage.
Italian for "indigo," Indaco holds a dual meaning for Palmer. "In the 1700s, indigo was a cash crop in Charleston, and it's why it was one of wealthiest colonies," he explains. "I've left Charleston three or four times [for other restaurant ventures], but the road always brought me back to Charleston. The color indigo represents intuition and inner voice, and I very much lead from a place of intuition, and what I feel like the right thing to do."
Look for Indaco to open in Atherton Mill on August 1, 2019.