Independence Day Weekend in Charlotte
Whether it's a rocket's red glare you're after or the bombs bursting in air, here's your go-to list for the 4th of July happenings in Charlotte.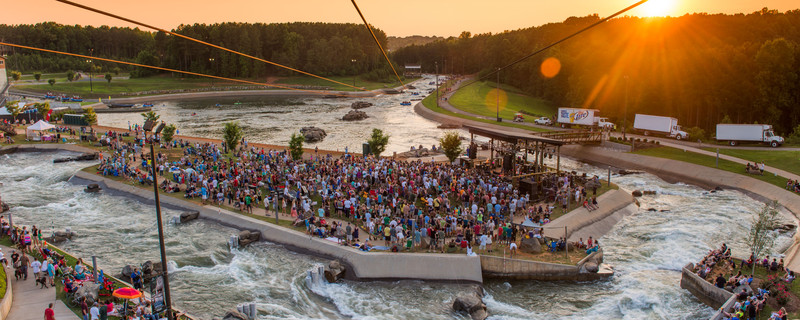 For the 239th time, America, this weekend is all about saying "Sayonara" to the Brits, telling ole' King George to take a hike and, more generally, celebrating jean shorts and chicken wings. Because after 239 years of freedom, that's really what America is all about. Are we right or are we right? Happy Independence Day weekend, Charlotte. See y'all out there!
Thursday, July 2
River Jam
Because a river jamboree is about as American as it gets. This week's jamboree down by the river features the band Barefoot Movement, which essentially sounds like what you'll be doing at the River Jam. The jam is from 7 p.m. until 10 p.m., and it's free aside from a $5 parking fee per car. There's beer and food to buy on site as well. Come celebrate being alive and American, y'all. The U.S. National Whitewater Center is at 5000 Whitewater Center Parkway.
Friday, July 3
Social Hour
Come join Piedmont Wine and Wealth for an evening of networking with business professionals, complimentary appetizers, raffles and silent auctions. Proceeds from the evening go to support the Piedmont Legacy Fund for Higher Education. The evening begins at 5 p.m. at Howl at the Moon, 210 E. Trade St. The event is free with an RSVP.
Pitch Local Cornhole Tournament
This two-month tournament starts tonight and goes through August, so this is quite an investment in your beanbag-throwing life. The tournament will bring a maximum of 32 teams together in a single-elimination style for an epic battle of the Carolinas best cornhole players. The cost is $10 per player with teams of four preferred. Benefits proceed Citizens For Historic Preservation. The competition is at First Friday Fort Mill at Walter Elisha Park, 345 N. White St., in Fort Mill. The evening starts at 6:30 p.m., and you can register to play here.
Flawless All-White Masquerade
Celebrate Independence Day the way Benjamin Franklin would have wanted it: by wearing all white and jumping on a party yacht to drink away the evening! Mojo's Pub and Grill in Cornelius is casting away at 9 p.m. until 1 a.m. for a party cruise to celebrate our nation's birthday. Come in all white and partake in free appetizers a cash bar and watch fireworks over Lake Norman. Step aboard at 19901 Holiday Lane. Tickets start at $40. Buy them here.
Third of July Red, White and Blue Bikini Contest
Step right up, ladies of America. It's your right as an American to wear a patriotic bikini for a chance to be crowned the winner and take home $300. And the best part is the bar will supply your bikini! The night also features $2 beers, $3 shots and $5 Fireball. Doors open at 9 p.m., and there's free admission for those 21 or older before 11 with an RSVP. BAR Charlotte is at 300 N. College St.
Kitchapendence Day
Power 105, Ciroc Boy and "The Prince of New York," DJ SELF bring you "Kitchapendence Day" tonight at Suite. Doors open at 10:30 p.m., and there's free entry for the first hour with an RSVP. Suite is at 210 E. Trade St.
Saturday, July 4
Red, White and Brew Bar Crawl
Get it? Like red, white and blue? But with brew! If there's something more American than a bar crawl, I don't want to know. This crawl will have you sampling beers from all over America at EpiCentre bars, including Blackfinn, Whisky River, Strike City, Rooftop 210, Vida, Vida Vida, Suite and Bubble. Registration begins at Rooftop 210 at 7 p.m., and a T-shirt is included with your $15 ticket. The crawl is at 210 E. Trade St. Buy your ticket here.
Fourth of July Celebration
Bring your blankets, kick off your shoes and get ready to celebrate America tonight at the U.S. National Whitewater Center. Live music starts as early at 4 p.m. and fireworks go off at 9:30 p.m. The event is free except for a $5 per car parking fee. The Independence Day celebration is at 5000 Whitewater Center Parkway.
SkyShow 2015
If you'd rather see the Charlotte skyline illuminated by those rockets' red glare, the bombs bursting in air, this one's for you. This event is billed as the Southeast's largest fireworks display, and the event starts at 5 p.m. with live music, food, drinks, inflatables, kid crafts, carnival rides, games and prizes. Fireworks finish the evening when the sun goes down. The event at BB&T ballpark, 324 S. Mint St., is free, well, because this is America.
Sycamore Brewing Fourth of July Celebration
Sycamore Brewing is doing your Independence Day right with live music beginning at 2 p.m., food trucks and, of course, cold beer. There's no entrance free. Sycamore Brewing is at 2161 Hawkins St.
Let the Freedom Ring
With a great view of the Uptown fireworks without the hassle of Uptown parking, Whiskey Warehouse's second-floor rooftop bar is hosting a patriotic celebration to let the freedom ring. With $30 "Patriot Punch Pitchers" as the special of the day, we just hope you remember it. The bar at 1221 The Plaza opens at 11 a.m.
Sunday, July 5
Sunday Funday Summer Cruise
Take your Independence Day weekend out to sail and end it the right way. Step aboard the party yacht at 1 p.m. for three hours of Independence Day weekend jubilation. Partiers can take a dip in Lake Norman, ride the yacht's water slide or, of course, drink. Transportation leaves from Mojo's at 19901 Holiday Lane in Cornelius up until 1 p.m. Tickets are $20, and you can buy them here.
Verify dates, times, prices, and other info at the web addresses listed for each event.
Be sure to bookmark www.charlottemagazine.com/Blogs/Dusk-Till-Dawn to stay plugged into Charlotte's nightlife and social scene. Click here to sign up to receive the weekly Dusk Till Dawn e-newsletter.
Want your event featured in Dusk Till Dawn? Follow me on Twitter @Jared_misner and let me know about your event, or send me an email at dusktilldawnblog@gmail.com.