Indochino Now Open at SouthPark
The made-to-measure suiting company is already popular with Charlotte men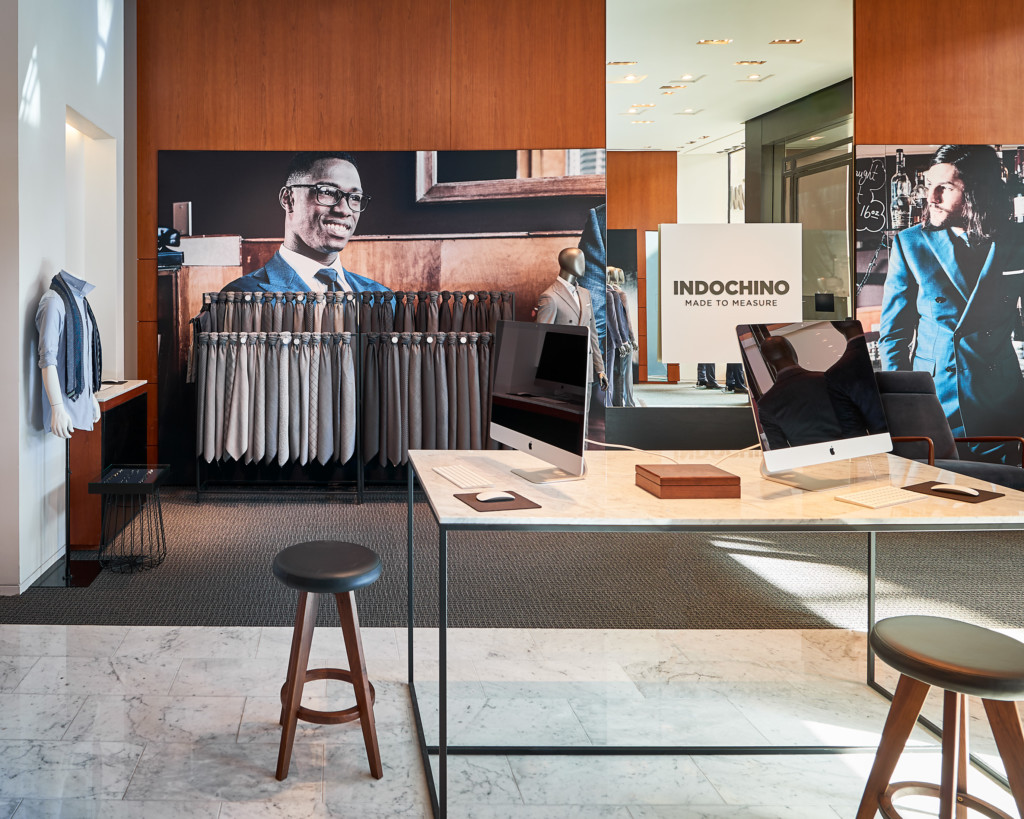 WHEN VANCOUVER-BASED suiting company Indochino launched plans for a rapid expansion, it turned to its own data to suggest where it ought to locate new stores.
Indochino has been selling made-to-measure suits online since 2007. Executives can see where their customers live, and they used that information to make decisions about the expansion—an additional 18 locations this year. Charlotte was in the company's top 10 for online sales. Locating a showroom here "made total sense," says BJ McCahill, Indochino's district manager.
The Charlotte store opened last week in the Neiman Marcus wing at SouthPark Mall. Dozens of fabric samples, arranged by colorway, hang from sleek bars throughout the room. Shirts and ties are on display, too.
Indochino's suits start at $399, are available in about 200 fabrics, and can be customized in roughly 40 different ways. Customers pick major features—the type of lapels, for example—but also small tweaks such as the jacket lining or side tabs in lieu of belt loops on the pants. All of that is available on Indochino's website, but the advantage of the showroom is apparent in the small adjustments staff can make to garments.
Fittings typically last an hour and involve 14 measurements taken with a tape measure, as well as sample jackets, vests, and pants to help guide decisions about fit. "A guy can say he wants slim fit pants, but his version of that and mine could be very different," McCahill says. When I visited the SouthPark store, just prior to its opening, McCahill entered my measurements into an iPad, building a template that can be used anytime I want to order a suit. (There's no doubt he was more precise with a tape measure than any of my friends would have been, too.) When I tried on a pair of trousers, McCahill noticed some "whiskering," or creases, across the front. With a few straight pins, he eliminated them and noted the correction in my profile.
Indochino's price point—lower than other made-to-measure or custom suiting options in town—will likely attract a younger shopper, including men who've never owned anything besides off-the-rack dress clothes. That also makes the line appealing for weddings, which McCahill expects to be the case in millennial-heavy Charlotte. "From March to May," he says, "we're slammed."