Indy 500 Winner Will Power Talks Racing, Community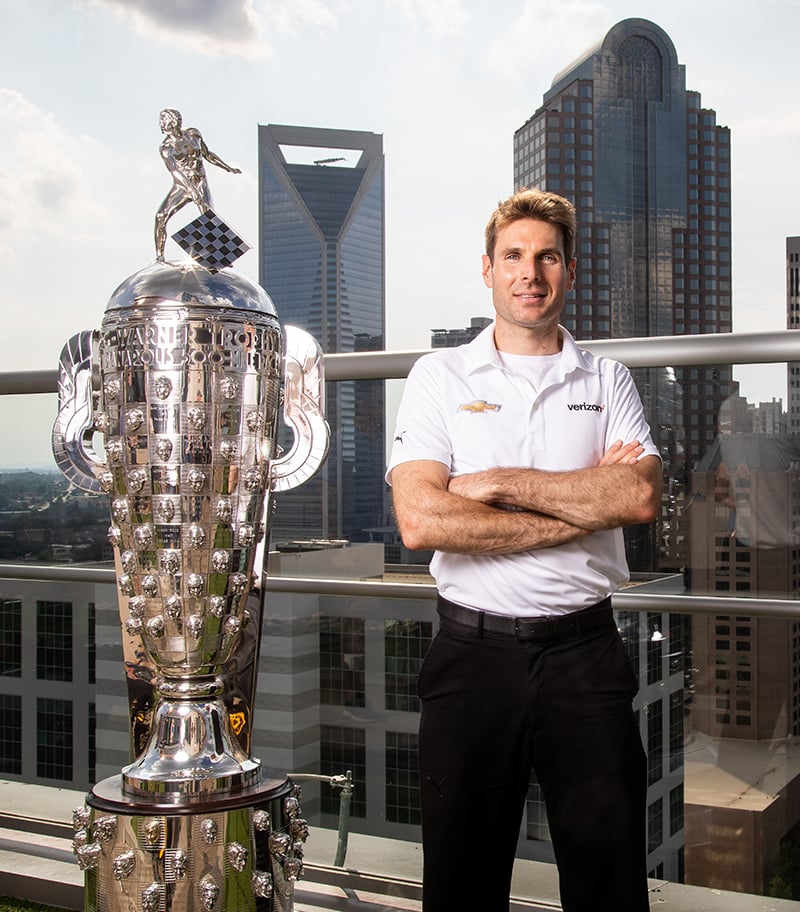 WE LIVE in the very heart of NASCAR country, and it is here that the largest concentration of Daytona 500 winners can be found. NASCAR champions abound, as well.
You might find them living down the street, bump into them coming up the grocery aisle, or see them seated over in the booth by the window at a local restaurant.
They reside along Lake Norman, or around Davidson, Mooresville, and other North Carolina communities just north of uptown.
Tucked in their midst, however, is a racing champion of a slightly different sort—a rare one indeed.
"Honestly, I just wanted to be around the team," says Will Power, winner of the 2018 Indianapolis 500, the biggest and best-known motorsports event in the world.
"I think if you're serious about winning, you'll live where the team is at. The team is based in Mooresville, so that's where I moved."
Power, 37, competes in the IndyCar Series for team owner Roger Penske, and since 2007, all of Penske's racing endeavors have flowed out of the organization's 400,000-square-foot race shop in Mooresville. Power lives 15 minutes from the shop, close enough to stop in for a chat with his crew or team engineers.
Penske teams have earned championships in IndyCar, NASCAR, and sports-car competitions. His IndyCar teams have won the Indianapolis 500 a record 17 times.
His three IndyCar drivers—Power, Simon Pagenaud, and Josef Newgarden—all live in the Charlotte area, and all three have won series titles for the legendary 81-year-old businessman.
Power is the only one to bring the iconic Borg-Warner trophy, valued at $3.5 million and presented (briefly) to the Indianapolis 500 champion, back to the region for an impromptu victory tour this summer.
The trophy resides in the Indianapolis Speedway museum for the better part of each year. The winner receives a smaller replica, known as the "Baby Borg."
Power is a native of Toowoomba, Queensland, Australia, and if you happen upon a certain steakhouse chain up around Lake Norman, you should avoid trying out your Aussie accent.
"I don't actually go out much, but there is an Outback Steakhouse there where a few people try to speak Australian," Power says, laughing. "But I'm like, 'Nah, we don't say that.'"
He moved to the area in 2009, taking an apartment in Cornelius when he began driving in relief of Penske's Helio Castroneves.
By 2010, Power had gotten married, purchased a new house on the lake, and earned a full-time ride at Penske. Four years later, he was an IndyCar champion. Now, he's the winner of motor sports' biggest event of all.
"Anytime you win any race, you're building credit," he says. "But the 500—that's a big chunk of credit, I would say, as far as job security. It's the race that Roger focuses on more than anything else. He went there the first time when he was 14 years old, and it's just a place that he absolutely loves.
"When you win it, it's almost like it's his first one every time. He absolutely loves Indianapolis and loves winning there. A real feather in my cap to win that for Roger, I have to say."
For Penske, seeing one of his drivers win the 500 never gets old. His team won its first in 1972 with driver Mark Donohue. It was Penske's fourth attempt as an owner.
"I guess it's the history—that's the most iconic race," Penske says. "You talk to Jeff Gordon, you talk to Tony Stewart … talk to the guys that run there, there's just something about that place."
Gordon and Stewart grew up racing open-wheel, and Indy was the pinnacle, but only Stewart eventually made it to the 500. Gordon transitioned to stock-cars from sprints; Stewart gave the IndyCar league a fling before moving to NASCAR full-time. In NASCAR, the drivers won a combined seven championships and 142 races.
"You don't go to many other stadiums where you get 300,000 people," Penske says. "You can talk about Le Mans and you can talk about the Formula One race in Monte Carlo, but at the end of the day, that Indy 500 with a full set of stands and the history. … I think it's the biggest race in the world."
As for Power and his choice of residence, Penske says it's not required that his drivers live in the area, noting that Castroneves and Juan Pablo Montoya lived in Florida when they competed for the organization. But it's a bonus when his drivers do.
"I think it's part of our DNA," the team owner says. "We want the guys as close to their teams as we can. I think it shows a connection on a daily basis, from our public relations work we do, from our sponsor activity. … I think it's been quite positive and I think it's helped us a lot."
Power's Indy 500 victory didn't go unnoticed by friends and neighbors, who lined his driveway with congratulatory signs.
One that read "Will Power Indy Winner" was positioned at the entrance to the neighborhood.
"I actually Instagram-ed it," he said of the signage leading up to his house. "It was very cool."
It might seem unusual to some, but Power says it doesn't feel strange to be an open-wheel driver living in the middle of stock-car country. With Penske fielding three NASCAR teams, as well as the open-wheel effort, Power is able to keep up with his NASCAR brethren—teammates Brad Keselowski, Joey Logano, and Ryan Blaney.
"I know a few of those guys, cycle with them every now and then," he says of the NASCAR set. "They do the same sort of preparation we do, fitness-wise.
"I'm a big NASCAR fan; I watch the races. And it's a motor sport town, which I like."
A town he likes well enough that it may remain his residence once his driving career has come to an end.
"It takes a long time to build friends and get to know people, get that community feel," Power says. "To get up and leave, which I've done a lot in my life, would be starting anew.
"I would probably stay here."
An Indy 500 winner residing in the center of the NASCAR universe. Who could have ever imagined that?
Kenny Bruce is a freelance journalist who has covered auto racing for more than 35 years. Find more of his work at kennybruce.net, as well as patreon.com/kennybruce. Follow him on Twitter @kennybruce.
---
BY THE NUMBERS
In this region, NASCAR is king. What started as a way for Appalachian bootleggers to evade police has evolved into a full stock-car racing sport.
70: Years since NASCAR's inaugural year
1,184: Races run in Richard Petty's racing career. He won 200 of them, making him the most statistically successful driver in NASCAR's history
12: Seconds it takes to refuel and replace tires during the average pit stop
109: Laps in Charlotte Motor Speedway's Bank of America ROVAL 400, taking place Sept. 30