Inizio Opening July 11 in Dilworth
Expect some of the city's best pizza at the Neapolitan-style restaurant's second location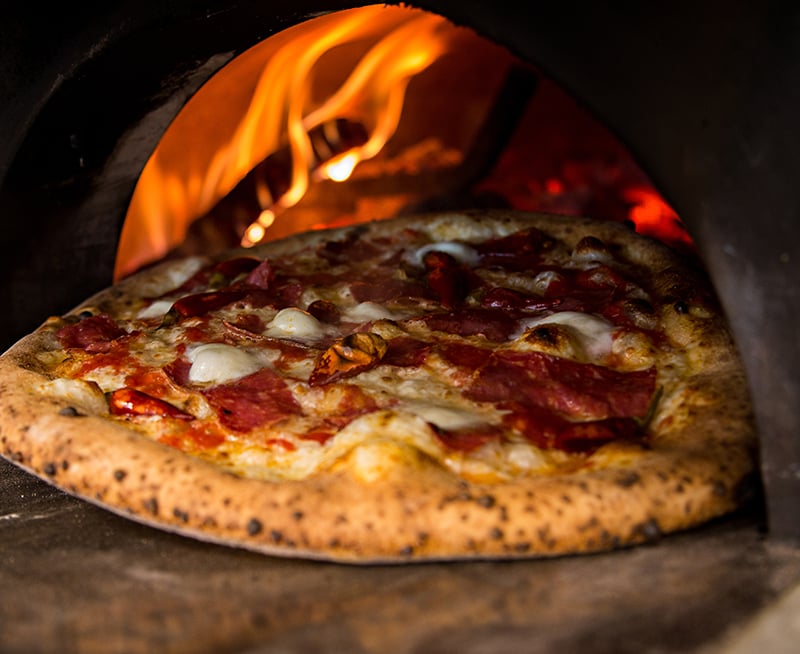 Inizio Pizza Napoletana, restaurateur Grant Arons' Naples-style pizza concept, will open its much-anticipated second location in Dilworth next Tuesday, July 11. The original Inizio, off Providence Road in south Charlotte, became an instant hit with families who now pack the dining room for pizza, salads, and gelato.
The new 3,000-square-foot space anchors a brick, mill-style building in the Dilworth Crossing shopping center on Park Road. Inizio is the first tenant; Yoga One, Green Brothers Juice Co., and Not Just Coffee will open outposts there later this year.
As we noted when Inizio's first location opened—and when we named it one of Charlotte's 25 Best New Restaurants back in January—don't show up expecting an American-style pie.
The pizzas are softer, the dough more pliable than what many diners are used to ordering. But the quality of ingredients, including many that are imported from Italy, is most memorable. Sauces are brighter, cheeses fresher, olive oil fruitier. Inizio's 12-inch and 16-inch pizzas cook in wood-fired ovens, also brought from Italy, that heat to nearly 1,000 degrees and finish pies in 90 seconds.
To celebrate the new location, Inizio will add two new pizzas to the menu—the restaurant is keeping them under wraps until next week. It will seat 100, and like at the original location, diners will gather around dark wood communal tables, folding slices of pizza plucked from metal sheet trays. The Dilworth Inizio, though, will have a small patio, as well as a few two- and four-seat tables ideal for a casual date or family pizza night. Just remember to save room for a house-made cannoli.
Open 11 a.m.-9:30 p.m. Sunday-Thursday, 11 a.m.-10:30 p.m. Friday and Saturday. Pizzas $10-23, 2230 Park Road, iniziopizza.com
ADAM RHEW is associate editor of this magazine. Reach him via email at adam.rhew@charlottemagazine.com or on Twitter: @AdamRhew.