Inside a Designer's Street Chic Home
Local interior designer Monika Nessbach wanted a place to call her own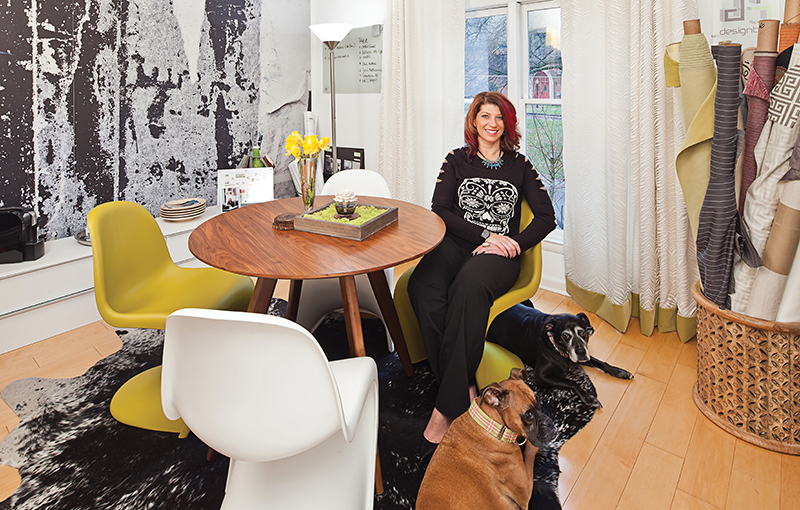 MONIKA NESSBACH, an energetic and engaging transplant from Germany, came to Charlotte 16 years ago and liked it enough to stay.
"I just haven't left yet," she laughs.
Nessbach is the owner of local interior design firm Designbar, which specializes in commercial spaces. With a masters degree in business administration, she came from the corporate world, leaving her marketing role at Continental Tire to work full-time at Designbar. "Designing was always something I loved," she says, recalling how she constantly rearranged her room as a child.
An outsider observing Nessbach's out-of-the-box designs would be surprised to hear that her career began as a side passion (she began by taking drawing classes at Central Piedmont Community College in 2007).
"Sometimes it's this idea-in-the-shower type deal," she confesses about her creative process. Every time, it's all about making an identity come to life: "I like to a tell a story with my designs."
The same goes for her own home.
The Dilworth condo, doubling as Designbar's headquarters, embodies her affinity for eclectic elements and modernism's clean appeal. Upon entering the townhome, your eyes shoot up to admire the 20-foot ceilings—the exact reaction Nessbach intended when she installed vertical cables reaching from floor to ceiling. "Why not go dramatic, right?" she says. "I like to make dramatic statements."
Ascending the stairs, you enter Designbar, where the company's name is artfully written in graffiti on a rectangular slate, a three-dimensional display of lime green, orange, and purple.
Lime green is one of Nessbach's favorite colors.
"I'm not afraid of color," she says, and if the red highlights in her black hair (she changes her hair color frequently) weren't proof, simply take a peek into the conference room, where licks of lime green are found in Verner Panton chairs and on zebra-print curtains. "I wanted it to reflect me," she says.
The conference room is decorated with urban-inspired, black-and-white, photo-realistic wallpaper depicting a mural. Mirroring the mural is white brick wallpaper to skirt around the fact that Nessbach couldn't install real brick for the exposed look.
Then there's the meditation room, where a lava glow emerges from the doorway. The red curtains, matching futon, Buddha figurine, and "Keep Calm and Carry On" pillow make up the ideal relaxation room.
The bathroom across from the meditation room continues the street-meets-modern trend: Industrial-looking metal plates detail the light switches and a funky fixture juts from the ceiling. Nessbach put natural stones in the shower for a more welcoming feel.
It's important that her home—no matter how modern—remains cozy.
"I wanted it to be contemporary, but I wanted it to be homey," she says. "A lot of people think of cold, sterile [when it comes to contemporary design]. Modern can be very inviting, warm."
The designer demonstrates this dichotomy with the living room and bedroom downstairs. In the living room is cold chrome: an oversized vase and broken egg coffee-table bowl from Phillips Collection (a vendor Nessbach uses often). A huge floor lamp and other large accents characterize the space, but she balances the shine with furry pillows and a cowhide rug. Greenery also warms the space.
The bedroom's balancing act is similar—crushed velvet throw pillows and dreamy white curtains create a soft, sleep-friendly atmosphere. The opaque closet doors and silver finishes juxtapose the luxe with just enough hardness. Sequined pillows and handmade wallpaper supplement the sparkle for a glamorous touch.
The bedroom closet was originally a walk-in, but Nessbach wanted a walk-in shower instead. And in lieu of traditional faucets, the water falls from Kohler rainfall-like faucets in the ceiling for both the shower and the tub. The floors are outfitted with heaters for the ultimate retreat.
Walking into the kitchen, a tangerine accent wall is visible, thanks to her renovations. Nessbach took out the coat closet to accommodate a bar and removed the kitchen door to open it up to the dining area for entertaining purposes. She also put in a gas stove and hood. "The only thing left over is the sink," she says.
Grinning like a child with something to hide, she inches towards a door near the bottom of the stairs. "Everyone should have a crazy room, right? Well, here is mine."
She opens the door to reveal a small lavatory with bold red walls with stark drywall on top. She grins wider: "This is my club bathroom."
The name "club bathroom" came from guests who noticed music bumping in the room during a get-together. The sink sits on a Shell Oil barrel, something Nessbach "just picked up along the way," and has had since living in Germany. She had it shipped to the United States specifically for the bathroom.
"Home is where you hang your [hat]," Nessbach says, proudly looking around her home. "This is my first place, and I wanted to make it mine."
So she did.