Inside A Medical Mission from Charlotte to Cuba
This spring, dozens of volunteers went to Cuba to perform pro bono joint replacements. Their rare collaboration helped 44 hopeful Cubans take their first steps on new legs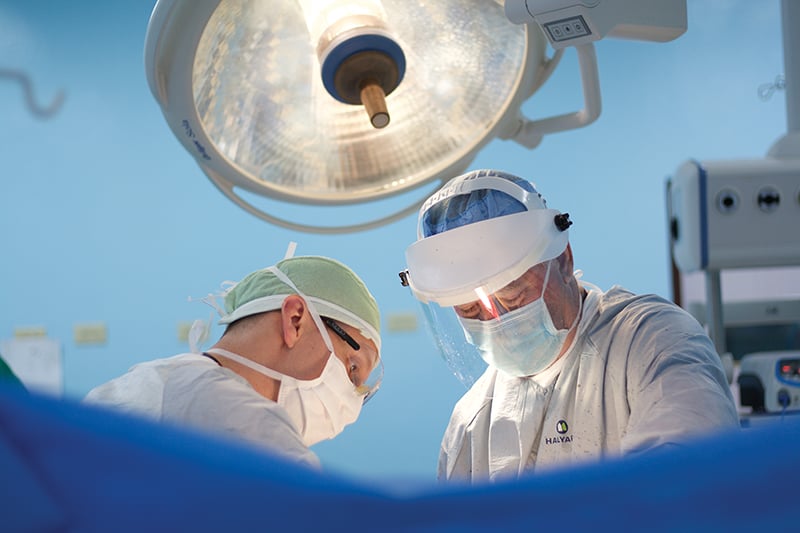 La Sala de Espera
THEY SHUFFLE AND LIMP into the beige waiting room. Heavy, sand-colored curtains shade them from the morning sun. They shift their weight and plop down with a grimace. They rest their metal canes against the wooden armchairs. Most are old and wrinkled, but they are healthy, aside from high blood pressure and bad joints.
Shopping bags and suitcases are piled next to their feet. Tan light streaks into the room, as if the tropical technicolor world outside stopped at the hospital doors.
They have traveled from across Cuba to this squat, pink concrete military hospital in Havana, hoping to have arthritic hips and knees replaced. Many know this is the best chance—no, the only chance for the next year—they'll have to find relief from the pain that comes with each labored step.
So they sit and wait and hope in the brown light of this sala de espera.
Lazaro, a 71-year-old retired insurance salesman from Havana, is early. He wanted to find a chair in the front row. He has severe arthritis in his right knee, and when your leg hurts as badly as his does, you want to cover the shortest distance possible. He's wearing a faded blue T-shirt with well-worn jeans. He has a gap between his front teeth. Lazaro's hands are big and soft, and he folds them on top of his belly.
When the Cuban nurse raises her voice to call another prospective patient back to meet the doctors from los Estados Unidos, the people yell for silence. Through a set of double doors, down the dimly lit hallway of terrazzo floors, five Charlotte surgeons wait to see their first prospective patients.
It's a Thursday in May, and the Operation Walk Carolinas team has been here for less than a day. They pulled together $150,000 in cash and donated medical equipment, packed four tons of supplies, and used their vacation time to come here for a week to provide pro bono hip and knee replacements. The 41 surgeons, physicians, nurses, anesthesiologists, physical therapists, and volunteers work for Charlotte's biggest health care providers—notably Carolinas HealthCare System and Novant Health, bitter rivals that compete for patients. It's rare for their staffs to see each other, much less work side by side in an exam room evaluating the same patient.
Cuba is home to more than 11 million people, most of whom earn the equivalent of $20 a month. Havana was once the jewel of the Caribbean—in the first half of the 20th century, Americans came here in droves and flooded the city with cash to indulge in Cuban rum, gambling, and prostitutes—although it has been crumbling for decades. The Communist nation's free health care system emphasizes primary and preventative care, and the government ensures at least one working doctor lives on every block. But specialized procedures, such as joint replacements, are uncommon.
The decades-long United States trade embargo of the country (Cubans call it a blockade), the collapse of the Soviet Union, and Cuba's prolific poverty have made anything beyond the most basic medical equipment and techniques all but unattainable. The process Cuban nurses use to determine a patient's blood type, for example, involves glass specimen slides and droppers of different solutions—a method American hospitals haven't had to use in half a century.
The Cuban hospital staff prescreened dozens of people for surgery, far more than the OpWalk team can treat during this visit. While the potential patients wait in the beige room, they wonder what the doctors will ask. They fidget.
Sala de espera means waiting room, but its etymology is related to esperanza, the Spanish word for hope.
***
Cliníca
LAZARO HOBBLES into the first exam room, where a black and gold poster for Cohiba cigars is pinned to the mint green walls. It's tough to imagine a tobacco advertisement with a tagline "Vive el Instante"—live in the moment—on the wall of a hospital back home.
Despite the pain in his leg, Lazaro is warm and optimistic. He eases into a plastic chair and begins to answer questions from Gena Walker, a Carolinas HealthCare System hospitalist. An interpreter helps with the conversation. Walker, who is petite with an acerbic sense of humor, asks him about his medical history and makes notes on a paper chart. He sits on the edge of the chair and barely bends his right knee.
Earlier in the morning, OrthoCarolina surgeons Bryan Springer and Walt Beaver noticed the cigar poster and paused to take selfies with it. Forty-three-year-old Springer is tall and handsome, with jet-black hair that's showing hints of gray around the temples. He wakes up at 5 a.m. nearly every day to run with his wife before work.
Beaver, 64, is the kind of guy who grabs the top of your shoulder to say hello. When UNC men's basketball coach Roy Williams needed a knee replacement last year, he called Beaver.
Springer and Beaver are two of the team leaders. They spent two years planning for this mission trip—arranging visas with the Cuban government, gathering the necessary medical equipment, and recruiting volunteers—so actually standing in this hospital, preparing to meet Cubans, brings a mix of excitement and nervousness.
Today, because of the casual clinic setting, all of the doctors are wearing white lab coats over shorts and T-shirts instead of their typical scrubs. This, as Beaver points out, is peculiar. "I look like the neighborhood flasher," he jokes, pulling his coat open with both arms, to laughter that breaks the tension in the room.
Other medical personnel, including a few Cuban doctors, join them to screen the people from the waiting room and find the best candidates for surgery—people whose joints are in bad shape, but who are healthy enough to withstand the operation. There are similar groups in three additional rooms, augmented by a dozen or so people from Operation Walk's national chapter in Los Angeles. Upstairs, some volunteers unpack supplies on the post-operative and surgical floors.
At one point, 11 people crowd around Lazaro—Springer, Beaver, Walker, an anesthesiologist, two physician assistants, two nurses, two Cuban doctors, and me—having multiple conversations all at once in both English and Spanish. It is dizzying. Lazaro's thick glasses rise and fall with his facial expressions as he tries to follow it all.
Walker runs through a long list of questions: How far can you walk without stopping? Do you have any history of blood clots? Do you drink alcohol?
Lazaro answers carefully, seemingly worried that a wrong answer could disqualify him from surgery: A couple of city blocks. No. Sometimes, but only on Sundays.
The team moves Lazaro to a padded table, and the surgeons examine his leg. Springer delicately bends Lazaro's knee, and the old man winces. He squeezes his eyes shut. The surgeons hold X-rays, which the Cuban hospital took a few weeks earlier, up to the fluorescent lights to look at the deformed joint. Springer makes a few notes in Lazaro's chart. After a few minutes, they send him back to the beige room to wait.
***
OPERATION WALK IS a small nonprofit started 20 years ago by a Los Angeles surgeon, Lawrence Dorr, who brought a delegation of health care workers to Cuba. That pioneering mission led to some of the first joint replacements ever performed on the island. Since then, the organization has grown to 16 teams that have performed more than 10,000 surgeries in developing countries around the world.
Springer, Beaver, and a few colleagues joined the Denver chapter's trip to Panama in October 2014; the next April, they took about 18 people from Charlotte to the country. By then, Springer knew he wanted to start a team of his own, and the group turned its attention to Cuba.
The United States began to normalize relations with Cuba in late 2014 under President Obama. Washington and Havana agreed to loosen restrictions on trade activities, reopen embassies, and resume commercial airline flights between the countries. (American Airlines now flies once daily between Charlotte and Havana, though U.S. citizens must fall into one of a dozen categories to obtain a visa.) Critics of Obama's actions say they reward an authoritarian regime that imprisons political opponents, censors the press, and commits human rights violations. President Trump has said he wants to renegotiate the deal with Cuba, though he hadn't acted on that pledge before the OpWalk Carolinas team packed its bags.
The political considerations made a mission of this scale challenging to plan. Beaver, who is friends with Rick Hendrick, arranged for the NASCAR team owner's private plane to make multiple trips to get the team and its supplies to Cuba, saving almost $100,000 in airfare costs. Medical device company Stryker donated all the replacement joints—roughly $2.5 million worth of parts.
"We will try not to use so much as a Band-Aid from their hospital," Springer told me before we left. Because of the trade restrictions, everything had to be sorted, counted, and meticulously packed: 15 22-gauge spinal needles, 50 Foley catheter kits, 71 saw blades, 129 scalpels, 416 syringes, 550 surgical masks, 4,500 gloves, the list went on and on. (The team planned to donate all of their unused supplies to the hospital in Cuba.) Logistical challenges abounded. The liquid solution used to make the cement that binds artificial joints to bone is flammable, as is the alcohol-based product used to prep skin for incisions. Pilots won't fly with liquids that can explode, for obvious reasons, so Springer had to find another way to get the 75 pounds of solutions into Cuba. "FedExing hazardous materials to Cuba—from anywhere, but especially the United States—isn't exactly easy," he said with a laugh.
Even when we arrive, equipment problems arise. Half of the metal walkers the OpWalk team brought from Charlotte disappeared between the airport and the hospital. The cargo crew refused to let anyone inspect and count the boxes to ensure they matched the packing manifest.
***
FEW OF THE CHARLOTTE VOLUNTEERS speak more than a couple words of Spanish. They fumble to explain themselves when a translator isn't around—but they try, just as the Cubans try to describe things in bits of English, which few people outside of those who interact with tourists speak.
One exam room full of people bursts into riotous laughter when Walker confuses the word for blood, sangre, with sangria, the red wine drink, and asks a patient if he's had any sangria in his stools this week. (He hadn't, but Walker's embarrassment makes an uncomfortable question less intimidating, and the man lets loose a deep belly laugh.)
Some interactions, though, don't require much knowledge of Spanish.
A wheelchair-bound man has come from the countryside because his knee pain is unbearable when he stands. His son drove him to the hospital and they waited together. When they roll into an exam room, their desperation is obvious.
The old man's examination raises concerns—he needs to see a cardiologist to ensure his high blood pressure and irregular heartbeat won't kill him on the operating table. A translator tells him this, that he won't be selected this time, and the man begins to cry.
"I prefer to die," he says in broken English, "than live with this pain."
***
Conferencia
IN A CRAMPED CONFERENCE ROOM with wood paneling and two crooked portraits of Fidel Castro on the walls, the doctors and nurses present their cases to the rest of the team. As a group, they must decide who will receive surgery, what kind (some patients want both hips or knees replaced), and what complicating factors exist.
Five OrthoCarolina surgeons, plus another orthopedic surgeon from Los Angeles, run through a stack of X-rays and patient charts. They'll operate this afternoon and for each of the next three days. The caseload is much like at home; each doctor will replace three or four joints per day, for a daily total of about 15 to 18 patients. The conditions, while not third world, are unfamiliar. Some surgeons will work with a surgical team they've never met before this trip. Others have to use different tools. And, of course, the rooms themselves are set up differently, with machines and equipment much older than the surgical suites in Charlotte.
From around the rectangular conference room, other members of the team ask questions. Nurse anesthetists, for example, ask about medication allergies. Cuban hospital staff members bring in a metal cart of cookies, cheese, and cold hot dogs. The surgeons rank each patient with two scores, one for their medical fitness and one for their orthopedic complexity. They want to perform the surgeries that will make the most difference, but also the ones that are least risky—any follow-up care has to be managed by the Cuban doctors who stay behind after we leave. It takes more than three hours to settle on which patients will receive treatment: 44 people who range in age from their 40s to their 80s; seven patients will have two joints replaced in the same day.
"It's like flying with one eye closed," surgeon Bill Griffin says about screening patients like this. "We get about 75 percent of the information and have to make a call."
With the list finalized, the team scatters to prepare for surgery. Springer stays behind. He has to go out to the sala de espera and tell the 15 or so people who weren't selected that they won't be walking out of the hospital as they hoped.
***
Quirúrgica
JOINT SURGERY is like carpentry: The sound of hammers and saws drowns out the beeps and drips you'd expect to hear.
The Cuban hospital has four operating rooms with bright lights and Carolina blue walls. Handwritten signs are taped to them:
Hip—Cadera
Knee—Rodilla
Left—Izquierda
Right—Derecha
In OR 3, a 59-year-old man named Osvaldo is having both knees replaced. Griffin is midway through the right knee; Springer will come in shortly to work on the left. As in America, the surgery requires only spinal anesthesia—so although Osvaldo is groggy and can't feel anything below the waist, he's awake, with his head behind a blue curtain, for the three-hour procedure.
A Billy Joel album, The Stranger, blares from a portable speaker. The operation started at 12:50, but a clock on the wall is stuck at 12. About 100 metal surgical instruments are lined up on two blue-draped trays.
Novant Health nurse Karen Mitchell, a motherly figure who wants to hug your neck every time she sees you, wears bright red-framed glasses. After telling me what to do if I feel faint from the sight of all the blood and bone and tissue—"Just lean back against the wall and slide on down to the floor, honey"—she shows me pictures of her favorite socks, printed with "IF YOU CAN READ THIS" on the bottom of one foot and "BRING ME WINE" on the other.
She tells me that the operating rooms aren't as rudimentary as she expected, but the procedures are still more complicated than normal. In America, there are more options if something goes wrong, including extra equipment if something breaks, gets lost, or lands on a dirty floor. "You're very conservative opening supplies (in Cuba)," Mitchell tells me. Her job as a circulating nurse is to manage the room's flow—she works the perimeter of the operating table doing everything from adjusting tourniquets to wiping sweat from a surgeon's forehead.
Springer enters the room and starts to work while Griffin finishes. The operating rooms are running behind schedule, and the surgeons need to be efficient so they can move on to their next cases.
Arthritis causes the cushioning cartilage between the femur and tibia to wear away, and when that happens, the bones rub together. The pain can be excruciating, so patients shift their weight to compensate, which throws their legs out of alignment and leads people to limp or walk bowlegged. A knee replacement fixes both the lack of cartilage and the irregular movement. Hip replacements address similar deformities. In Charlotte, either procedure costs about $60,000.
Over the course of about 80 minutes, Springer makes a six- to eight-inch incision in Osvaldo's leg, removes the damaged bone and tissue, inserts a cobalt chrome and titanium implant, and makes sure the repaired leg has normal alignment and range of motion. A piece of medical grade plastic becomes the cushion between the leg bones.
"He is giving this patient the same standard of care he would give me or a VIP in the United States," Mitchell says. "It puts a lump in my throat." Behind the red frames, tears moisten the corners of her eyes.
A few minutes after 4 p.m., Springer and his physician assistant, Paul Coleman, staple Osvaldo's left leg shut. Nurses clean him up, and the man gives a weak thumbs-up as two orderlies wheel him toward the recovery room.
***
Recuperación
THE PHONE WON'T stop ringing in the recovery room, but no American is really sure who calls. A Cuban nurse answers, says a few words, and hangs up. This happens every few minutes, daily, for the duration of the trip.
Along one wall, seven beds stay full with people either going to or coming from the operating room. Several nurses, doctors, and nurse anesthetists check on the patients, who are tucked under green and gray striped blankets. The room is noticeably louder than any hospital ward back home. Music videos play on an old TV mounted to the far wall.
As the anesthesia wears off, a young Cuban tech wheels an ancient X-ray machine into the room to take pictures of the new hips and knees. Sometimes, the lights flicker when he takes the X-ray.
***
DURING THEIR DOWNTIME, the volunteers tease each other, play cards, and try to reassure the patients, many of whom have never had surgery before. The volunteers are having fun; despite the fact many of these people don't work together daily, there's no sign of tension. I wait all week for someone to lose his temper, for personalities to clash, for someone to get frustrated—but it never comes.
In fact, the opposite occurs. Friendships form. People who might pass in a hospital hallway in Charlotte without so much as a nod are now giving each other hugs. The days are grueling—some people are at the hospital for 14 or 16 hours each day—and as the week goes on, people are tired but the mood doesn't change. At night, we eat together, trading stories about the day's procedures and our lives in Charlotte over plates of roasted chicken, rice, and black beans.
The camaraderie is important, and not just for this mission's cohesion. It tears down the institutional walls that tend to separate people from OrthoCarolina, Novant Health, Carolinas HealthCare System, and the private practices that work in their facilities, such as Providence Anesthesiology Associates—all of which are represented here. "This will make us much better at home," Springer tells me. "We have relationships with each other now. It'll be much more personal, where it was just 'work' before." Springer wants to take this OpWalk Carolinas group out of the country every year.
Late in the trip, after all the surgeries are finished and the patients are ready to be discharged, the volunteers meet at a Havana bar to dance. Any notion of a medical hierarchy is gone with the first round of mojitos; surgeons dance with physical therapists, technicians chat with anesthesiologists. It's like a night out with old friends—but most people have known each other for less than a week.
***
Sala B
LAZARO IS DIZZY.
He doesn't know the English word but is able to explain how he feels to Carolinas HealthCare System physical therapist Kim Dunn and OrthoCarolina nurse Nicole Hall by wobbling his head in a circle and rolling his eyes back. He sits on the edge of a rolling hospital bed in the post-operative ward, Hallway B. Each room has three beds. After patients leave the recovery room, they're moved here. At the end of the hall, a pediatrics room has been converted into a supply closet and lounge. It's the morning after Lazaro's knee surgery and time for him to start bending and stretching his leg.
"Oh, yeah," Dunn says, touching his back. "He's got that cold and clammy feeling like he's gonna pass out any minute." She asks Hall to check Lazaro's blood pressure, which has plunged. This happens after surgery, and they know to watch out for it.
The women—through a crude mix of Spanish, English, and charades—tell Lazaro to rest for a few minutes and let the dizziness subside before trying to walk. His wife leans against a wall, next to a table with an unused bedpan, watching with her hand over her mouth.
After a minute or two, Lazaro puts his palms on a metal walker and tries to push himself into a standing position. He winces. Dunn fastens a belt around his torso and Hall pushes a chair behind as Lazaro takes his first tentative, hopeful steps around the bed. His legs are wobbly and Hall asks if he's feeling dizzy. He shakes his head no, but his face is pale.
"If you feel dizzy, it doesn't make you any less strong," Dunn tells him, shaking her head and flexing her biceps to explain. Lazaro nods, and when he gets back in bed, he motions to his wife for the bedpan and promptly vomits.
In the next room over, Osvaldo, the man whose double knee replacement I watched in the operating room the previous day, hobbles on crutches as a physical therapist walks alongside him. He's in much better shape than he was 24 hours ago, when he fainted from dehydration. He could maybe use another day in the hospital, but he's ready to go home. All around us, people are walking on their new joints, some merely hours after surgery.
Mitchell, the operating room nurse, walks into the supply room with tears rolling down her cheeks. "I'm a wreck," she says. "I just saw my patients, and I'm not great at goodbyes."
This is typical; the Cubans' gratitude is effusive, with family members and patients hugging their American caretakers, and taking pictures. They ask us to post them on Facebook, even though most people don't have access to the Internet or to social media. A patient's daughter, a woman in her 50s, sees Dunn and waves a yellow piece of paper in the air. She's written her home address and telephone number on it and invites Dunn and her entire family to come visit for a week.
Bonds have formed among the Cuban and American hospital staffs, too. Most of the OpWalk volunteers worked alongside a partner from the host facility for the duration of our stay. As the trip winds down, they host a luncheon for us. There are enormous platters of meat and rice, and a group of people break into a spontaneous salsa dance party. In a touching ceremony, the Cubans present each of us with a certificate, coffee, and a bottle of Havana Club rum—and shower us with hugs and kisses.
***
ONE DAY, during morning rounds, the wife of a hip replacement patient pulls Gena Walker, the hospitalist, aside and asks if there are any special instructions for when they go home. Walker explains that the physical therapists will be by later with a discharge packet.
The woman points to the other couples in the room—some well into their 70s—and says they've been talking and have one last question.
"What about sex?" the woman asks.
"Cuatro semanas," Walker responds. Four weeks.
The woman claps and kisses Walker on the cheek. The other couples in the room cheer.
In the hallway, Lazaro can bend his knee to 90 degrees and straighten it flat, something that was painful, if not impossible, a few days ago. "I feel good," he says. It's an understatement, of course, but the most he can manage in English.
A nurse cuts off the bandages wrapped around Lazaro's leg, and gives him a packet of medication and a sheet of exercises to do at home. He leans over to inspect the long line of staples down the center of his knee. His daughter stands by, snapping pictures with her phone.
"Can I go now?" he asks. Lazaro is eager. He wants to take his primeros pasos—his first steps—at home on his new knee. He hugs the medical staff and waves goodbye to his fellow patients. A nurse helps him into an orange-framed wheelchair, and Lazaro's daughter starts to wheel him toward the end of the hall. She pushes him toward an elevator. They descend to the ground floor. Lazaro smiles as he whizzes past the sala de espera. He can see the tropical sunshine outside.
ADAM RHEW is the associate editor of this magazine. Reach him via email at adam.rhew@charlottemagazine.com or follow him on Twitter: @AdamRhew
---
The OpWalk Carolinas Team
In Spanish, the word juntos means "together," and it was a word the Charlotte volunteers heard often from their Cuban counterparts. Each member of the mission team played an important role in the 44 successful surgeries—from sterilizing tools to helping patients take their first steps.
Orthopedic Surgeons
Dr. Walt Beaver
​OrthoCarolina Hip and Knee Center
Dr. Tom Fehring
​OrthoCarolina Hip and Knee Center
Dr. Bill Griffin
​OrthoCarolina Hip and Knee Center
Dr. Jeff Mokris
​OrthoCarolina Hip and Knee Center
Dr. Bryan Springer
​OrthoCarolina Hip and Knee Center
Hospitalists
Dr. John Scherr
Carolinas Hospitalist Group
Dr. Gena Walker
Carolinas Hospitalist Group
Anesthesiologists
Dr. Peter Jernigan
Providence Anesthesiology Associates
Dr. John Sandoval
Providence Anesthesiology Associates
Dr. Sam Sayson
Providence Anesthesiology Associates
Nurse Anesthetists
​Meryn Boraski
Carolinas HealthCare System
Erin Devine
Carolinas HealthCare System
Physician Assistants
Paul Coleman
​OrthoCarolina Hip and Knee Center
Kathy Crump
​OrthoCarolina Hip and Knee Center
Jen Suckow
​OrthoCarolina Hip and Knee Center
Operating Room Nurses
Karen Mitchell
​Novant Orthopedic Hospital
Kim Lenart
​Novant Orthopedic Hospital
Laura Shepherd
Carolinas HealthCare System
Kristi Sylvester
Carolinas HealthCare System
Amy Whisnant
Carolinas HealthCare System
Operating Room Scrub Technicians
Shannon Duncan
Carolinas HealthCare System
Darlene Edge
Carolinas HealthCare System
Nikki Horton
​Novant Orthopedic Hospital
Floor Nurses
Nicole Hall
OrthoCarolina
Bonnie Koski
OrthoCarolina
Physical Therapists
Susan Conard
Carolinas HealthCare System
Kim Dunn
Carolinas HealthCare System
Isabelle King
Carolinas HealthCare System
Andrea Tremble
Carolinas HealthCare System
Sterile Processing Technicians
Kathie Fulks
Carolinas HealthCare System
Maria Lopez
Carolinas HealthCare System
Medical Device Representatives
Thomas Fleetwood
​Crosslink Orthopaedics
Chris Petrie
Stryker
Bill Huffnagle
Stryker
Volunteers
Mary Beaver
Jamey DeBerry
​OrthoCarolina
Stephen Herrington
​OrthoCarolina
Preston Mokris
Ruth Scherr
Logan Stewart
OrthoCarolina
Dave Thompson
Hendrick Automotive Group