Inside a Night Out at Sophia's Lounge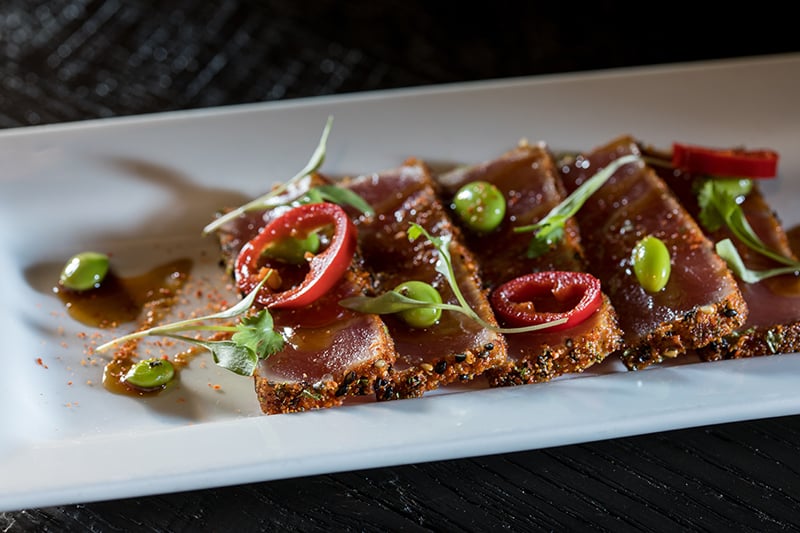 SHARING FOOD IS a heated subject with my friends. Some shield their dishes and fuss if you ask for a bite. Others (me) place their plate smack in the middle of the table, passing out food like Halloween candy.
But, I'll admit, the last thing I want to do at Sophia's Lounge is share.
It's a Tuesday evening after work, and I'm out with four girlfriends, all of us hungry and in need of a strong drink. I order the tequila-based Come On Sp'in ($14), made with jalapeño, strawberry syrup, cucumber, grapefruit, and steal a few sips of a friend's cocktail, The Oasis ($14), a sweeter alternative with rum, grapes, thyme, ginger, and citrus.
Opposite of the bar, there's an antique fireplace surrounded by paintings, mirrors, and candle sconces, of all different sizes, from floor to ceiling. It's elegant, perhaps in honor of namesake Queen Sophia Charlotte, yet comfy. I sink into a taupe chaise couch and sip ferociously, looking out the window onto 5th Street in uptown.
The lounge doesn't fit into any traditional mold—it's not a restaurant, and it's not a bar. Besides a few dining tables, Sophia's intimate space is mostly full of sofas and high-backed chairs that encourage conversation first, food and drinks second.
Sophia's dining menu is concise, with less than a dozen small plates, but that doesn't make it any easier to narrow down what to order. Eventually, we order the tuna tataki ($14), to start. I come in expecting great food, as Sophia's Lounge is run by the people behind 5Church—Chef Jamie Lynch is responsible for the menu—and the tataki is right on par. The fish is light and well seasoned with salty edamame, spicy fresno chiles, and micro cilantro scattered on top.
Next, we choose the smoked shrimp ($16). The star of the dish is not the shrimp, rather the coriander lime mascarpone underneath, a creamy and tangy contrast to the smokiness of the shrimp and the neutral cracker base. I eat mine in one bite and grumble to myself when I can't go back for more.
Portions are small, but not to a fault. Instead, you treasure the dish, putting each bite up on a pedestal, heaping praise on every detail. But I'm still hungry.
My knife glides right through the tender beef tenderloin and crisp rye bread, until it clinks delicately on the plate. I can't help but smile while eating the filet mignon toast ($21). This is the dish I was waiting for from Lynch. The shaved beef absorbs the butter from the rye toast, creating a seamlessly juicy steak dish that exceeds my expectations. It's simpler than the other dishes in appearance and components, but it's the best.
"Are you going to eat that?" I say, pointing at the last bite of filet mignon toast on my friend's plate. I don't wait for her response.
For dessert, we try the lone sweet on the menu, the twisted chocolate ganache ($10). The chocolate is creamy and soft, but the spattered, bright orange kumquat sauce doesn't achieve a desired contrast. It's too overpowering. There are also a few rose meringues on the dish; they're fluffy but the rose flavor is hard to detect with such a punchy sauce.
Atmosphere is what makes Sophia's Lounge special, and you pay for it with pricey drinks and smaller portions. That doesn't mean it's not worth it. The food is good, especially the savory dishes, but that's not why I'll go back.
Softly lit chandeliers, strong drinks, and extra bites of filet toast craft an evening of free-flowing conversation, which is really the goal of a girl's night anyway, right?
---
Sophia's Lounge
127 N. Tryon St., Ste. D
(entrance on 5th Street, across from Dandelion Market)
980-260-3227
Small Plates: $10-24
Cocktails: $12-16