Inside a Saturday Morning with Charlotte's Soccer Faithful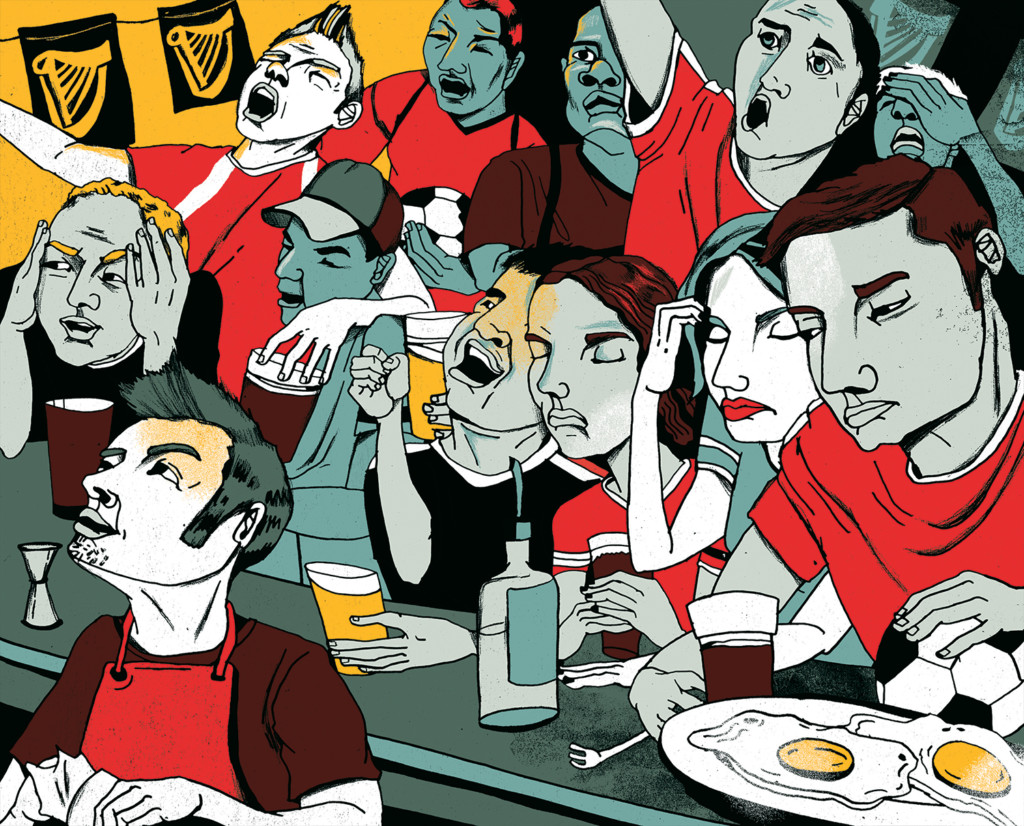 IN MY EARLY 20S, back when I graded most things as either amazing or awful, I was the proud founder of an intramural soccer team named "I Hate Soccer." The gist was that we were made up of people who hated soccer. Most of us had grown up playing baseball or football, which in the 1990s came with an automatic disdain of a sport my friends called "cross country with a ball." Looking back, I guess we could've just ignored soccer season and let the students who loved the game enjoy it, but High Point was a sleepy university then and we didn't have much better to do.
Our team's signature play was the "fair catch," in which we'd snare a kicked ball with our hands and run around with it awhile, before booting it as far away from the field as possible, our answer to soccer's continuous clock. The farther we kicked it, the longer it took the opposing team to retrieve it, the more likely we were to end the match with our dream score, 0-0, soccer's ultimate injustice to sports fans.
In other words, we were jackasses.
I mention all of this to show that I was a most unlikely candidate for this assignment, brought to me by the editors. Their idea was for me to hop around Charlotte's bars on Saturday mornings, watch soccer, and write a story to coincide with June's World Cup. I've grown tired of the drama around American football in recent years, and I believe every contributing world citizen should have a Guinness before 9 a.m. once in awhile, so I figured I'd give it a try.
That's how I wound up at Valhalla in uptown one March morning at 7:30 a.m., watching Liverpool play Manchester United in a Premier League contest with the local Liverpool fan club.
OK, if I'm being honest, I showed up at halftime around 8. Which brings me to my first point and warning to anyone who's thinking about becoming a fan: The only good reason to walk into a bar at breakfast is to watch soccer, and if you show up late, you just look like a random person who wants a beer at 8 a.m. Still, there was no going back, so I ordered a Guinness and a plate of eggs, hash, and bangers, and settled in with my new crew.
I'd done enough research to know that this was a big game—or match, or whatever—and that Liverpool was my kind of team. I was born and raised in Maryland, and I've never exactly been blessed with great sports programs. My favorite team on the planet is the Baltimore Orioles, who did most of their winning in the 1960s and '70s and last won a World Series in 1983, when I was three. A few years later, in 1988, they set a major league record for number of losses to start a season. I was eight years old then, and I remember celebrating that first victory, which put them at 1-21, like it was the moon landing.
Still, I've always loved my team for the way we punched up at the guys in New York. Liverpool, which hasn't won a league championship since the Premier League formed in 1992, seems to represent similar values, and Manchester United, which has 13 titles in that stretch, seems to represent the other side. This was, according to my Wikipedia searches, at least a little like the Orioles versus the Yankees. Or to put it in terms people in my adopted home state will understand, State versus Carolina. Or as the guy next to me said as he sulked over Manchester United's 2-0 lead: "Nobody can break your heart like Liverpool." I felt right at home.
As the second half started, so did the chanting and the singing. They sang one to the tune of "Yankee Doodle," and it goes like this: "Liverpool, let's score a goal, it's really f***ing siiimple. Put the ball into the net, and we'll go f***ing mennntal."
I wouldn't say they were especially warm to me, but that's OK. They knew all of the players' names and their contracts and who their sisters were, and I didn't even know that I should've worn a red shirt. One fellow walked around with a GoPro on his head and a soccer ball in his hand. He wasn't a fan of the referees, all of whom he considered "wankers."
"Who was your faaaather, who was your faaaather, who was your FAAAAATHER, referee?" he sang. And as someone who grew up believing all referees were close family members of my teams' opponents, I started to fall for these people and this game.
Then, to our delight, Manchester United scored a goal on itself. Ha! An "own goal," as we soccer fans say. Now there were less than 20 minutes remaining and the score was 2-1. Our guys were close, yet we all knew what would happen. Time and again, Liverpool made runs at the net, and time and again, those runs were empty. Soon we were in extra time—for the uninitiated, this is when the wanker referees add a few extra minutes to cover all the time when play stopped for Man U's wimpy injuries—and everybody was leaning forward and yelling, "C'mon, you idiots!" hoping for a miracle.
It never came, of course. Liverpool lost 2-1. About half of the group went outside to smoke a cigarette. "There goes my week," the guy next to me said in a tone I know too well.
Three weeks later, I woke up and saw 7 a.m. on the clock and knew Liverpool was playing at 7:30. I went to Valhalla. Again, Liverpool was down at halftime, this time 1-0 to Crystal Palace. But the oddest thing happened in the second half, right around my second Guinness. Liverpool scored. And again. And then, they won! The people at the bar hugged and high-fived and sang the club's anthem, "You'll Never Walk Alone." I think they believed they'd played a part, these people an ocean away, and there was no reason to argue with them.
I walked around for a half-hour while waiting for the next round of Premier League games to start. Manchester United was scheduled to play at 10, and I knew their fans gathered at Hooligans, just a few doors down in Latta Arcade.
Hooligans is smaller and tighter than Valhalla, but the atmosphere was looser, surer. The Man U fans smiled more. They were less tense, less closed off, less leery of me. Even the bartender, with long dreadlocks down his back, seemed to enjoy the early-morning work shift. Winning can turn your club into a big tent. Man U was up 1-0 just six minutes into the game, then 2-0 a few minutes later, and victory was never in doubt. I have to admit, if I were to continue this soccer experiment, it would be difficult not to pick the team that wins all the time. I think I've earned it.
But after halftime, a feeling came over me. It was stronger than any other I'd felt in all my time watching soccer. I was tired. I realized that I'm 38 and far too old to take up a hobby in which I drink three beers before 11 a.m. every Saturday, and far too old to be taking on new obsessions. I went home, slept the soccer off, and got ready for baseball to break my heart again.