Inside About Face Charlotte
A new website aims to alleviate poverty and connect people by telling stories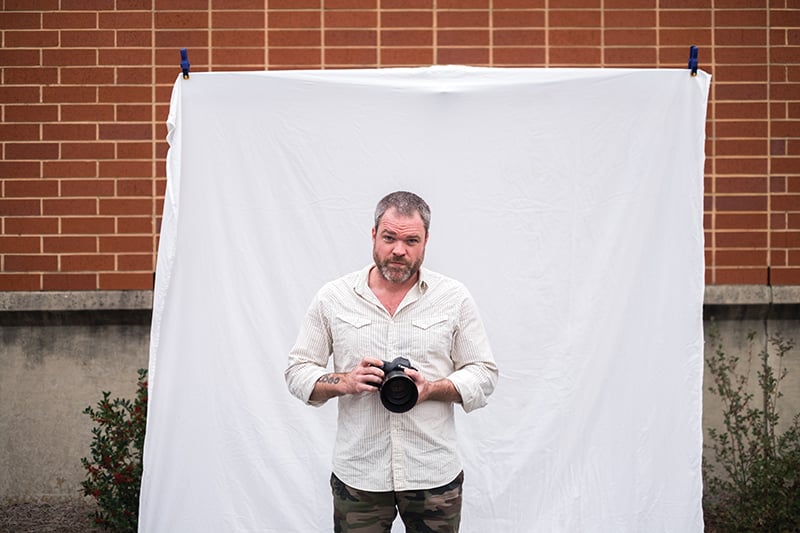 WHEN A FRIEND called to offer him a gig on a Discovery Channel show, Scott Gardner was editing photos no one would see.
The images of children from Walter G. Byers Elementary School, a low-income, predominantly black school just north of uptown, were Gardner's first attempts to fulfill a nebulous plan to address poverty in Charlotte. They were also the reason he declined the offer to be the director of photography for the new television show set in Southeast Asia. "Why do I need to go halfway across the world to help people when there's a staggering amount of need right here at home?" he thought.
This was the summer of 2015. Gardner, an Emmy-nominated cinematographer, was deep into a project he was working on with Sozo Art Gallery owner Hannah Blanton. Their idea was to interview some of the nearly 150,000 people living in poverty in Charlotte, the nation's least economically mobile big city, and share their experiences with the rest of the community. They also wanted to give voice to other people, such as LGBT youth and refugees, who are often overlooked by those in power. "We don't know how to solve homelessness," Blanton says. "But we know how to tell stories."
Sitting in the pews at Covenant Presbyterian Church, Blanton had been touched by a sermon on a Charlotte homeless woman who gives away what little she has. During her time in uptown, Blanton got to know this very woman, whom she declined to name. Then they lost touch for about a year. The woman reappeared on the steps of Blanton's art gallery the same week in 2013 when Blanton had to move her father into a nursing home.
"Some people might call that a coincidence," Blanton says. "But I call it a plan."
Gardner had been moved by his own experiences, witnessing extreme poverty in India on a trip to the World Festival of Sacred Music. In May 2015, he met Blanton through his girlfriend, who encouraged the photographer to show Blanton photos from his latest project—capturing the lives of hermits and monks in Myanmar and Siberia.
At first glance, the two don't seem to have much in common. Gardner is covered in nearly a dozen tattoos and is rarely in one place for long, as he travels around the world shooting television shows and video for National Geographic, Animal Planet, and the History Channel. Blanton is from South Carolina, wears tasteful jewelry, and has a gallery owner's Southern charm.
What was only supposed to be a month-long project to take pictures of Charlotte's poor and homeless and plaster them on the sides of billboards and buildings never came to fruition. Billboards cost money, and no one was willing to give them away. Gardner never publicized the photos of the elementary school students.
Instead, the idea of telling stories evolved from seeing a face on a billboard once in a while to getting these stories onto people's phones every day. (The concept is similar to the photo-driven blog "Humans of New York," although it wasn't modeled after that site.) Gardner took six months off from shooting video to learn to build websites and continue taking pictures. About Face Charlotte, a website and e-newsletter, launched this winter.
"We're just not connected," Blanton says of the divide between Charlotte's wealthy and poor populations. "People just don't know homeless people."
She's talking about people like Wanda, Teresa, or Shareka. For About Face Charlotte, Blanton and Gardner photographed the three women, listened to their stories, and recorded them on the organization's website.
"The biggest thing when you're on the streets is you just want people to say hello to you," Wanda, who used to be homeless, says on the site. "It's a very lonely life. More than giving you money or giving you something to eat, you just want somebody to say hello, to speak to you."
The idea of the project is to connect Charlotteans from different backgrounds and to encourage them to give what they can to help those in need. Blanton and Gardner hope lawyers will donate legal aid and accountants will file taxes pro bono. Yoga instructors can teach a free class. Ultimately, the goal is for volunteers to meet someone they otherwise wouldn't, and to build what Gardner calls a more "compassionate community."
As Blanton says, "When you tell a story, that's what connects to people's hearts."