Inside Camp North End's Evolving Dining Scene
In a tough year for restaurants, site's planning and progressive community allowed its food vendors to thrive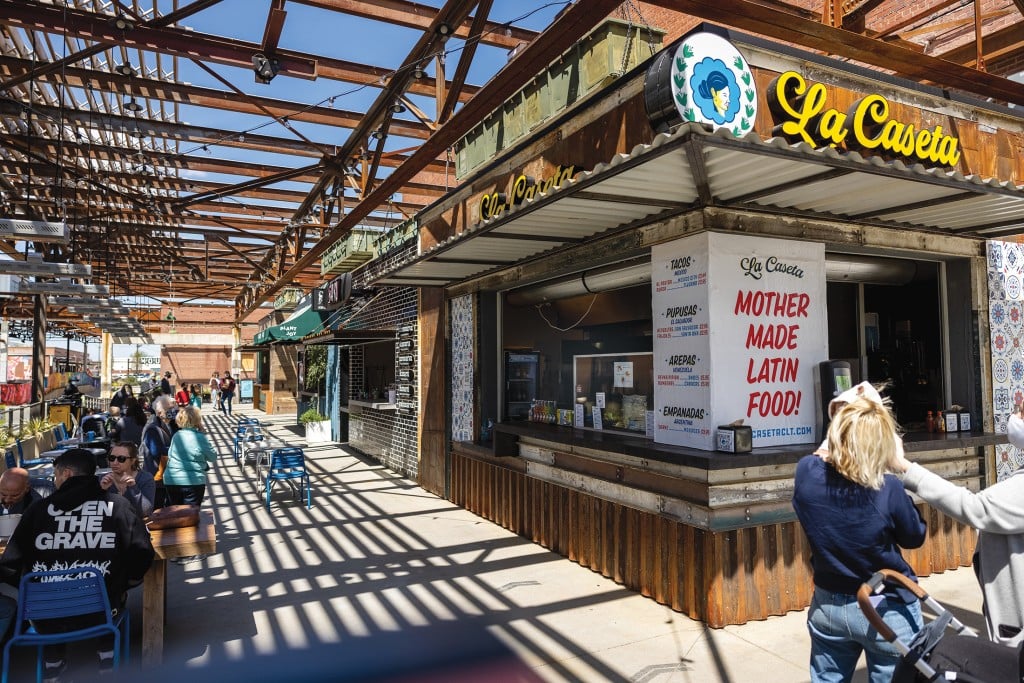 In late November 2019, Nourish chef and founder Julia Simon co-organized VegFest Jr., a small vegan food festival, at Camp North End. More than 14 vendors were scheduled to set up in the Ford building, an industrial behemoth where the company manufactured Model T's in the late 1920s. But the space wasn't heated, and on the morning of the festival, local forecasters predicted that evening temperatures would dip toward freezing.
Simon was worried, she says, but Camp North End team members rented massive industrial heaters and did everything they could to make the vendors and guests comfortable. The experience helped solidify her decision to open Plant Joy, a vegan food stall, on the property a year later. "They're really interested in not only creating a really awesome, viable campus," she says, "but also making sure that small businesses receive the support that they need to thrive, even in strange times."
Despite COVID-19's blow to the restaurant industry, Camp North End's food scene has expanded—and flourished—this past year, thanks to deliberate planning and an inclusive, supportive business community. (It also didn't hurt that the spacious campus lends itself to outdoor dining, a trend likely to outlast the pandemic.) New York-based developer ATCO Properties is now six years into a 20-year plan for the property, and food figures heavily in its long-term vision.
Varian Shrum, Camp North End's community manager, explains that the team looks for variety, both in menu items—for the office workers who may lunch there daily—and prices. Food lures families, couples, and tourists to the development, which also houses offices, galleries, and retail, so the leadership has prioritized unique, "destination" concepts. "We don't want a chicken restaurant where, from your house to Camp North End, you might pass by three others," Shrum says. "We want it to be special."
So far, those attractions include food stalls La Caseta, Bleu Barn Bistro, Plant Joy, and Saru, bakery Wentworth & Fenn, charcuterie business Babe & Butcher, and more. But the site's highest-profile destination is Leah & Louise, Greg and Subrina Collier's modern juke joint, which has earned coverage in Esquire and The New York Times. Before they settled on their corner spot, the Colliers spoke with artist Dammit Wesley of Blk Mrkt and Dion and Davita Galloway of Dupp & Swat to learn about their experiences as Black business owners there. They concluded that the property could be a force for growth, not gentrification, in the predominantly Black neighborhoods that surround it. Residents have little access to groceries and fresh produce, but Subrina Collier hopes the development can help the area shed its food-desert status. "There's a social responsibility," she says. "We wanted to be a part of that."
Simon, too, was attracted to Camp North End's inclusive ethos. "People are just very awake and aware of progressive ideologies and trying to make everybody—no matter what kind of person or where you come from—feel comfortable and at home," she says. "I think it's a little bit of the future."
As the property leaves COVID behind and builds out over the next decade, Shrum says, several new concepts will open each year. Part of Camp North End's approach is to introduce businesses gradually so each has its moment. In the meantime, the complex will continue to host festivals that celebrate global food heritages. Subrina Collier is confident that as it grows, the campus will continue to reflect the city's diversity. "They're already setting the stage for a melting pot of people," she says. "They'll have a complete mix, and that's what Charlotte needs to look like."
ALLISON BRADEN is a contributing editor to this magazine.