Inside Charlotte's Efforts to Curb Carbon Emissions
It will happen bit by bit, in ways you might not notice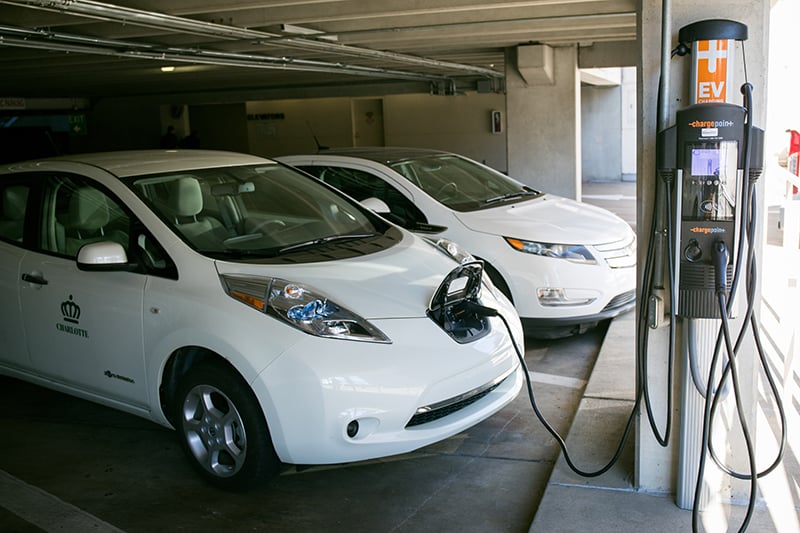 LATE LAST YEAR, the city adopted its most aggressive framework ever for combatting the effects of climate change, and two days later won a multimillion-dollar grant from philanthropist and former New York City Mayor Michael Bloomberg to add even more to its efforts. But, as is often the case with climate-related action, the steps will be gradual and piecemeal, hard to detect unless you're really looking.
That's how these things get done, says Rob Phocas, the city's sustainability director—especially in cities like Charlotte, a swelling burg in the Sun Belt South that only now is waking up to the threat of a global warming trend that's expected to bump high temperatures here by three to five degrees by 2050. "For the average Charlottean, within the next year, there's not a lot they'll see," Phocas says. "Most of the changes will be internal, setting up things for success."
Charlotte's Strategic Energy Action Plan, or SEAP, aims to minimize carbon emissions from city buildings and vehicles by 2030, and for homes and other buildings to drastically cut their carbon emissions by 2050. Those goals are in line with those of the Global Covenant of Mayors, an international coalition of local governments dedicated to curbing climate change that Charlotte joined in 2015. Among the immediate goals:
» Set up teams and ways to gauge progress through data collection over the years.
» Develop branding materials and, by next year, a SEAP website.
» Establish sites for testing new, ecology-friendly technologies and business models.
» Strive toward zero-emission city buildings and vehicles.
The city's been leaning in a more sustainable direction since the beginning of the decade. Envision Charlotte, an environmental nonprofit that worked with the city on SEAP, has successfully persuaded center city businesses to reduce their energy consumption through a program it introduced in 2011.
But everyone's still just starting to piece their plans together: Of the roughly 5,000 vehicles in the city fleet, only a fraction use anything other than the traditional internal-combustion engine—10 run on electricity, 27 are hybrid cars, 29 use natural gas, and 40 are hybrid CATS buses. Those vehicles could serve as rolling advertisements for the program, says Gina Shell, the city Engineering and Property Management deputy director who helps oversee the fleet: "Maybe magnets or wraps for electric vehicles … Some of what needs to happen early on is that awareness-building."
Advocates for sustainability efforts like SEAP have to fight more than climate change. They have to swim against a U.S. administration that's indifferent or hostile to their efforts, demonstrating clearly where it stands on the issue by pulling out of the Paris climate accord in 2017. It usually falls to local governments to pick up the punted ball.
"I think governments, especially municipal governments, are in a unique role as conveners and facilitators for all the people who need to come together to put these things in motion," Phocas says. "What you're seeing across the country is cities having to move forward on these sustainability projects, because we're not seeing that from the federal government right now. Cities know day to day what their residents need, what the obstacles are, and where they want to go."