Inside Chef Alyssa's Kitchen
Alyssa Gorelick, former executive chef at Fern, brings her skills to South End—and to your house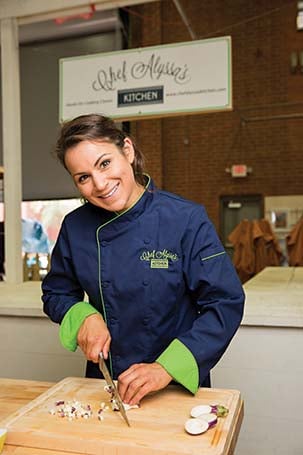 "I do miss the hustle and bustle of the restaurant kitchen, being on the line with other chefs and working under pressure," says Alyssa Gorelick, former executive chef at Plaza Midwood vegetarian restaurant Fern. "But seeing the reaction of people when they taste the food they've made—my recipes—is amazing." Her new venture, Chef Alyssa's Kitchen, launched in July as a way to build on one of Gorelick's passions, offers healthful-cooking classes, including dishes made with sustainable, local ingredients.
The classes combine skill level and specialty. A beginner's class might outline kitchen basics—like chopping versus dicing—while an intermediate class will focus on varied ingredients and cooking styles. Classes also center on cuisine or theme, such as Healthy Southern Classics, Hearty Italian dishes, Vegetarian at Heart, and Party Platters.
Classes are offered at Atherton Market in South End (2104 South Blvd.). Each session costs $55 to $60 depending upon the cost of ingredients, which are provided. To sign up online, visit chefalyssaskitchen.com.