Inside Freshlist's Home Delivery Expansion in Charlotte
Mother Earth Food's local grocery delivery has been wildly successful in western North Carolina and upstate South Carolina. Can this company find the same success here?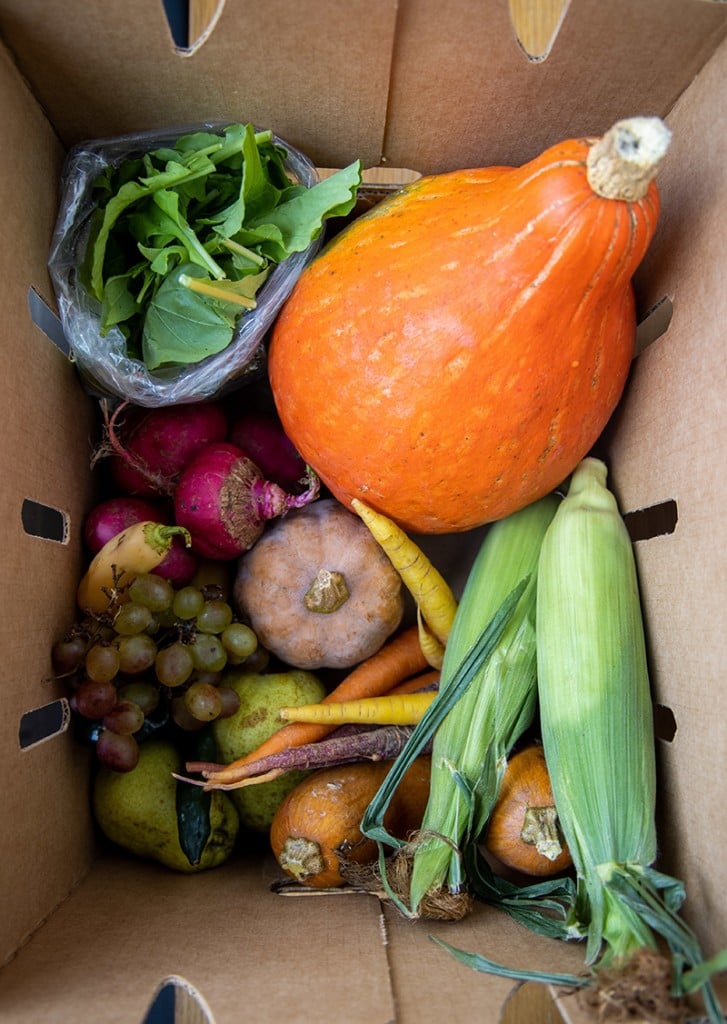 The average American meal travels 1,500 miles before it lands on your plate. "Garden-fresh" salads are sourced from as far away as Chile, and your appetizer probably has more passport stamps than a graduate on a gap year. This has unsavory implications for food freshness and our carbon footprints. But it also severs our connection with our neighbors and the land we share. Local food hubs offer an alternative.
Despite decades of activism, the local food movement's success stalls in distribution. Mother Earth Food, founded in Asheville in 2012, is what's known as a food hub: The company complements farmers' markets and community-supported agriculture programs by aggregating local products and delivering to doorsteps in the Asheville and Greenville-Spartanburg areas. Customers log on each week to order not only produce but local bread, chocolate, cheese, meat, and more. "It's about people really trying to support each other," says CEO Janelle Tatum. "It's a broad network of many people and a lot of products that cross over in these beautiful concentric circles of holding each other's hands."
In 2018, the company expanded into Charlotte—but ceased operations here last fall. "We didn't get the response we were looking for in Charlotte at the time," Tatum explains. "Who knows what the difference would be now?" COVID has exposed shortcomings in global food distribution, and demand for delivery services has exploded.
Freshlist co-founder Jesse Leadbetter believes Charlotte is ready. He and childhood friend Brad Chapman launched the digital platform in 2013 to connect farmers with chefs here. It soon evolved into a wholesale distributor that provides local food to breweries and restaurants across town. After years of experience in the Charlotte foodshed, they planned to gradually expand to offer delivery direct to consumers—until COVID.
In mid-March, Leadbetter was at a food conference in New Orleans. "I was with a bunch of food systems people from all over the country, and they're getting calls from back home and kind of saw the writing on the wall," Leadbetter says. "So I skipped the rest of the conference and just stayed in the Airbnb and worked on getting the new marketplace up and running." Freshlist scrambled to launch direct-to-consumer sales in just two weeks. As of now, their delivery area is mostly limited to the Myers Park, Sedgefield, and Dilworth neighborhoods and a few drop-off locations, but they plan to expand in the coming months.
"I would love to see Charlotte have more curiosity about what's on their plate and what it took to bring that food to their plate," says Tatum, who lived in Charlotte in the early '90s. "In a city environment, there's too many steps between that carrot that's growing in the dirt and the plate of the consumer on the other end."
A 2018 study commissioned by the city found that farmers in the Charlotte area don't enjoy a strong direct-to-consumer market, and that similar metropolitan areas consistently outperform Charlotte in farmers' market and CSA sales. But Leadbetter says that's beginning to change. "There's been a huge influx of chefs who are really hanging their hat on local," he says. "People want to know where the food is coming from, and for us, local has always been about supporting the people in your community."
ALLISON BRADEN is a writer, Spanish translator, and contributing editor to this magazine.