Inside Growing Sauce Company Cannizzaro Famiglia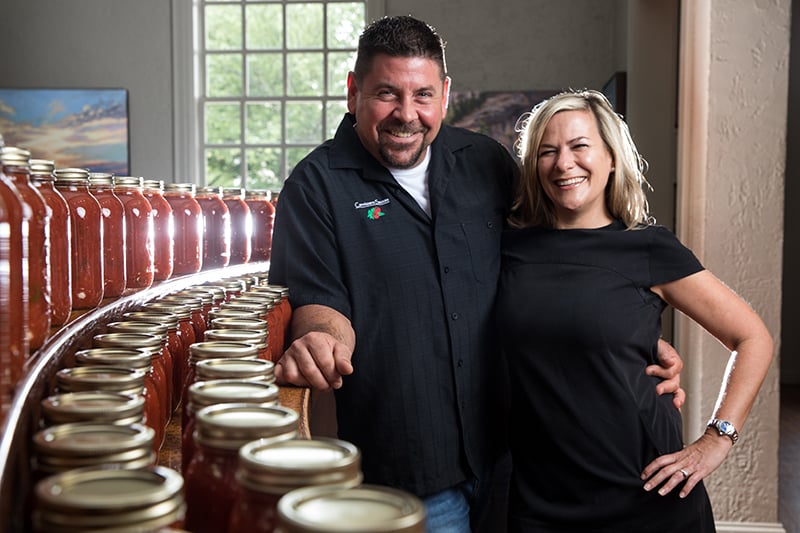 SIX DAYS A WEEK, at 4:45 in the morning, you can find Andrew Tritten and Melanie Cannizzaro-Tritten in the kitchen of Bonterra Dining & Wine Room, where Melanie has worked for 16 years, with pots of locally grown tomatoes and herbs freshly clipped from their backyard garden.
After years of making small batches of her homemade sauce for family, friends, and anyone who'd take a jar, Melanie and her husband decided, in 2015, to launch Cannizzaro Famiglia—a business selling fresh, Italian sauces, made in Charlotte.
"When we got married, I would make the sauces and he'd come home from work and there would be jars all over the counter," Melanie says, while Andrew sits next to her, shaking his head and smiling. "I'd be like, 'Call your mom, see if she needs any sauce. Call your brother. Let's go next door and leave some on their steps.' Friends would ask when I was making it again, and tell me they were getting low. And that's when we just had this idea."
If you frequent the Atherton Mill farmers' market, you've probably seen the mason jars of sauce with simple black labels and twine tied around the top. Just as familiar are Melanie and Andrew themselves—they're often taking part in local TV news cooking segments or handing out samples of their marinara sauce at grocery stores.
"In the short time we've been doing this, people have really started recognizing us more and more," Andrew says. "We really believe that once you've tried our sauces, there's just no going back."
The couple has made sure to take the process slow and avoid taking on more than they can handle. When it's time for them to expand, Andrew says, they'll still keep all operations in-house. They have no intention of hiring a co-packer to mass distribute their sauces.
"For us, we know we can never do that," he says. "That's the end-game for most producers. But we use fresh tomatoes. We roast them, we hand-seed them, we skin them, and then we handpick our herbs. No cooking facility can do that. We know our next step will definitely have to be our own cooking facility."
Andrew says establishing a cooking facility of their own is the only way to ensure the sauces are made with fresh ingredients—an aspect of their business he says will never change.
"I think the number one thing that separates us (from others) is the fact that there's no sugar added," Andrew says. "It's really important to us, and especially these days. It doesn't need anything that isn't fresh. Even the preservative we use is fresh lemon juice."
The original recipe started as a milder marinara sauce. Now, you can find five Cannizzaro sauces, including marinara, mushroom marinara, vodka, and arrabbiata—Italian for "angry," and a sauce with quite a kick. The fifth, a vegan-friendly sauce, was released in October.
"Our secret, old-school, awesome, key ingredient is Parmesan rind," Melanie says. "We drop it in for about 10 minutes, and all the flavor comes off into the sauce. It just totally makes it. But we want everyone to enjoy our sauces, so we want to give those who choose to live a dairy-free lifestyle the ability to still use our product."
The sauces are now available in more than 120 stores, from local grocers to large retailers such as Whole Foods. Andrew and Melanie agree that the support system that's come from being small business owners in Charlotte has changed the way they operate—personally and professionally—on a daily basis.
"When we started selling at the farmer's market, it took us a bit, but we started getting to know farmers and using each other's stuff," Melanie says. "One farmer asked to grow our tomatoes, and he was really excited about it. It's that whole community of people helping each other. Now, when we go make lasagna, I'm not getting cheese that's mass-produced. I'll drive to four different stores to get the ricotta made in Charlotte."