Inside Helen Adams Realty's HOMEsolutions Platform
A program for Charlotte buyers and sellers alike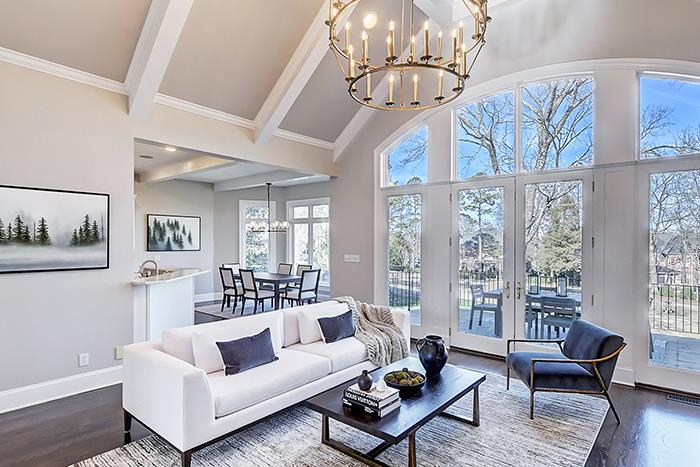 The real estate market continues to be intensely competitive. With low inventory, a market crowded with corporate buyers, and many new purchase options, the home buying and selling game now requires smart strategizing.
That's what you'll get with Helen Adams Realty's agents and HOMEsolutions– the firm's all-in-one platform with needs-based solutions. Whether you are a buyer, seller, or trying to perform the timely balancing act of both positions, HOMEsolutions' customized offerings give home sellers and seekers unique competitive advantages in this market. Here's a breakdown on the opportunities for any of your scenarios:
HOMEsolutions for Buyers
IntroLend Mortgage: Helen Adams Realty's in-house mortgage marketplace allows you to compare all of your options side by side, giving you the confidence to know you are receiving the best possible rate and terms.
Cash Offers: In a hot market, it's not uncommon for homes to receive multiple competitive offers. One way to stand out in this highly competitive landscape is to come to the table with a cash offer. Helen Adams Realty can get you pre-approved and pre-funded with just a small convenience fee.
Homeownership Accelerator: Tired of renting, but not quite ready to buy? Helen Adam's Homeownership Accelerator program allows a third party to purchase your intended home for you, while you apply rent payments towards homeownership.
HOMEsolutions for Sellers
Open Market: Homes that go on the Open Market typically net the highest possible profit. Use a Helen Adams Realty agent's proven listing process to maximize your offers and receive the highest market value.
Market Ready: Does your house need a little sprucing up before listing? Helen Adams' Market Ready program gives your home the "white glove" treatment, which includes:
Zero up-front costs and zero interest on pre-sale home improvements.
Home repair and improvement recommendations.
Home staging consultation and organization.
You set the budget with no repayment until closing.
Modern Bridge: Don't move twice. Buy now and sell later with their Modern Bridge solution. Modern Bridge allows you to submit a powerful and competitive all-cash offer on your next home.
Get pre-qualified and pre-funded in under five minutes.
Make a cash offer: Your Helen Adams agent will help you search for the perfect home and put together a winning offer, backed by cash.
No double mortgage: Lease your new home until you sell your old one.
List your existing home: Avoid the stress of rushing to sell your home. With Modern Bridge, you can sell when you're ready for full market value.
Close on your new home: Once your existing home sells, you can secure a new mortgage and buy back your new home. You'll pay the original purchase price plus their standard service fee.
Instant Offers: Skip the home prep, compare cash offers, and close in as little as seven days. The Helen Adams team will collect offers, compare them, and you'll choose the option that is best for you. Do away with contingent offers and double mortgages. You can even rent back your house while you buy a new home.
As the largest locally-owned firm in Charlotte, Helen Adams Realty is well-positioned to navigate and respond to trends and changes in the market. Don't risk missed opportunities or feeling overwhelmed. Contact Helen Adams Realty today to take advantage of their market-driven HOMESolutions program.