Inside Opera Carolina's 'magic' new world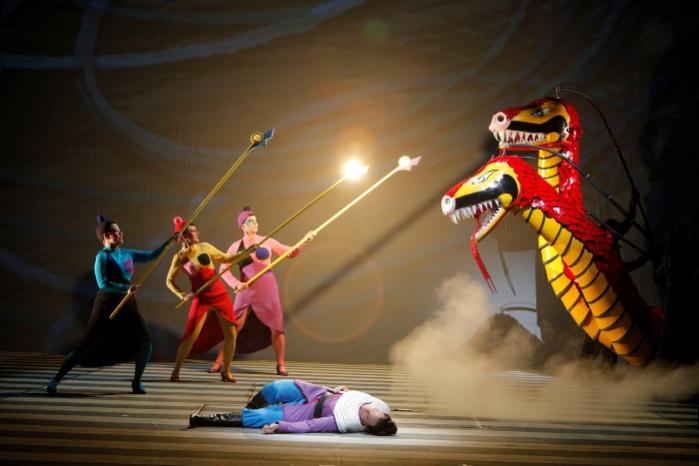 Opera Carolina's The Magic Flute is a big, sweeping production filled with dazzling visuals created by Jun Kaneko that are only matched by the enchanting storyline and beautiful vocals.
Producers let the Revue blog behind the scenes to see what went into the creation of this upcoming performance and to watch one of the final dress rehearsals.
The Mozart opera, which is set to open Saturday, follows the story of a prince tasked with saving his paramour, a damsel in distress named Pamina played by Yunah Lee, from a supposedly evil cult leader who has imprisoned her. The only thing to help him on his quest is a magic flute given to him by Pamina's mother and the assistance of his bumbling sidekick Papageno.
Papageno, a bird catcher conscripted into helping the prince, is played by baritone Kyle Pfortmiller who provides the comic relief for the production and steals the show with his complete committal to the over-the-top performance.
"It's a beautiful and engaging story" said tenor Shawn Mathey, who plays prince Tamino.
Essentially, The Magic Flute is an 18th century romantic comedy, but the interplay of the music and backdrop provide a layered context that keeps the story interesting.
The opera is sung and spoken in English with English subtitles, but Mathey said he still understands how some people could be intimidated by an opera.
"It's a loaded word. People have in their mind what they think opera is," he said. "But I think the producers have done a very good job of making it accessible to any audience regardless of their relationships with opera in the past."
Lee said she also thought this would be a good performance for the opera newcomer and season ticket holders alike.
"It really has something that everyone can enjoy," she said. "Especially the music. It's very good, very understandable music. It's music you could dance too."
"But you probably shouldn't," she noted, flashing a smile.
To help tell the story is a unique set design by visual artist Kaneko that is less a backdrop but rather is a living member of the cast. The set is a color overlay made up of more than 2,000 images projected onto three large screens that change and move along with the performance.
This not only allows for the story to move along seamlessly it also creates a sense of fluidity and motion that can't be found using a traditional brick and mortar (or more accurately plywood and plaster) set.
"It's one of the most intricate and difficult sets we've ever created," Opera Carolina marketing director Brandon Stanley said.
Kaneko also designed the vibrant costumes and props to populate his colorful world.
The show begins Saturday, Jan. 19, with performances scheduled for Thursday, Jan. 24, and Sunday, Jan. 27.
Find out more information and purchase tickets here.