Inside Queens University's Rugby Team
Coach Frank McKinney looks to build a winning lineup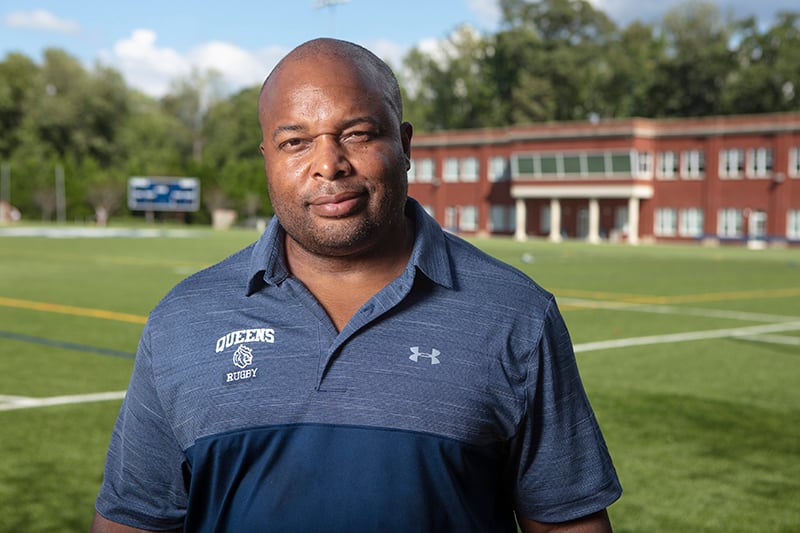 EIGHT YOUNG MEN form a tight huddle on the football field at Myers Park Traditional, the elementary school that shares a border with Queens University of Charlotte. There are two hours of sun left on an August evening, and the guys are working on their scrum technique.
Arms interlock shoulders, and heads face down; the men gather in a collective crouch. Sweat pours off the group, and the humidity and temperature conspire to create the summer steamer that is universally unloved in the city.
As coach Frank McKinney approaches the squad, he repositions the rugby players slightly, instructing them how to leverage their upper bodies and gain an advantage over their opponents.
"Crouch! Bind! Set!" McKinney calls out, his muscular build and solid frame showing off 15 years of playing for the Charlotte Rugby Club. In three of those years, McKinney and Charlotte Rugby played in the Super League, a semi-pro league that represented the highest level of rugby in the U.S. at the time. McKinney retired as a player in 2008.
Rugby is often compared to football. And while they're similar, rugby is played without pads and pits 15 players a side against each other. McKinney, 48, is the first coach for the Queens team and led it to six wins against zero losses in last year's inaugural season. It's a remarkable feat, given that he was hired in March of 2017, had no roster, and fielded a team for competition within five months, a full year ahead of the university's goal for the program. A week before he was recruited into a role he calls his "dream job," he didn't even know the position existed.
Today, McKinney is intent on building a nationally recognized program at Queens. "You'll never hear me talking about wins and losses when referring to my goals for the program," McKinney says. "Winning is like a cake, not the sugar, the flour, or the batter; it's the entirety of the cake. I'm looking for the right ingredients. First and foremost, I look for good citizens."
McKinney's rugby résumé includes roles such as head coach for Myers Park High School, assistant coach at The Citadel, and head coach of the Charlotte Tigers, a highly ranked youth all-star team.
He started playing rugby as an undergrad at Belmont Abbey College, where he became captain and president of the team. There, rugby was a club team in which players had to secure their own funding, make their own travel arrangements, and coordinate their matches. "I developed an interest in coaching at Belmont Abbey," McKinney recalls. "Working with my teammates taught me about becoming part of something bigger than myself."
In a sport dominated by white coaches, McKinney is rare. He's one of the few African-American head coaches at the collegiate level.
"I think more black coaches in collegiate rugby will emerge as time goes on," he says, noting that coaches typically come from player ranks, and today's teams are more diverse than when he was playing. "You look at our team at Queens, and it is very diverse. Rugby is one of the most rapidly emerging sports in the U.S.; the makeup of teams today is more reflective of the country's shifting demographics."
After taking over at Queens, McKinney worked seven days a week on recruiting. He hosted tours every weekend, and ultimately fielded a team of 22, which included several recruits from the college's wrestling team, a few star transfer students, and the class president, a student whose prior sports experience included serving as Rex, the school's costumed sports mascot.
"I come from a culture of hard work and winning, and that's what I saw in the program at Queens," says DeCor Davis, a junior accounting major at Queens who transferred from Coastal Carolina University. "Coach Frank came to a tournament I was in and watched me play, showing an interest in me beyond rugby. He's a father figure, and understands from a player's perspective what challenges we have off the field."
Defeating established programs at much larger schools, such as the University of South Carolina (JV team) and The Citadel, made last year an impressive one. But victories on the field were secondary to what McKinney considers his main success of year one: "I'm most proud of the significant improvement in our team grade point average over the last year," he says.
To ensure that players are working as hard off the field as they do on it, McKinney looks to the storied rugby tradition of "sweeping the shed." Players set up their own field, bring their own water, and clean up after a match is over. It's an ideal of self-reliance established by the New Zealand national team, the All Blacks, one of the most venerated teams in the sport.
"I want (the team) to understand that being in a varsity program, being able to play rugby in college, and participating in a new program is a privilege," he says. "There is no task beneath any of us. I want my guys to take ownership in what we do."
As the practice ahead of their home opener winds down, players weave in and out of small orange cones and toss tight spirals and shorter flat passes to each other under McKinney's watch.
"We're a young team," he says. "But I feel like no team in the country has worked as hard as we have coming into the season."