Inside South End's Newest Fast-Casual Spot, Ilios Crafted Greek
A new Greek eatery embraces their millennial-driven neighborhood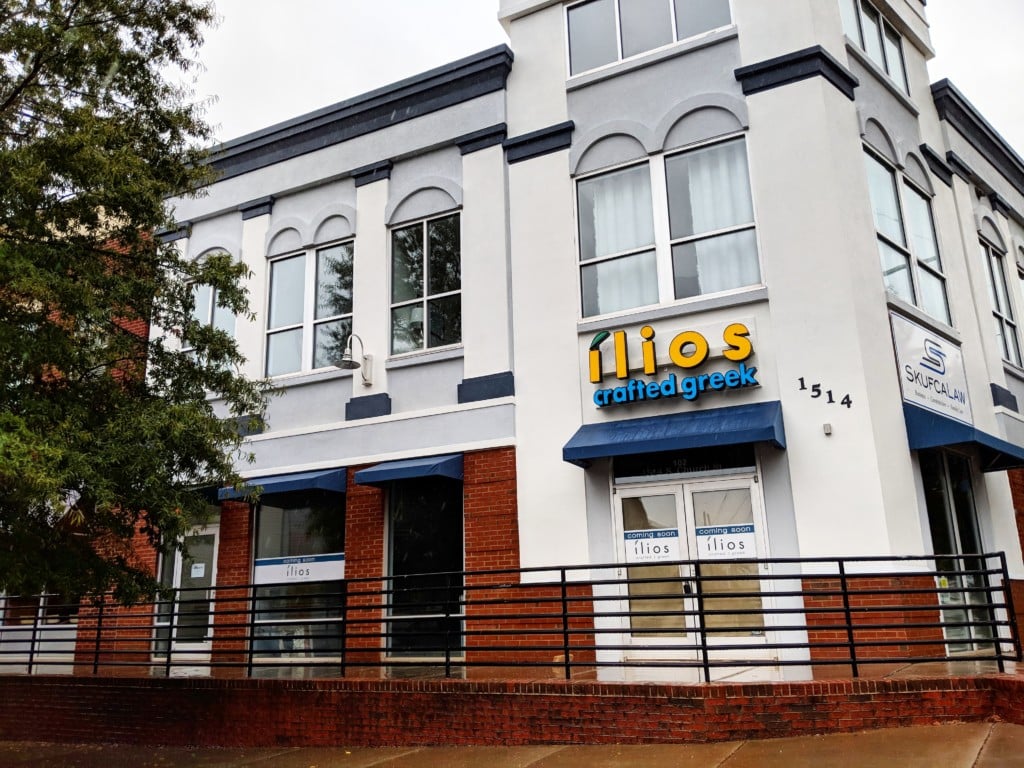 UPSCALE Mediterranean-inspired dining is coming to South End­—in a fast casual setting. Stratos Lambos and Angelo Kaltsounis, the team behind Ilios Noche, will open Ilios Crafted Greek in a 2,000 square-foot former bike store at the corner of Church Street and West Summit Avenue. They are targeting a December opening.
"This is a millennial-driven neighborhood," Kaltsounis says. "Fast-casual is one of the hottest growing markets right now—it's growing around us and that's what we like."
The concept behind Ilios Crafted Greek is a simple one: fresh, healthy, and Greek. "We'll have a lot of our signatures from Ilios Noche, but in a fast casual setting," Lambos says. "We want you to recognize the ingredients and seasonings and get those authentic Greek flavors. Everything will be done in Mediterranean fashion with lemon and olive oil…authentic marinades with no carcinogens, and rotisserie meats seared on direct heat."
Similar to Yafo Kitchen and Seoul Poke Bowl, customers will order at the counter and build their own dishes beginning with their choice of roasted chicken, lamb, or pork. Side dishes will rotate throughout the year, but some staples will include chickpea salad, Aegean slaw, and zucchini fritters. Fans of their flagship location will also be happy to know that Ilios Crafted Greek will have their signature spinach pie.
"The idea is to build-to-your-senses-as-you-see," Kaltsounis says. "We'll have a 60-inch horizontal flat rotisserie grill so customers can see all of the proteins being made." Also called a "souvla" in Greek, this method involves cooking large pieces of meat on a long skewer over hot charcoal.
A typical entrée will be between $8.99 and $11.99, and the menu will also include a number of traditional Greek desserts like baklava and loukoumades. "Loukoumades—or fried donut holes—are tossed with honey and walnuts and made to order," Lambos says. "We're also working on frozen yogurt baklava sundaes."
Another draw for their millennial crowd is the rotation of local brews Kaltsounis and Lambos plan to have on tap. "We'd like to have at least four local drafts," Kaltsounis says. "Sycamore, Unknown Brewing, Wooden Robot, and OMB are all big in this neighborhood, so we're working with them."
The space can accommodate approximately 40 diners, with an additional 10 to 12 seats on the patio. Décor will be Greek-inspired, with white walls accented by patterned tiles, black and white photography, and pops of color throughout. "You're not walking into a Greek isle restaurant, but it will have its identity," Kaltsounis says.
Ilios Crafted Greek will be open for lunch and dinner from 11a.m. until 10p.m. on weekdays, and 11p.m. on weekends. Lambos says they also anticipate lots of business from online ordering, takeout, and delivery because, well…millennials.
"This was always in our blood, taking cuisines and honing in on the authenticity," Lambos says. "We're very hands-on with our restaurants, and we want to build a good reputation in the neighborhood."