Inside Southern Ladies Arm Wrestling, Charlotte's Newest Sports League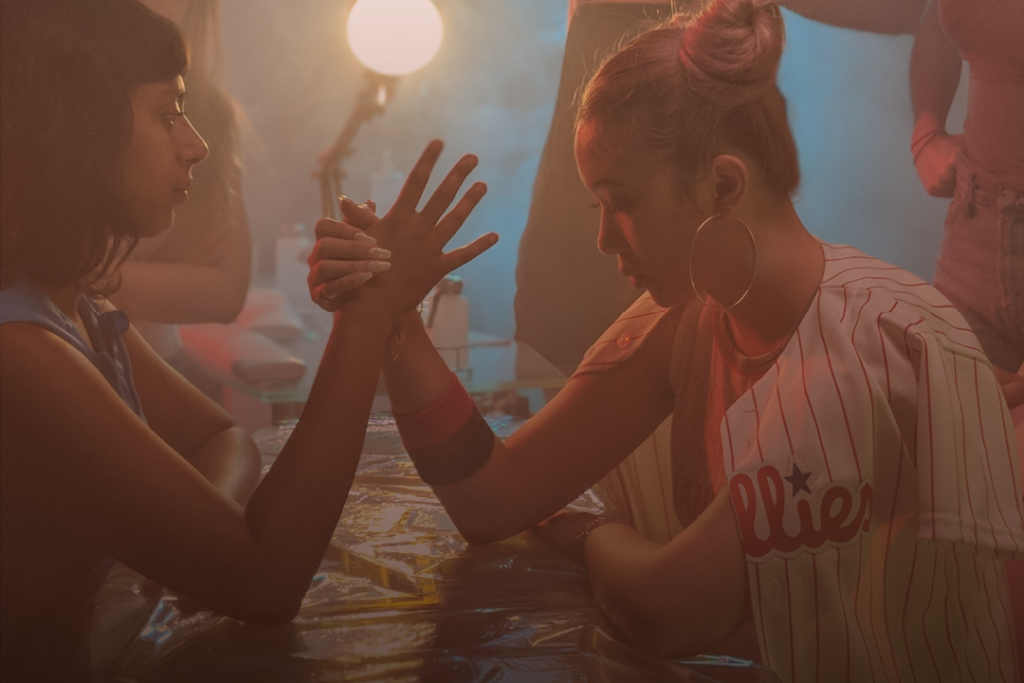 "THE ATTITUDE YOU put into it in the first two seconds is literally 50 percent of the battle," says Rebecca Henderson as we both place our elbows on a table and grip each other's hand. "Are you ready?"
She counts down from three, and we start our arm wrestling match in the middle of Common Market South End. I flex my biceps, but they're no match for Henderson. "Do you want it to be over?" she says seven seconds later.
"Yeah," I gasp, relieved. My arm collapses to the table, and we burst into laughter.
This is a first for me as a journalist—arm wrestling the person I'm interviewing, but it's appropriate in this case. Henderson recently launched Charlotte's first arm wrestling league for women and femme-identifying people called "SLAW" or Southern Ladies Arm Wrestling, and their first match is this Friday, September 20 from 7-9 p.m. at Not Just Coffee Jay Street.
The idea is simple: 32 women will face each other in an arm wrestling bracket, and the winner earns a cash prize. The players will choose who they face so that strength and skill levels will be evenly matched—or so they can throw a match in grand GLOW (Gorgeous Ladies of Wrestling) fashion. "I'm open to that kind of tomfoolery," says Henderson.
It's free to watch and $7 to participate. Players can also pay $25 for league membership to SLAW, which includes a T-shirt and admission to all matches in the 2019 season. (Henderson says there will be at least one more this season; she plans to hold matches quarterly.)
Henderson, a Charlotte-native who also works as a copywriter at Wray Ward, was inspired to create SLAW after participating in a similar league in Charlottesville, called "CLAW," while she was living in Richmond, Virginia. "What they do is much more GLOW-style. … It was more of a production with costumes and everything."
CLAW resonated with Henderson, and for the past three or four years, she's envisioned bringing something like it to Charlotte. "I've always been physically very intimidating to other people," she says. "I've always been very strong and just having a space to celebrate that—I felt seen. This was years before the 'Lizzo Revolution of 2019.'"
After receiving a HUG (Helpful Unfettered Gift) micro-grant from Charlotte is Creative for $250, Henderson was able to turn her vision into a real league.
SLAW is more laid-back than the Charlottesville league—no costumes or acting required, but welcome nonetheless. It's an inclusive space, Henderson says. "Anyone who identifies as femme or female. It's not my place to challenge them, and I don't intend on it. … It's one-thousand percent a queer-safe space."
Even if you're not participating, everyone's invited to spectate on Friday. In the meantime, watch this video Henderson and HNin Nie directed to introduce SLAW.