Inside the DNCC's Uptown Office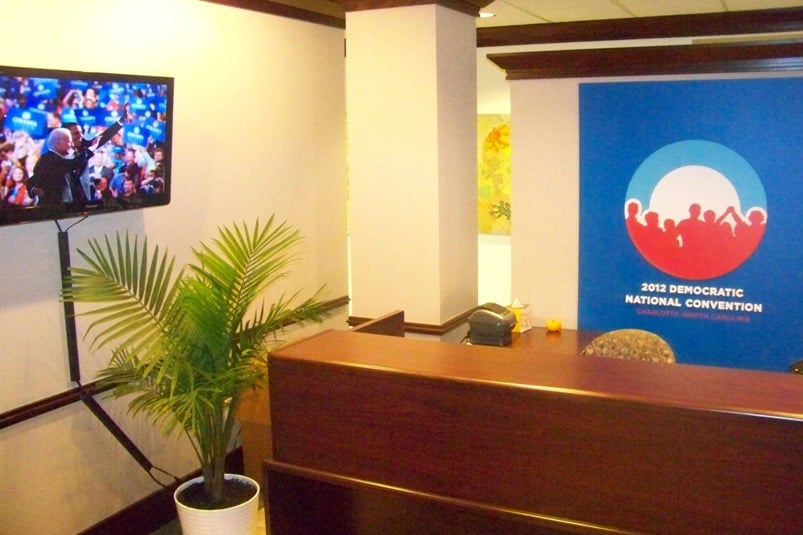 The Democratic National Convention Committee opened its doors to media this afternoon for a tour of its office in uptown Charlotte. About fifteen local reporters, bloggers, and TV cameramen went up to the thirteenth floor of the 400 South Tryon building, where Steve Kerrigan, CEO of the DNCC, led the tour.
The DNCC occupies the entire floor, which they began moving into in June. Currently there are about fifty staffers, and Kerrigan said that number will eventually grow to about 200 as they'll lease two additional floors as the convention nears.
Stepping off the elevator onto the thirteenth floor, the scene feels like a combination of a well-to-do company's corporate office and a politician's campaign headquarters. As you enter the lobby and receptionist area, you're reminded that the goal of this organization is to put on a convention that will re-nominate President Barack Obama as the Democratic Party's candidate. The 2012 DNC logo greets you and next to it is a flatscreen TV that shows a slideshow of images of the Obamas and Bidens from election night in 2008.
There are dozens of offices throughout the 17,000-square-foot space, and just about each DNCC staffer has his or her own (not many cubicles here). Multiple departments of the DNCC are housed, including legal, technology, communications, outreach, and more. Kerrigan said the staff was encouraged to decorate their offices, so there are plenty of logos, framed posters, and memorabilia representing the Democratic Party, Charlotte, and North Carolina as well as some of the staff's favorite sports teams.
"When I get in here in the morning, you really do feel like you're a part of this community," says Kerrigan, who moved to Charlotte in June and will live here through next September. "It's not a space where you could be walking off the elevator and be in Toledo—nothing wrong with Toledo, but we're not in Toledo. I wanted it to, and we all wanted it to feel like an extension of this city. And that's what's exciting for us."
The DNCC added an excellent touch by displaying dozens of pieces of art by artists from the Carolinas. The pieces line the hallway walls and conference rooms, and are on loan from four local art galleries—Foster Frames and Gallery, Hidell Brooks, Hodges Taylor, and New Gallery of Modern Art. Most of the artwork can be purchased by contacting the respective gallery. Considering the influential people that will be coming in and out of the DNCC's office, this could be a great opportunity for those artists. Two of them, David L. Fulton and Nellie Ashford, were present during the tour and spoke to the media.
Another fitting touch is the Susan Burgess Conference Room. Burgess, of course, was a longtime Charlotte civic leader who'd served several years on the Charlotte-Mecklenburg Schools Board of Education before serving more than a decade on Charlotte City Council. She died from cancer in June 2010, and is credited for playing an important role early on in Charlotte eventually landing the 2012 Democratic National Convention. As the story goes, Burgess approached then-Democratic National Committee Chairman Tim Kaine just days after he became chair, and handed him a package and told him Charlotte wanted to host the convention. In addition to bearing her name, the conference room displays a large photo of her as well as several small mementos and photos of her at work and with her family.
Click on a photo below to begin slideshow.