Inside the Fight for Charlotte's Future
The city hasn't adopted a comprehensive plan—a document that determines who can build what where, and who can afford to live there—since 1975. City planners have worked on a draft for three years. When they presented it to the City Council, all hell broke loose. Can the council get it together? What would it mean if they can't?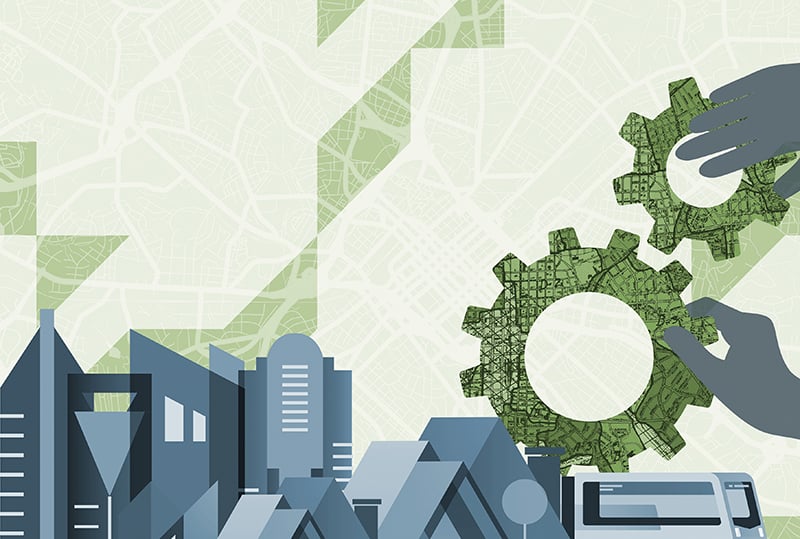 More than an hour into another marathon meeting this spring about Charlotte's 2040 Vision Plan, an exasperated City Council member sighed and said, "I just don't know what we're doing here."
Braxton Winston was frustrated about procedures for debating the nearly 320-page document, but his comment encapsulated a broader point. Three years after the city Planning Department launched its effort to craft a citywide comprehensive plan, Charlotte's first in nearly a half-century, its big questions are far from settled—and there's still plenty of opposition to many of its central ideas, from doing away with single-family-only zoning to requiring developers to pay for community benefits when they build.
The new plan—and detailed rules in a unified development ordinance that council members are expected to adopt in spring 2022—would guide Charlotte's growth for the next 20 years. As the city limps toward the finish line in its yearslong effort to create it, no one's quite sure where it would take us, or whether City Council members will approve a plan at all. City staff have worked on them since 2018, overseen by the City Council—although two successive councils have struggled to understand the process. If council members fail to adopt a new plan, or adopt a watered-down version, it would signal a stark choice: continued reliance on a long heritage of deal-making and one-off developments instead of a shared vision for our future.
Land use fights are never just about what gets built where, as shown in the history of urban renewal, redlining, and deed restrictions that barred Black people from Charlotte's premier neighborhoods. Most Americans have an entrenched belief in the primacy of homeownership. Questions about who gets to live in different neighborhoods touch on race, class, and wealth—combustible subjects in today's political tinderbox, or any era's. As Charlotte Mayor Vi Lyles put it to bickering council members during one meeting, the questions boil down to: "What is our American dream for Charlotte?"
Already steeped in technicalities, the plan's creation was slowed by the endless rounds of "Hey-you're-muted" Zoom meetings that defined life in 2020. And despite Lyles' attempt to clarify the discussion, the controversy over the 2040 plan sounds at times like a half-dozen different debates happening at once, with participants talking past each other about everything from whether east Charlotte has enough sidewalks to historic patterns of segregation, from socialism to street parking.
The 2040 plan sets forth simple, overarching themes for how Charlotte—a city with roughly the same land area but a tenth of the population density of New York City—should grow: Cultivate denser neighborhoods with more amenities like parks and grocery stores within walking distance. Sprinkle duplexes, triplexes, and quadplexes among our oceans of single-family subdivisions. Promote more coordinated development, especially around transit lines, with less unplanned, car-dependent sprawl.
"On their own basis, they sound like God, motherhood, and apple pie," says Rick Judson, a homebuilder and chairman of the Charlotte-based Real Estate & Building Industry Coalition. "A vision is a little easier to agree upon. It's the details that become devilish."
Developers like Judson fervently oppose measures the plan recommends, like mandates that would require them to include a certain percentage of affordable units in new housing developments or pay impact fees to fund new infrastructure. Those would make homes more expensive in the middle of what is already a historic housing shortage that's sent prices skyrocketing. Developers say growth would flee to surrounding counties with a lighter regulatory touch. "There are unintended consequences," Judson says. "When you start ratcheting up costs, someone's just going to go to Union County."
Supporters of the 2040 plan, however, say without such measures, Charlotte will never erase historic inequalities that have left the city deeply segregated and ranked last in the nation among major cities for economic mobility.
"This is about equity. This is about fairness. I would even go so far as to say this is about reparations," says Ismaail Qaiyim, a core member of the Community Benefits Coalition, a group of neighborhood leaders who want the city to require developers to pay for local improvements. A west Charlotte native, Qaiyim says he's tired of watching waves of gentrification crash over historically Black neighborhoods like Belmont and Cherry and replace small, largely rented ranch houses with huge arts-and-crafts style "bungalows" that sell for $500,000 or more.
"We see there's all this wealth. We know that all this money is coming here," he says. "It really comes down to who has had a voice in decision-making in Charlotte and who hasn't."
***
Fights between developers and community activists over who should pay for growth or accommodate affordable housing are common at the City Council's monthly rezoning meetings, where those questions are fought over on a development-by-development, neighborhood-by-neighborhood basis. But the 2040 plan has brought up different conflicts and new alliances—especially around the elimination of single-family zoning.
Most of Charlotte—84% of the residential land, according to a New York Times analysis—is zoned exclusively for single-family, detached houses. Developers need rezonings and special allowances to build anything else. By allowing duplexes and triplexes in most single-family neighborhoods, plan supporters say Charlotte will increase its housing supply, making homes cheaper and easing long-standing patterns of residential segregation. Many neighborhood groups, which typically oppose adding more density or rental housing, swiftly came out against that proposal, to no one's surprise.
But the plan has also created unexpected alliances—and foes. Tony areas like Myers Park were joined by low-income neighborhoods in far east Charlotte, where leaders said they don't have the roads, sidewalks, or transportation to absorb any more density. Then the affordable housing advocacy group Equitable Communities CLT joined REBIC to oppose the plan. Their reasoning was that loosening zoning restrictions could accelerate gentrification and displacement by giving developers more incentive to build high-priced duplexes to replace old rental housing in low-income neighborhoods.
Plenty of gentrification and displacement already occurs in those neighborhoods. Still, the argument took hold among City Council members who rarely share a side on any issue. Democrats Victoria Watlington, Matt Newton, and Renee Johnson joined Republicans Ed Driggs and Tariq Bokhari in an unsuccessful attempt to remove the changes to single-family-only zoning.
"This (plan) does exactly the opposite of what we'd like for it to do," Watlington said at a recent City Council meeting. On Twitter, she compared the plan to urban renewal, the government policy of clearing so-called slums—in reality, established Black neighborhoods—that resulted in the wholesale demolition of uptown's Brooklyn neighborhood and others in the 1960s and '70s.
Meanwhile, assistant city manager and planning director Taiwo Jaiyeoba, who's led the 2040 planning effort since his hiring in early 2018, and fellow assistant city manager Tracy Dodson, who leads the city's economic development efforts, had a spat in memos that were leaked to Axios Charlotte in late May.
Dodson, whom the city hired in 2018 after four years as a vice president at real estate development giant Lincoln Harris, wrote to Jaiyeoba that the plan could hurt the city's economic development efforts. She suggested that the city table or even eliminate some of the plan's controversial parts, like community benefit agreements. "The Plan doesn't suggest strategy," she wrote, "but rather snippets of thoughts randomly placed throughout the document on particular goals." Jaiyeoba responded that council members had voted to support the plan's ideas, though in some close votes, and questioned why Dodson hadn't brought up her concerns earlier.
It's extraordinary for two department leaders in the traditionally united front of the city administration to clash so openly. And the unusual alliances—Myers Park and east Charlotte, real estate lobbyists and an affordable housing group, Democratic and Republican council members—illustrate that local land use politics don't necessarily follow the clean partisan divides we're used to seeing at the national or even state levels. "It is complex," says the Rev. Ray McKinnon, a longtime affordable housing advocate and plan supporter. "I'm not surprised to see this hodgepodge of strange bedfellows."
***
To understand how we got here, rewind to 1975: before the city's skyline sprouted a bumper crop of skyscrapers, before Charlotte ate up most of Mecklenburg County through annexation, before Ballantyne and Steele Creek and most of University City were anything more than fields, farms, and woods. The city's population and land area were barely more than a quarter what they are now. The Carolina Panthers, Charlotte Hornets, Blue Line, and Bank of America headquarters were all decades away.
That was also the year Charlotte adopted its most recent citywide comprehensive plan.
Soon, Charlotte outgrew the plan meant to guide its growth. It became the nation's 15th-largest city as it picked up the "world-class" signifiers that boosters hungered for. Along the way, it swelled, pushed against its borders, and annexed more land, growing like a tree that adds new rings each year. So city planners drew up a growing thicket of new rules, regulations, and visions: dozens of nonbinding "small area plans" for different neighborhoods; a zoning code that sprawls over roughly 1,000 pages; and separate regulations for everything from sidewalks to stormwater, trees to subdivision streets, floodplains to driveways.
Sometimes the regulations worked together; sometimes they didn't. Charlotte learned to be a deal-making town, with developers, city planners, attorneys, neighborhood activists, and elected leaders haggling over what should be allowed where. OK, we'll let you build those apartments if you pay for a wider sidewalk and trim the total number of units a bit. Deal. We'll pay for some new streets and other infrastructure at your new development if you include a few dozen affordable housing units. Deal. Charlotte was a city where men—and they were almost all men—like Johnny Harris, John Crosland, and Allen Tate shaped more than the skyline and the sprawling neighborhoods and office parks they built. They shaped the politics and the ethos, as generations learned to make Charlotte's ad hoc and sometimes creaky development rules work for them.
Messy and imperfect though it was, those decades of freewheeling growth and deal-making built the city we have today. But that heritage makes it harder to agree on a new plan than it would have been if we hadn't waited 45 years.
"Ultimately, the city is paying the price for going decades without a decent comprehensive plan," David Walters says. An architect and chairman emeritus of UNC Charlotte's master's of urban design degree program, Walters is on the advisory committee for Charlotte's development rules rewrite. "Part of me weeps and part of me rejoices, that this is part of Charlotte growing up from a regional semi-backwater."
As Charlotte grew, it followed the same pattern as the rest of America's major cities: segregated housing, unequal schools, and ballooning economic inequality. The infamous Harvard "50th out of 50" report, which ranked Charlotte dead last among big American cities for economic mobility, went off like a bomb among local leaders in 2014. The embarrassment prompted soul-searching, committees of experts, and plans to invest in measures like affordable housing to try to close the gap.
So when Charlotte began rewriting its zoning and development rules in the mid-2010s, equity—an attempt to correct historical inequalities that define Charlotte around race and give all citizens an equal opportunity to succeed—was one of the considerations. In 2018, when Charlotte hired Jaiyeoba to guide the comprehensive planning effort and a rewrite of land-use rules to match, equity became one of the guiding principles.
The solutions that planners settled on to promote equity would become the most controversial parts of the plan: eliminate single-family-only zoning, have developers pay for infrastructure improvements and community benefits like new parks, and push for rules that would mandate some affordable housing in new developments.
For advocates, these are only common sense. Decades of discrimination and government policies like segregation, redlining, urban renewal, and highway construction barred Black people from owning homes in desirable neighborhoods, wiped out Black enclaves, and embedded generational poverty and inequality into the urban fabric. The effects aren't abstract. In some neighborhoods within sight of uptown's sparkling skyline, average lifespans hover in the 60s. Head down Providence Road, into the city's wealthier and whiter "wedge," and life expectancies soar into the 80s.
Friction between the weight of history and the pull of the future is endemic in Charlotte. The future usually wins, as historic buildings are bulldozed and replaced by commemorative plaques. It's behind a key question behind the debate over the 2040 plan: Should Charlotte try to correct the mistakes and sins of the past or follow the city's unofficial-yet-abiding motto of Grow, baby, grow?
Driggs, one of the council members who wants to keep single-family zoning, pointed out that legal discrimination has been outlawed for decades. "What percentage of the population of Charlotte today was a party to any kind of redlining?" asked Driggs during one especially testy council meeting in late May. "I just don't like to be characterized as a segregationist because I think there are values associated with single-family neighborhoods that deserve to be preserved."
Those historical policies don't seem quite so historical to people still living through the consequences. "I've been here since 1969," Lyles, a Black woman, said in response to Driggs. She referenced a black-and-white photograph that shows the triumphant demolition of a house in a Black Charlotte neighborhood. "A bulldozer did come down, with a white guy in a suit, tearing down a neighborhood. So it's kind of hard for me to forget about those things."
***
The notion of a single-family house, owned and not rented, holds a powerful place in the pantheon of American ideals. The 1946 film It's a Wonderful Life is a vivid, if perhaps unintentional, illustration of the ideal. Jimmy Stewart's heroic everyman, George Bailey, stands up to the corrupt local plutocrat by helping people purchase starter homes in a new suburban subdivision. In the Bailey-free alternate reality, wicked Mr. Potter destroys idyllic Bedford Falls by building rental houses and a lively mixed-use entertainment district.
Charlotte has long balanced the growth-friendly ethos with the single-family zoning restrictions that allowed it to grow both its skyscraper-studded city center and its vast single-family subdivisions. It's the kind of city where pro-unregulated-business Mr. Potter and pro-tidy-subdivision George Bailey could have gotten along. Opponents say the plan will signal Charlotte's final turn away from its heritage as a business-first, growth-oriented city.
"If passed as written, the comprehensive plan will signal that Charlotte no longer cares about the proper way to do things, it only matters that they feel good about it," says Larry Shaheen, a Republican strategist and real estate transaction attorney. Bokhari referred to a proposed requirement that developers pay for community benefits in order to build towers more than 500 feet tall as the "Charlotte's closed for business" provision.
The plan's supporters, meanwhile, have spent much of this year lamenting that a few sections of a document that's hundreds of pages long have been blown up and used to fuel the debate. Sam Spencer, a Democratic strategist and chair of the Charlotte-Mecklenburg Planning Commission, says miscommunication is part of the problem. The plan doesn't suggest eliminating single-family neighborhoods—no one is taking a bulldozer to Myers Park—only the exclusively single-family zoning that covers most of Charlotte.
"Whenever there's a potential change, Charlotte is still a very reactive city," Spencer says. And nothing touched a nerve quite like the single-family zoning changes.
"You can never learn the lesson enough that people are going to interpret something different than you intended," he says. "You can say, 'Historically, single-family zoning was created to reinforce white supremacy.' But is that what everybody hears? No. Some people hear, 'I'm a racist because I own a single-family home.' And if you have people who are hearing that message, they are going to get mad."
All spring, dozens of Charlotteans Zoomed in to the city's virtual forums to defend single-family neighborhoods. Some council members joined them. "I live in a single-family neighborhood, and, you know, I look around and I see diversity in the neighborhood—whites, Blacks, Indians, Asians, Muslims—naturally occurring diversity," said council member Greg Phipps, who's Black.
The provision to allow duplexes and triplexes in all neighborhoods narrowly survived a 6-5 straw vote (with Phipps, incidentally, casting the deciding vote). The change might not be as radical as opponents who decried the "elimination" of single-family neighborhoods fear—or as big a boost to affordability and housing supply as its supporters hope.
Duplexes are already allowed in Charlotte on corner lots, and duplexes, triplexes, and quadplexes are common in many of Charlotte's prewar neighborhoods and old streetcar suburbs. (I spent more than five years in a quadplex and a duplex in Dilworth, and a quick glance at Zillow will disabuse you of the notion that renters made the slightest dent in property values.)
Minneapolis, which made headlines as the first major U.S. city to do away with single-family zoning and allow duplexes and triplexes anywhere, hasn't been deluged: The Charlotte Business Journal reported this year that fewer than four dozen duplexes and triplexes were permitted in Minneapolis throughout 2020. Increasing density doesn't automatically lead to more affordability, as the million-dollar-each "duets" for sale in Dilworth demonstrate.
And the city's new development rules won't supersede covenants and HOA restrictions. The plan's opponents say neighborhoods without them are where the teardown machine could kick into overdrive, worsening displacement as renters are kicked out to make way for new duplexes and triplexes. But how different would that be from Charlotte today? Developers and house-flippers have snapped up houses for years in neighborhoods like Seversville and Wesley Heights, simply replacing small single-family homes with bigger single-family homes.
"It's happening now. Gentrification is the status quo," McKinnon says. While he thinks gentrification is a big problem in Charlotte, the plan's opponents are using it as a red herring: "I think, intentionally, folks started muddying the waters to say this thing is what is isn't."
***
As of this writing, in late May, the 2040 plan slouched toward approval in June, with the council likely to adopt the plan in a narrow 6-5 vote. It's been a bitter slog. Over the past few months, council members have said supporting single-family zoning is racist (Winston), insinuated their colleagues are "dumb people" (Driggs, who later apologized), said they don't trust the planning director (Bokhari, who later called for Jaiyeoba's firing), and spent endless hours snapping at each other in testy confusion (pretty much all of them). During one interminable hearing, Lyles seemed to express what we're all feeling when she sighed and leaned back, hand to her forehead—a moment promptly captured as a Charlotte meme.
In many ways, approving the plan is simply a relief. But Charlotte won't be anywhere near done. The city must rewrite its development rules, the detailed policies to actually implement the overall vision. That's expected to last well into 2022. Then the arena might shift to the Legislative Building in Raleigh, where Charlotte would need the approval of the General Assembly to win the power to implement policies like charging developers impact fees.
As we write the next chapter of Charlotte's history, the city won't pause and wait for us to catch up. Growth will speed on, with a few dozen new people swelling the city's population every day. As we grow, no matter what happens with the vision plan and zoning jargon, we'll confront the same history that isn't really history. Policies of the past, buried in old deeds that enshrined segregation, mortgage denials for Black residents, and euphemisms like "urban renewal" will still shape our city.
"All this stuff is going to come up again," Walters says. "All the hard stuff—that doesn't go away."
Ely Portillo spent a decade as a reporter in Charlotte, much of it covering growth and development. He's now assistant director for outreach and strategic partnerships at the UNC Charlotte Urban Institute.
Ed: As expected, council members adopted the 2040 plan June 21. The 6-5 vote hewed to the already established split: Democrats Braxton Winston, Malcolm Graham, Dimple Ajmera, Julie Eiselt, Larken Egleston, and Greg Phipps voted for it; Republicans Tariq Bokhari and Ed Driggs and Democrats Victoria Watlington, Renee Johnson, and Matt Newton voted against it. The final plan allows multi-family homes throughout Charlotte, including those zoned for only single-family houses, although it will honor covenants and deed restrictions already in place. Council members expect to take up the rewrite of specific land use regulations—the details that codify the plan's vision—in spring 2022.