Inside the Oyster Roast, a Signature Event of the Fall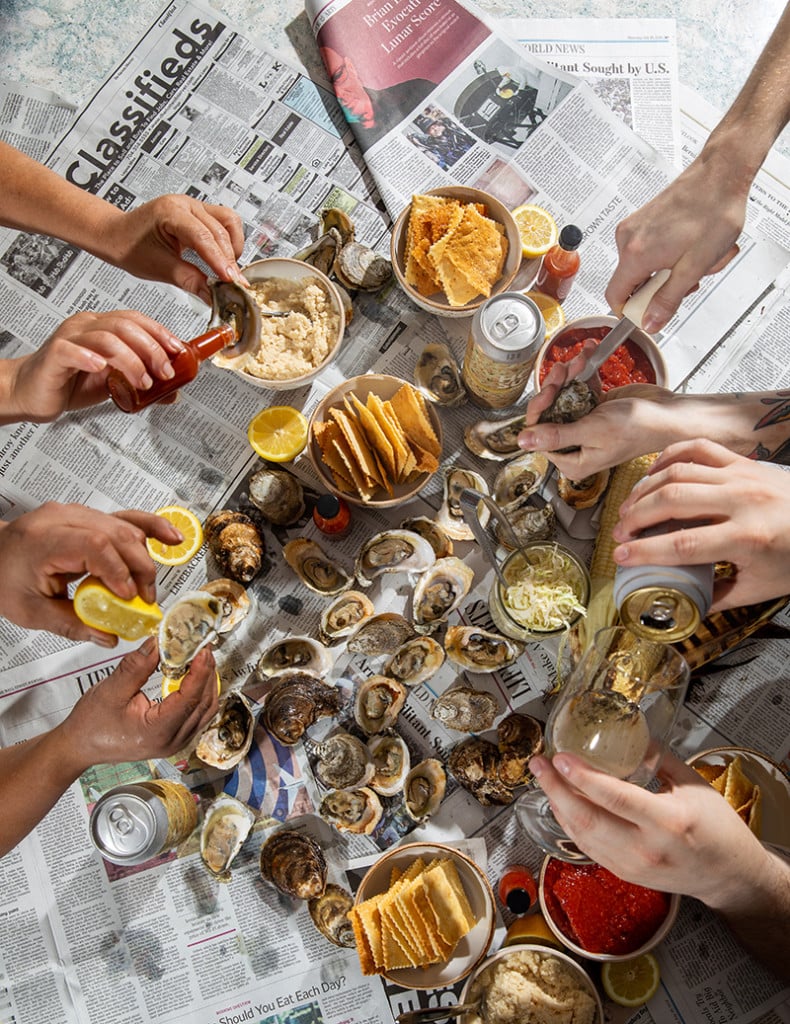 THE OYSTER ROAST is an event steeped in tradition. Advancements in farming technology and techniques have changed some of the rituals, but the sense of community that comes from shucking oysters remains.
The letter "r" tradition
It's a traditional rule of thumb: People should eat oysters only during months that contain the letter "r," or September through April. But advances in oyster farming have made the tradition's observance optional, says Charlie Reid of Clean Catch Fish Market, and Travis Croxton, who owns ROCKSALT and co-owns Rappahannock Oyster Company on the Virginia coast.
"The letter 'r' tradition started because the warmer the water temperature, the more bacteria is present, which can cause people to get sick," Reid explains. "Now farmers are able to cultivate oysters year-round and to adequately control the temperature of water."
Consumers need to know the difference between wild-caught and farm-raised oysters, according to Croxton. Oysters from farms are generally safe, he says, but it's good to stick to the "r" rule for oysters caught fresh from the sea.
Croxton's great-grandfather founded the original Rappahannock Oyster Company in 1899. The company went out of business in 1991, but one night in 2001, over drinks and oysters on the half-shell, Croxton and his cousin, Ryan, decided it was time to resurrect it. With neither knowledge nor boats, the cousins researched and learned how to farm and harvest, and eventually expanded to include restaurants like ROCKSALT.
Pearls of wisdom
Whether you're steaming them, grilling them, or having them catered, make sure your oysters have been caught no more than two weeks ago, Reid says. He suggests the "knock test": If the oyster sounds hollow when you knock it against a hard surface, it's probably dead or sick and contaminated with bacteria.
Wash any excess sediment off before cooking. If they are cracked or open, throw them out. Cook in batches; you have to eat quickly once they're cooked. "After seven minutes, the quality starts to suffer," Reid says. "Once you hit 10 minutes, it's time to throw those uneaten oysters away."
During fall and winter, when oyster roasts are most popular, Reid and the team at Clean Catch often shuck five to eight dozen a day. Steamed oysters are easier to open than raw ones, and there's a simple trick to opening the shells: "Position the oyster between the two folds of (a) towel," he says. "Get a good grip on your oyster, and next put a knife in the hinge of the oyster. Twist your knife and move it back and forth until the oyster opens."
An oyster that doesn't open immediately isn't necessarily bad. "That oyster may be the Arnold Schwarzenegger of the oyster world," he says. "Oysters have a muscle called the adductor muscle, which connects the two shells. If the oyster doesn't open, it may just mean that the adductor muscle is really strong and you'll need to work a little harder."
Carousel of flavors
When Reid hosts an oyster roast, he has an open fire to cook the oysters (Blue Point and South Bay Blonde are his favorites), cold beer, good music, a bottle of Tabasco, and spicy horseradish. For sides, he loves coleslaw and potato salad to balance out the smokiness of the oysters, mac and cheese, and something crisp, like crackers or a vegetable salad.
"No oyster roast is complete without a hot dog," he adds with a laugh. "Growing up in Urbanna, Virginia (home to the Urbanna Oyster Festival), I was around fishermen, both in my family and in the town. They always had hot dogs with their oysters. I like to keep that tradition."
Natalie Stewart, wine director at Fin & Fino, loves her oysters roasted or grilled and her beer cold. She prefers East Coast varietals like Virginia Rappahannock River oysters, with medium brine and a clean finish. If she's craving something saltier, her choice is Toogoodoozie oysters from South Carolina. Either way, the proper accoutrements are saltines and "tons of hot sauce," with a beer, like a saison, that can stand up to the smoky flavors but not overpower them.
Embrace the adventure
Reid has vivid memories of the Urbanna Oyster Festival of his youth. As summer turned to fall, the entire town would come out, along with thousands of tourists and oyster aficionados. At the festival parade, the Urbanna Oyster Festival queen and her court rode on floats and waved at the crowd. Attendees visited pay-as-you-go oyster stations with an endless supply of sauces and lemons and slurped from the shell or crunched with crackers as children danced to live music.
The oyster was the star of the festival, but Reid remembers the people and laughter most, along with the clacking sound of oyster shells as they fell to the tables and the slurp of neighbors who downed them raw. The smokiness of the oysters cooking stays with you, and on your clothes, long after you've left the event.
Have a seat at the communal table, grab a shucker, and dig in. "Surround yourself with family and friends who are up for an adventure," Reid says. "Because that's what an oyster roast is—an adventure."
ERIN BREEDEN is a business owner and writer focused on covering travel and food. Follow her at @erinbreeden on Twitter or @erinmbreeden on Instagram.
---
Wine, Anyone?
Fin & Fino's Natalie Stewart offers three options that will impress wine and oyster aficionados alike
1. Muscadet
Hailing from the Loire Valley area of France, Muscadet wine is bright, high in acid, and crisp with hints of salinity that are perfect for an oyster pairing, especially an Atlantic oyster. Look for the words "sur lie" on the label, which indicates yeasty/bread notes that add a little more body to hold up to roasted oysters.
2. Pinot Noir
The smoky flavors that come through from a roasted oyster are enhanced when paired with a soft and earthy pinot noir. Look for wines specifically from Oregon or Burgundy, France.
3. Fino Sherry
Made of palomino grapes, sherry is produced in Jerez, Spain. The breeze from the ocean nearby gives the grapes notes of sea salinity. There are several types of sherry, but fino is the lightest, and bone dry.