Inside the Partnership Between Aldersgate and ourBRIDGE for KIDS
Two communities and two generations leaning on each other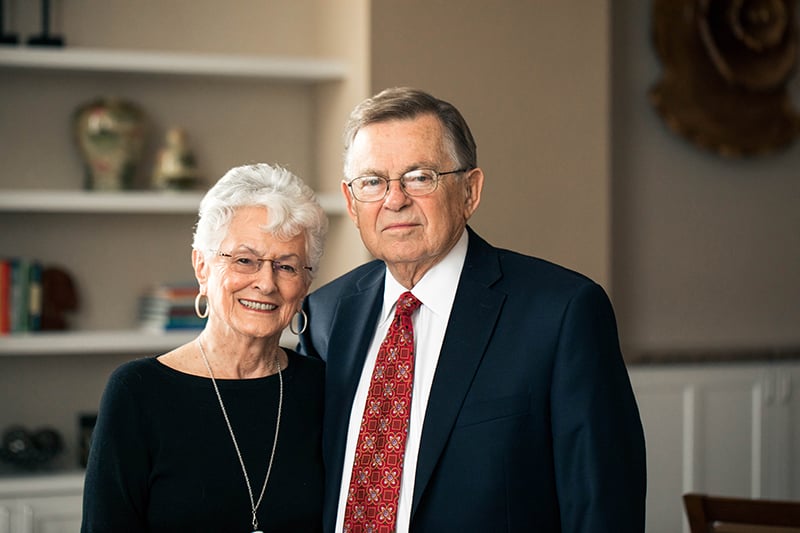 RUTH MONTFORT FOUND a new way to carry out her talent for teaching.
After a career spent working with elementary school students with developmental disabilities, last summer Montfort volunteered at ourBRIDGE for KIDS, a nonprofit that provides afterschool and summer programs for refugee and immigrant children. Ruth and other volunteers helped with a four-week program to prepare the children, many of whom were learning English, for the new school year.
The summer session started just after ourBRIDGE moved to the expansive, 231-acre campus of Aldersgate, a continuing care retirement community in east Charlotte where Montfort lives with her husband Russ. The move put ourBRIDGE in a comfortable building surrounded by wide grassy lawns and tall trees, giving the organization a space nearly three times bigger than its former location in Plaza Midwood. Along with the expanded space, the move brought another benefit: the experience and volunteerism of Aldersgate residents such as Ruth.
"It was fun for us, and felt like you were helping somebody who needed help," she recalls with a smile.
Seniors at Aldersgate are finding ways to translate their abilities, skills, and talents—both new ones and those honed over a lifetime—to benefit themselves and the greater community. The center offers "more activities than a cruise ship," says Brooks Shelley, its director of marketing and brand strategy, but these go far beyond bingo and bridge. The activities can be recreational, work as certified instructors, or volunteering.
The center, whose 500-resident population is mostly white, is particularly focused on being a good neighbor to the east Charlotte community that is home to much of the city's immigrant population. But Aldersgate is also using seniors' talents to help its staff.
Bob Payet, who moved to Aldersgate from Ballantyne two years ago with his wife Andie, is one of several former professionals who participate in a mentoring program with Aldersgate employees. The program matches staff members with experienced residents, who help them with work skill exercises such as writing objectives and getting organized.
"We provide expertise and 'oomph' as needed," says Payet, who spent more than three decades working at DuPont. While he unofficially guided others during his career, the Aldersgate program is the first time he has served as a true mentor.
"The constant thinking about others—that's a real strength," he says.
Driving to Aldersgate takes you past African hair braiding salons, Vietnamese restaurants, and Latino food marts. OurBRIDGE's new building, its windows filled with brightly colored messages from children, is on the right when you turn off Shamrock Drive. Farther back on the campus you will find woods, azalea gardens, a fishing pond, and residences ranging from one-story brick cottage homes to a skilled nursing facility that resembles an upscale mountain lodge. It's all on the largest private green space in Mecklenburg County.
In one of the center's main buildings, a series of spacious, well-lit, fully stocked art and activity rooms allow residents to practice lifelong skills or take classes to learn new ones. What they create can be kept, donated, or sold.
The needlework guild and basket-making classes often donate their products to local organizations, although some baskets are offered for sale in the gift shop. In another section of the activity room, crafters lean in to get a closer look at worn cane chairs, brought in for repair by paying customers. Fixing the weave in the chairs requires precision and focused work—something taught in the weekly chair caning classes.
Dee Ballard, who has lived at Aldersgate for three years, serves as a liaison between her neighbors and staff and manages the greeting card section of the gift shop. But she says her favorite monthly event is the popular jewelry class. Before, she says, she didn't usually wear much jewelry besides her wedding ring.
Now, more than three dozen necklaces, sorted by color, hang from a series of hooks inside her closet door. Ballard has made each one—and these are only the ones she has kept, rather than gifted to her daughters, daughter-in-law, and granddaughters. The necklaces come in every shade of the rainbow, including two in Carolina blue for the Tar Heel fan. They include short strands of beads as well as longer pieces with chunky statement stones.
"Nine out of ten times now, I pick an outfit to match the jewelry," Ballard says.
Shelley says Aldersgate's latest expansion, called the Commons, will allow more residents to get involved with classes and activities and to find other opportunities for engagement. Along with the activity rooms, the expansion offers a multitude of places to socialize, including an ice cream parlor, coffee house, and two full-service bars. But even as Aldersgate increases the amenities on site, its leaders are also focused on expanding the interaction between the center and the broader community—such as by bringing ourBRIDGE to its campus. Ruth Montfort, who volunteers weekly with others from Aldersgate at Windsor Park Elementary School, believes it will happen.
"They are really trying to be a good neighbor to the community," she says.
Emily Ethridge is a native Charlottean who recently returned after a stint in Washington, D.C. You can reach her at emilyve@gmail.com or on Twitter: @EmilyVEthridge.