Inside the Practice of Belmont Artist Juan Logan
The internationally recognized figure talks about his work—including the piece that started it all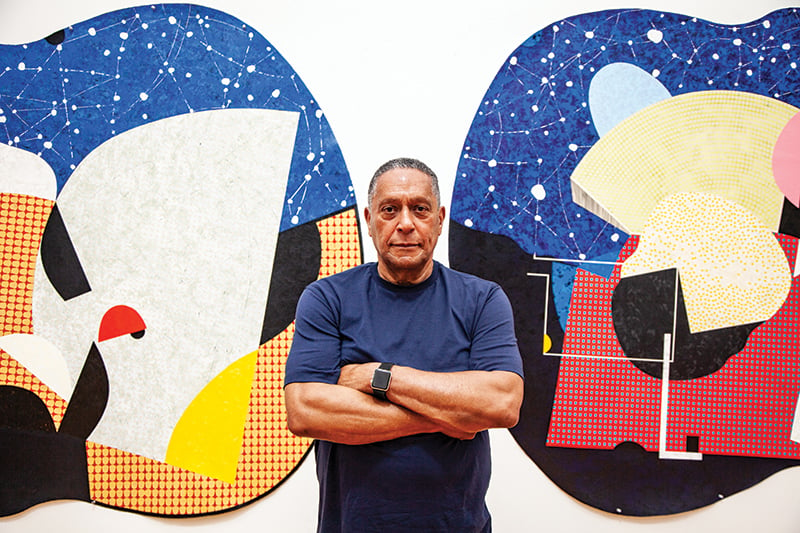 Juan Logan carved his first artwork from white pine in 1960, when he was a student at Reid High School in Belmont. It was a sculpture of an eagle with a 5-foot wingspan, created in art class. "My then-instructor told me the most important thing about it was it didn't have to look like anyone else's," Logan says by phone. "It could just be mine. And that sort of changed everything for me."
Today, at 73, Logan works daily at his sprawling studio back in Belmont, though his work has taken him across the world. Visual art is his profession and passion, as it is for his wife, curator Jonell Logan. Logan's also one of countless artists who this year have had to endure the immovable foe of coronavirus: Since January, the Hickory Museum of Art has displayed a broad selection of Logan's work in an exhibition titled Creating & Collecting, originally scheduled to last until May 10. The exhibition also incorporates works from Logan's inspirations, like Jasper Johns, Elizabeth Catlett, and Robert Motherwell, some of whom are and were his friends. But the virus forced the museum to close in March and wasn't reopened as of presstime—although it offered a catalogue of his works for purchase, with an essay by Dr. Jennifer Sudul Edwards, the Mint Museum's chief curator. (You can still view a virtual version of the exhibition on the museum's site.)
Logan's work often poses questions about race, class, and religion. These social queries are the foundation of his practice. He admits that his early work too often answered the questions instead of asking them. As he's matured, he says, he's taken a more open-ended approach and shirked the label of "social issues artist."
"It's not just race that I'm talking about," he says. "It's more of a state of being and what we are doing with it. When I talk about memory, it's not a racialized memory that I'm talking about. It's sort of the same for all of us. In my artist statement, I talk about looking at the material and mental landscapes we live in because it impacts all of us on a daily basis.
"These days, the paintings deal with memory, both collective and otherwise. And realizing the things we hold on to—or at least try to hold on to—are really just these tiny little bits and pieces of something that we've experienced that we felt, at the moment, was so important, we never wanted to forget it. And we struggle sometimes to retain that."
Logan's own path led him from Nashville to Howard University, the historic black university in Washington, D.C., where he studied biology. But he left Howard to study art at Clark College (which would become Clark Atlanta University) and, after he earned his bachelor's degree in 1967, enlisted in the Air Force and served as a jet engine mechanic during the Vietnam War.
Upon his return from duty, Logan established himself as a major American artist long before earning his MFA in sculpture from the Maryland Institute College of Art in 1998. His work appeared in solo and group exhibitions throughout the 1970s and '80s, from Charlotte's Jerald Melberg Gallery and Mint Museum Randolph to the Museum of Science and Industry in Chicago and New York's Parrish Art Musum. A retired professor of studio art at the University of North Carolina Chapel Hill, he's also lectured at institutions including Kent State University, San Francisco Art Institue, and Howard, the school he departed for art.
Today, as he produced new work in Belmont, his pieces appear in the collections of the Whitney Museum of American Art, the Smithsonian National Museum of African American Art, the New York Public Library and several other world-class institutions. Public works appear as far from Charlotte as a massive mural in Lubbock, Texas, but locally, his commissions have also adorned spaces like Charlotte Transportation Center, Charlotte Chamber of Commerce, and elsewhere.
Logan's work has both evolved and returned to past explorations. It's largely abstract, but it employs symbols—clouds, boats, human heads—that he repeats as motifs throughout his mixed-media work. "I did my first head in 1967," he says. "I've always felt our imaginings take place there first; it has little to do with the rest of our bodies. It's always about how we perceive things." Clouds represent our longings, and boats act as symbols of the vehicles that carry our hopes and dreams. Logan combines and arranges items from his bank of symbols, through varied media, to communicate with viewers.
"I arrived at that place (in my practice) where I simply wanted to create good work and be able to explore something in depth," Logan says. "I wanted to arrive in a place where I stopped being in a hurry. It's really about giving it as much as it needs for as long as it needs it."