Inside VisArt Video's Evolution to Nonprofit
The city's last video store has a vision for the future, available in VHS, DVD, and Blu-Ray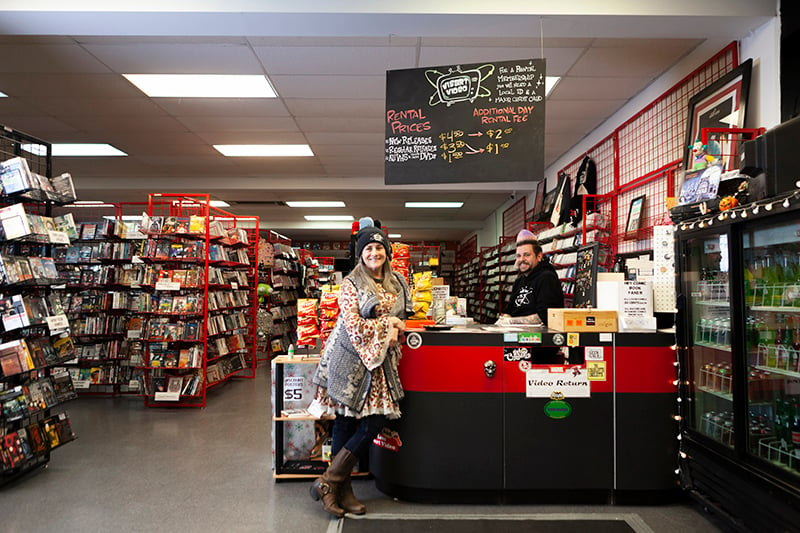 VISART EXECUTIVE DIRECTOR Gina Stewart thinks it's time to update the website. When we chat one afternoon in March, I ask her about the 30,000 titles claimed on the video rental store's page, and she laughs. "It's closer to 50,000 with all the donations we've had lately," she says. "We're the largest collection of film and video on the East Coast, bar none. And we're continuing to find all of these rare titles, some that we lost along the way—others we never even had in the past."
Several new treasures have been bequeathed since VisArt announced a path toward nonprofithood in 2018. Its 501(c)(3) status became official this past January. Those tens of thousands of movies and TV shows are on display inside the Eastway Crossing storefront, a labyrinth of high shelves that carry new releases, slasher flicks, Hong Kong cinema staples, kids' movies, and sections dedicated to influential filmmakers' oeuvres. With the move to nonprofit, "we now take away the mission of making money," Stewart says. "Not that we're not going to make money, but the end goal is to be of service to our community, to serve Charlotte."
In 1985, when VisArt opened a single store in Durham that would become a chain, the United States had 15,000 video rental stores. (That's not counting grocery stores and drug stores that, as more seasoned readers may recall, also rented VHS tapes for a couple of decades.) This Charlotte location of VisArt is now the city's only surviving video store and the only VisArt left, full stop. It endured, Stewart says, because of Charlotte lawyer Mickey Aberman taking co-ownership in 2010. In 2015, Aberman moved the store to the Eastway Crossing plaza and assumed full ownership the following year. As she waited for the buildout of her own co-owned business, the neighboring EastSide Local Eatery, Stewart began to run day-to-day operations of VisArt for Aberman. Two years later, she's still here, moving between the two throughout the day.
Like its plazamate Tommy's Pub, formerly in Plaza Midwood, VisArt was able to relocate the lived-in atmosphere of its former Elizabeth location. Tommy's brought along its trove of NASCAR memorabilia and advertisements with men who wore Jim Croce mustaches. VisArt's vibe is more of a nerd-topia than a dive: Vintage posters cover windows and walls. Two arcade cabinets, borrowed from Abari Game Bar, facing the front window, stand feet away from a CryptKeeper doll guarding the register. "We're not necessarily something people look for," Stewart says, "but it's wonderful to see people's faces when they walk in here. There's a nostalgia to it."
VisArt isn't the only video store in a major city to turn nonprofit. Portland's beloved Movie Madness did so in 2017. Vidiots, a Los Angeles staple that opened in 1985, closed a storefront in 2017, but the Vidiots Foundation has since restored a vintage cinema. The finished project, with a 200-seat theater to host screenings and an adjacent store that'll house its collection, opens this fall. Stewart says when VisArt prepared to convert, employees called West Coast stores and asked, "So, what are you doing?"
Like those venues, programming evolved as a primary focus. On Saturday mornings, VisArt uses its screening room to show cartoons for kids, which gives parents a chance to browse or go grab a coffee at ESL. The Charlotte Film Society regularly teams up with VisArt for events; indie filmmakers bring new projects to share with customers and take part in Q&As. Access to rare films has also wooed college instructors wanting to book a room to show a documentary that touches on curriculum. The tight-knit fellow tenants of Eastway Crossing, many of them Plaza Midwood ex-pats, get in on the fun, too: Portofino's provides pizza for screenings, Armada Skate Shop shows skateboarding films in the screening room. VisArt hopes to collaborate with breweries for watch parties. This month, VisArt celebrates the Star Wars-themed holiday of May 4 (as in, "May the Fourth be with you") with activities for sci-fi/fantasy fans.
Stewart points to the staff, many of them long-timers, as the primary reason people return to VisArt. Each has a speciality. Matt Christiansen, VisArt's mohawked outreach director and an 11-year employee, knows anime, karate films, and broader Asian cinema. Others include a film buff who can recite the Criterion catalogue or the slasher experts who know the difference between Friday the 13th and Friday the 13th Part VII: The New Blood. After Christiansen points a customer to a film he's sure she'd love "since you like Guillermo del Toro," I ask him what it's like to see the business evolve.
"All of the things we're doing now were once in the hopes-and-dreams bucket," he says. "These are now things that are completely plausible in the future. We always wanted a theater in the store; we now have one. We always wanted community collaborations, we now do. We're able to do so much more as a nonprofit."
As they continue to cultivate a film-loving community in Charlotte, Visart's also a destination for out-of-towners. Like all of the different subcultures represented on the shelves of VisArt, the store itself is hallowed ground for seekers of America's last remaining video stores. It's not just a rarity in Charlotte; it's a global outlier.
As I leave, Stewart does remind me of one Charlotte-specific aspect of VisArt that's rare: "My marketing person would be mad at me if I didn't tell you this: Being here in this plaza, we have lots and lots of parking."