InstabeerupCLT, 21 To Party Bar Crawl, Mad Hatter's Ball and More, July 28 to July 31
With multiple bar crawls, an international soccer match and a Mad Hatter's Ball among other events, you'll have to pick and choose how you spend your weekend. That's a good problem to have, Charlotte.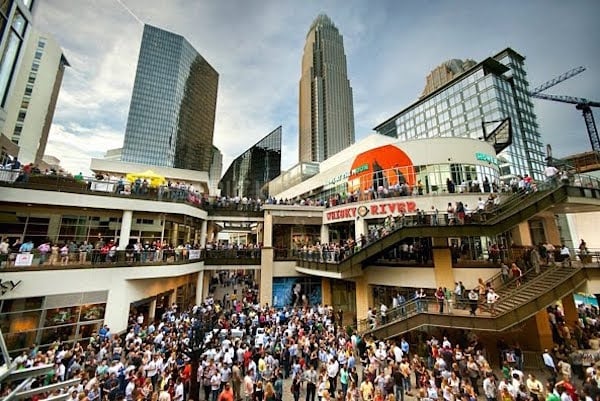 Charlotte does love its bar crawls; we'll give it that. This weekend, the Queen City offers two different crawls: one celebrating Blue Moon's 21st birthday and the other celebrating America's 240th…though belatedly. It's hot out there, so stay hydrated. See y'all out there!
Thursday, July 28
Democratic National Convention Watch Party
Come geek out with your fellow politicos and see history made tonight as Hillary Clinton becomes the first woman to accept a major party's nomination for president. The party gets going at 7:30 p.m. at BlackFinn, 210 E. Trade St. There is no admission fee.
InstabeerupCLT
Charlotte's seemingly favorite monthly networking night is tonight, and the location has changed to Birdsong Brewing, 1016 N. Davidson St. Bring your business cards and get ready to make new friends. The free event starts at 6 p.m.
Friday, July 29
The 21 To Party Bar Crawl
To celebrate Blue Moon turning 21, Charlotte gets its own free bar crawl. Crawlers should check in and register for prizes from 7 p.m. until 8:30 p.m. at Fitzgerald's, 201 E. Fifth St., before heading on to Connolly's, TILT, and BlackFinn and Rooftop 210. Get there early because the first 100 people will receive two free beers. Event organizers are also giving away a Kegerator, Yeti Cooler, front-row tickets to a Knights game, gift cards and more at each stop along the way.
Three Year Anniversary Blowout
Ice Martini Bar has exited its terrible twos, and you're invited to welcome it into its third year. The bar is offering $3 Corona, Corona Light and Modelo throughout the evening. There's no admission fee to this party at 9525 Birkdale Crossing Drive in Huntersville.
Howl's Summer Fest
Didn't get to wear your flower crown at Coachella? Couldn't make it to Bonnaroo? Howl at the Moon likes to think this will be a good alternative to your music fest woes. The bar's Summer Fest at 210 E. Trade St. features live music, $3 summer shandy cans, $5 lemonade cocktails and $20 86-ounce buckets. The male and female winners of the dance contest win $50, and you'll get in for free if you wear a summer music fest T-shirt.
Mad Hatter's Ball
Things get curiouser and curiouser tonight at BlackFinn, 210 E. Trade St. From 10 p.m. until 2 a.m. tonight, sample the Mad Hatter-inspired cocktail list, Alice in Wonderland-themed decor, a DJ and a costume contest with prizes for first through third places. General admission is free, but a VIP pass costs about $12 and includes early admission and a free drink. RSVP here.
Saturday, July 30
Great American Bar Crawl
When you're America, you can celebrate Independence Day whenever you want. That, or these event organizers have never heard of a calendar. Nonetheless, wear your red, white and blue to this bar crawl celebrating America's birth. Tickets to this bar crawl cost about $24 and include a "patriotic chalace" (sic – these event organizers also don't have dictionaries) as well as free admission to all participating Uptown bars. The crawl starts at 3 p.m. somewhere in the EpiCentre (be sure to tell the event organizers to be more specific next time as well as getting a dictionary and a calendar). Buy your ticket here.
'80s Lake Cruise
Come dressed in your best workout gear, side ponytails and neon clothes tonight, as the Lady of the Lake turns back the clock. The boat's DJ will play '80s hits as you take a two-hour cruise around Lake Norman. Tickets cost about $33 and include appetizers and access to a cash bar. Boarding starts at 10:15 p.m., the boat leaves shore at 10:45 p.m. before making it's return just before 1 a.m. Buy tickets here, sailor.
International Champions Cup — FC Internazionale vs. FC Bayern Munich
For another day, Americans get to pretend they care significantly about soccer outside the World Cup and the Olympics, but this game of international importance is coming to Charlotte, which is a big deal. The match is at Bank of America Stadium, starting at 5 p.m., and tickets start at $42 before ticket fees. Buy your ticket here.
Sunday, July 31
Bowling Extravaganza
If you can get past how terrifying and dangerous this is, it sounds like fun. Throw down $22, and you'll get your bowling shoes rental and three games of bowling that encourage bowlers to bowl with their least-dominant hand, behind their backs, holding someone else's hand, no hands (how is that even possible?), with a bucket on your head (actually horrifying) and more. The proceeds go to 24 Hours of Booty, which is actually a reputable charity despite the name. Make sure you have insurance before going, please. The terrifying event starts at 6 p.m. at Piedmont Social House, 2135 Ayrsley Town Blvd. Buy tickets here.
Pints and Puppies
Bring your dogs to Sycamore Brewing today from 2:30 p.m. until 5 p.m. to socialize with other dog owners and beer lovers as you enjoy beer and food and support local no-kill animal shelters. The afternoon also features a dog costume contest (!!) and a charity raffle. Tickets cost $17 and include two free beers and two sliders or tacos from Tin Kitchen. Sycamore Brewing is at 2161 Hawkins St. Buy your ticket here.
Verify dates, times, prices, and other info at the web addresses listed for each event.
Be sure to bookmark www.charlottemagazine.com/Blogs/Dusk-Till-Dawn to stay plugged into Charlotte's nightlife and social scene. Click here to sign up to receive the weekly Dusk Till Dawn e-newsletter.
Want your event featured in Dusk Till Dawn? Follow me on Twitter @Jared_misner and let me know about your event, or send me an email at dusktilldawnblog@gmail.com.