Interactive Installation Opens at UNCC Uptown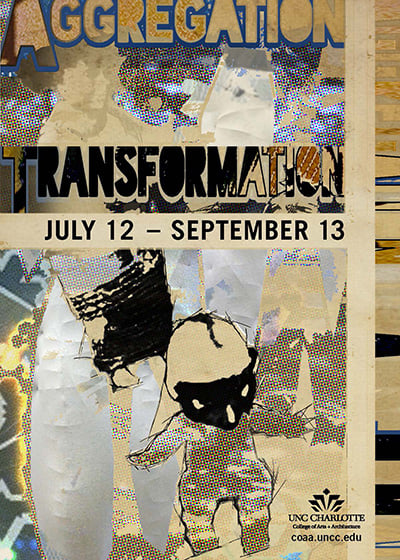 The Projective Eye Gallery of the UNC Charlotte College of Arts + Architecture presents
Aggregation Transformation
, an interactive installation created by four faculty members, Ryan Buyssens, Kelly Carlson-Reddig, Heather Freeman, and Erik Waterkotte.
Designed and built specifically for the Projective Eye Gallery at UNC Charlotte Center City, Aggregation Transformation fills the space with a massive, multi-faceted structure fabricated of steel wire and bands and covered with a "skin" of mesh strips. Reaching 10 feet high and 20 feet long, the structure becomes a vertical terrain, whose ridges and angles, craters and protrusions aggregate interplays of form, light, image, and motion through animations, sculpture, robotics, and print. Projections play across the surface and also glow from within. Triggered by motion sensors, elements of this multi-media terrain will change in response to viewers' movement through the gallery space.
Aggregation Transformation
is the Projective Eye Gallery's second Summer Experiment, an annual exhibition dedicated to collaboration and experimentation by College of Arts + Architecture faculty. Projects are chosen each year by an external panel. This year's panel included Brad Thomas, Curator of Contemporary Art at
The Mint Museum
, recently named Director of Residencies and Exhibitions at
McColl Center for Visual Art
; Peter Nisbet, Chief Curator of the
Ackland Art Museum
at UNC Chapel Hill; and Irina Toshkova of the
New Gallery of Modern Art
in Charlotte.
The reception July 12, and another on Aug. 30, will feature live music and a dance performance by the
Triptych Collective
. The exhibition will conclude Sept. 13.
Artist Bios
Ryan Buyssens studied biology, chemistry and physics before focusing his education on the visual arts. He studied art history in Macerata, Italy and received his MFA in sculpture from Cranbrook Academy of Art in 2004. Since this time he has taught art and design classes in Detroit and San Francisco. He creates kinetic sculpture that synthesizes the moving image with form and has exhibited internationally. He currently is a Lecturer and Director of the Digital Fabrication Lab in the UNC Charlotte College of Arts + Architecture. Visit his website at framedragging.com

.
Kelly Carlson-Reddig is an Associate Professor of Architecture and the Associate Director of the School of Architecture at UNC Charlotte. She completed her undergraduate Bachelor of Architecture at Texas Tech University in 1986 and her graduate Master of Environmental Design at Yale University in 1992. Her scholarship focuses primarily on the conceptual dimensions of architecture's materiality and tectonics, and her current professional practice bridges between the disciplines of architecture and art.
Heather D. Freeman is an Associate Professor of Digital Media at UNC Charlotte, where she teaches digital print, animation, video, installation and drawing. She grew up in Skillman, New Jersey and was heavily influenced by her parents' careers in the sciences. She holds Bachelor of Art degrees in Fine Art and German Studies from Oberlin College and an MFA in Studio Art from Rutgers University. Her work is regularly exhibited regionally and nationally and has appeared in international exhibitions in Canada, China, Cuba, Germany, Hungary, New Zealand, Sweden, and Thailand. Visit her website at epicant.com.
Erik Waterkotte is an Assistant Professor of Print Media in the Department of Art & Art History at UNC Charlotte. He received his MFA from the University of Alberta in 2005 and his BFA from Illinois State University in 2001. While completing his BFA, he studied printmaking for a semester at the University of Wolverhampton in the U.K. Waterkotte has shown his work both nationally and internationally. His most recent solo-exhibitions were at the Open Studio Gallery in Toronto and the Haas Gallery at Bloomsburg University, PA. His work is part of several collections and he has participated in numerous national and international print portfolios. Visit his website at erikwaterkotte.com.