Interview: The Man Behind ONE MAN BREAKING BAD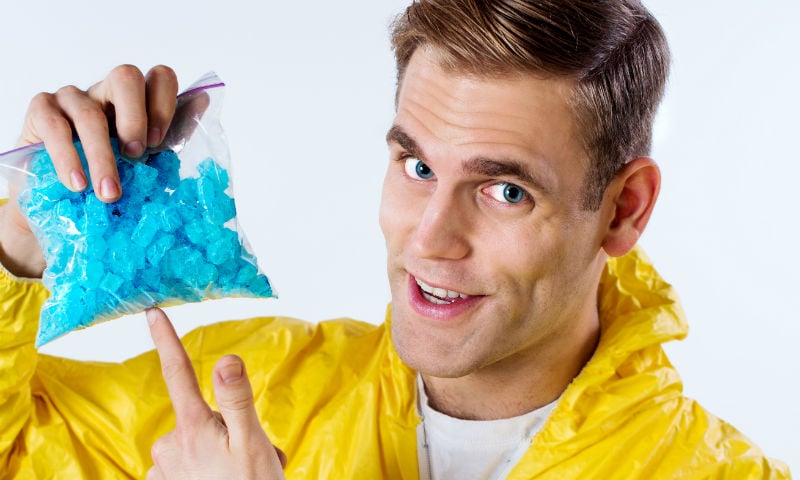 FIVE SEASONS, 60 episodes, 47.5 hours—no matter how you measure the television series Breaking Bad, which came to its dramatic conclusion two years ago, condensing all of it into an hour-long comedy show isn't an easy task. But that's what Miles Allen did to create One Man Breaking Bad. The Los Angeles-based actor garnered YouTube stardom after posting a video of character impressions in 2013, one week after the show ended. The idea for the show followed.
He took this unauthorized rendition of the AMC show to a few comedy festivals before embarking on his current world tour. "I just believe it's the greatest TV show of all time," Allen says, ahead of his Charlotte dates at McGlohon Theater (Sept. 24-25). "And while forming it around an hour one-man show, I saw all kinds of nuggets I never noticed before and just learned to appreciate it for the work of art it is. It's one of the few dramas with a cult following for a reason."
But Allen says this show isn't a "hyper-footnoted" version of Breaking Bad, quickly going through each plot point of each episode. There were cuts and tough decisions. Some supporting characters may not get the spotlight that fans want. But there's one figure in the story that Allen had to impersonate, despite the risk in offending some audiences. Walt Jr., the main character's son in the original show, was portrayed by RJ Mitte, an actor with cerebral palsy.
Allen says he knew some wouldn't be thrilled with the impression in a comedic context, but the reaction has been mostly positive. He's even been approached by some show-goers who have the disorder and said they had loved the impression. "For most people, I think it'd be even greater insult to not do the character," he says. "Without Walt Jr., there'd be a big hole … without breakfast." (Non-show readers: Walt Jr. loves breakfast. A lot.)
Allen's had a few surprises while touring with the globe-trotting show. He's met several people who had never seen Breaking Bad, but were somehow coaxed into watch an hour-long recreation of it. And in Australia, he ran into a pair of heckling audience members who were reportedly on meth, the drug that fuels the plot of Breaking Bad. The show is Allen's "big break," he says, so he wasn't seasoned in dealing with such disruptions. But as Walter White, Allen improvised an appropriate response for Breaking Bad insiders. "I put on the hat and glasses and said, 'If you don't shut up, I'm going to put some ricin in your tea faster than you can say Heisenberg.'" (Sorry, non-Breaking Baddicts: That one would take too long to explain.)
Allen's show hits a few cities before coming to Charlotte this month. Each crowd will receive all the energy he can muster, he says. But there's one that could be the most personal: Albuquerque, New Mexico, the city where Breaking Bad was based. The backdrop plays a central role in the narrative. Most of the TV crew is still in the area working on prequel/sequel show Better Call Saul, so Allen may end up performing for members of the original crew. "That would be fantastic," Allen says. "After all, this is really a 'thank you' letter to those involved making Breaking Bad."
Find dates and times for the show here.