Introducing…The 2011 CIAA Tournament
A primer to one of the country's largest sporting events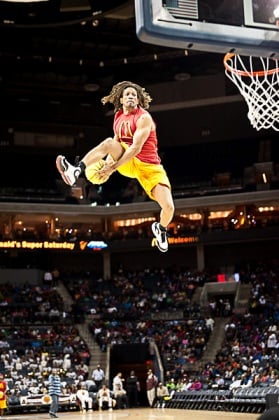 The Central Intercollegiate Athletic Association (CIAA) is in the NCAA Division II, composed of thirteen historically black colleges and universities. The schools stretch along the East Coast, from North Carolina to Pennsylvania, leaving in their wake tens of thousands of passionate alumni. And those alums bring their pride to Charlotte each year for the annual CIAA Tournament.
The first CIAA Tournament was held in Washington, D.C., in 1946, during this country's heavily segregated era, years before the civil-rights movement. As the basketball teams from the small black schools competed, the fledgling conference slowly gained notoriety, aided by the star play of eventual NBA players like Earl "The Pearl" Monroe. After decades in the nation's capital, the tournament moved South in 1988, setting up shop in Richmond, Winston-Salem, and Raleigh for six years each.
Then in 2006, the CIAA Tournament moved to Charlotte. And the ride went into overdrive.
Thanks largely to the growth it has experienced in Charlotte, the CIAA Tournament is now one of the largest sporting events in the country (the Queen City will serve as its home at least through 2014). In its five years here, the tournament has drawn more than 800,000 people, averaging about 160,000 alumni and fans for that winter week each year.
The conference itself has grown, adding two schools in the past two years. Ranging in enrollment from 750 to 7,000 students, the thirteen schools of the CIAA are: Bowie State University, Chowan University, Fayetteville State University, Johnson C. Smith University, Elizabeth City State University, Lincoln University of Pennsylvania, Livingstone College, Saint Augustine's College, Saint Paul's College, Shaw University, Virginia State University, Virginia Union University, and Winston-Salem State University.
With the CIAA, the tournament is about more than basketball. It's a reason for people to get together. So when they're in Charlotte that last week of February and first week in March, it's nonstop action. Nearly twenty-five games are played over six days between men's and women's teams at Time Warner Cable Arena in uptown. But it's the dozens of other events taking place that make Charlotte party central for this week. Day parties, after-parties, step shows, fashion shows, concerts, band competitions, and other special events combine to create a party-goer and tourist's dream.
Consider this your unofficial guide, www.charlottemagazine.com/ciaa, to everything you need to know during CIAA Week in Charlotte.