Introducing the Dusk Till Dawn Social Series – Kickoff Event Sept. 24
Charlotte magazine launches new event series in conjunction with one of its popular blogs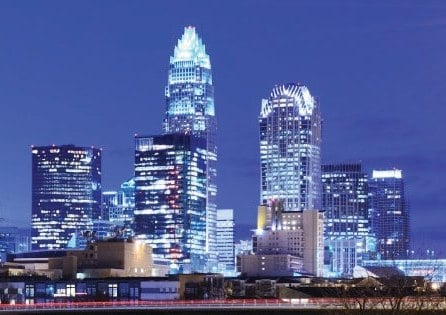 Explore your city after work, and start by attending the kickoff of the Dusk Till Dawn Social Series.
Photo credit: Logan Cyrus/Charlotte magazine
I

've written this Dusk Till Dawn blog for a few years now, and during that time I've witnessed Charlotte's nightlife and social scene grow tremendously. It's led by the increasing number of great venues we have throughout the city, and the events that take place there each week. Now don't get me wrong—Charlotte still has a ways to go if it's to truly become the metropolis we desire. And one area in particular needs improvement: the after-work scene.
Well,
Charlotte
magazine is going to do its part to aid in that growth with the launch of the
Dusk Till Dawn Social Series
. Yes, you're accustomed to visiting the DTD blog for a list of events published each week, and now we're doing an event of our own. Each month we're taking you to one of the city's finest venues, encouraging you to come out after work to mix and mingle, enjoy great appetizers and cocktails, and the chance to win prizes, including from the event series' sponsor
Diamonds Direct in SouthPark
.
The kickoff for the Dusk Till Dawn Social Series will be held on Wednesday, September 24, 5:30-7:30 p.m. at the newly remodeled Sullivan's Steakhouse in South End. Admission is free, but RSVP is required. Visit
www.charlottemagazine.com/DTDSocialSeries
or RSVP below now to secure your name on the guest list.
In this age of social media, people actually aren't as social as they should be. Come put a face and handshake to the names you interact with on Twitter and Instagram, but have never met in person. Make new friends or reunite with old ones. Ask your neighbor to let your dog out or to watch your kids for a couple of hours on this particular evening. You deserve to have a social life.
The hashtag for this event series is
#DTDSocial
, and I look forward to seeing you there!
—Jarvis
Be sure to bookmark www.charlottemagazine.com/Blogs/Dusk-Till-Dawn to stay plugged into Charlotte's nightlife and social scene. Click here to sign up to receive the weekly Dusk Till Dawn e-newsletter. Follow me on Twitter @HollidayInk; email me at jarvish@grownpeopletalking.com.