Is Seth Curry the Second Coming?
His older brother Stephen has become a household name among basketball fans. This season, his first on the court at Duke, Seth Curry gets his chance to shine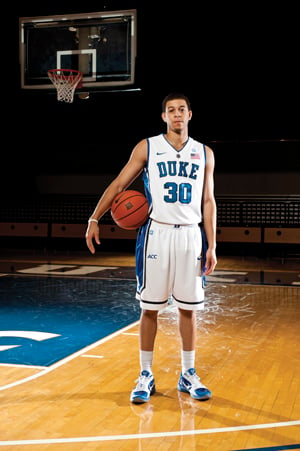 Seth Curry sits in a folding chair inside the overly air-conditioned media workroom of Cameron Indoor Stadium, one hand fidgeting with his cellphone and the other holding a near-empty Gatorade bottle. He looks around once, then again, ensuring that none of his teammates nor the Duke media relations staff linger nearby. His nervousness resembles the new kid in school who doesn't want to draw attention to himself. If there is a pause in conversation, he quickly fills it with a shy smile, a nervous laugh, or a cursory glance toward his phone. His answers are brief; his eye contact is fleeting. He either wants to be somewhere else or, more likely, is uncomfortable with being the story. That's a role usually reserved for his father, Dell, the former NBA star turned Charlotte Bobcats TV analyst, or his older brother, Stephen.
Seth grew up watching his dad's NBA games with his mother, Sonya, Stephen, and his younger sister, Sydell. Seth often battled Stephen, a hoops star at Davidson College before being chosen seventh overall in the 2009 NBA draft, in the backyard driveway of the Curry home. The basket is still standing but the net has worn down, several strings loosened or torn after thousands of hours of use by Charlotte's first family of basketball. "Our parents didn't push basketball on us, but not liking it has never even been a thought," Seth says. "It's always been a part of my life."
This year of his life may be unlike any other. Seth will compete for the Duke Blue Devils, vying for a starting spot on one of college basketball's deepest backcourts. In the spring of 2009, he announced his decision to transfer to Duke from Liberty University. He spent this past season as a redshirt sophomore on the Blue Devils' bench, per NCAA transfer rules, watching as Duke won the national championship in April.
Twenty-nine months younger than his brother, Seth is accustomed to observation. He watched from the stands as Stephen became the nation's basketball darling in 2008, leading Davidson to an improbable Elite Eight appearance in the NCAA Tournament. As reported in this magazine earlier this year, the spotlight has been with Stephen ever since. He competed as a part of this summer's gold-medal-winning U.S. squad in the FIBA World Championships, a team led by Seth's current head coach, Mike Krzyzewski.
Seth briefly flirted with his own fame while leading the nation's freshmen in scoring two years ago, averaging 20.2 points per game as a shooting guard for the Liberty Flames and earning the Big South's Freshman of the Year award. But that attention faded away when the Flames ended their regular season without an NCAA Tournament bid.
Now the self-described "shy" middle child will add to his own chapter in the family legacy. In doing so, he has chosen a separate path from his brother: transferring from his role as a potential solo superstar in a small conference to one of the nation's most talented, competitive programs.
All eyes will be on him. Even if off the court, he'll try to avert their gaze.
The Currys grew up in southeast Charlotte, where their lives revolved around family and basketball. Stephen tells stories of watching Dell's games as a young boy sitting on his grandfather's lap. Sonya talks about not allowing her children to watch or play hoops until their homework was finished. Dell remembers speaking at various camps and bringing his boys along. "They were always listening," Dell says.
And playing basketball. The brothers, who confess to being competitive with each other in everything from video games to backyard one-on-ones, grew up constantly challenging each other.
"Between the two of them, Seth is the one who's a little more antagonistic on the court, who'll talk a little more," says Charlotte Christian head basketball coach Shonn Brown, who coached both brothers in high school. Sonya attributes some of their personality differences to birth order, noting that "Seth is a middle child, so he's very competitive."
When he was being recruited out of high school, Seth was largely ignored by most major programs. He'd suffered a hamstring injury toward the end of his junior season that limited his playing time. He was considered undersize, and many ACC coaches, while realizing they'd mistakenly misevaluated Stephen, doubted that the younger brother could match his talent. William & Mary, Liberty, and Davidson were Seth's primary suitors.
"Steph encouraged me to go to Davidson, but I didn't really want to be in his shadow," Seth says. He pauses before rephrasing. "I know I'll always be in his shadow, and I'm OK with that, but I didn't want to play directly under him." Instead, Seth chose Liberty, a school of about 12,000 students in Lynchburg, Virginia.
"He was Stephen's little brother everywhere he went, even on his own team, because the Currys at that time had so much attention," McKay says.
"I first saw Seth play in the spring of his junior year," says former Liberty men's basketball head coach Ritchie McKay, now an assistant coach at the University of Virginia. "After about five minutes, I told his coach, 'I'm offering him a scholarship.' He made this hesitation move to split the [defenders] and finger rolled it in, and then he shot one from about twenty-nine, thirty feet."
Two months after Seth committed to Liberty, Stephen led the Wildcats to the Elite Eight. Reporters nationwide began calling McKay, asking if his soon-to-arrive freshman was as talented as his older brother. "He was Stephen's little brother everywhere he went, even on his own team, because the Currys at that time had so much attention," McKay says.
Current Liberty assistant coach Jason Eaker was a member of the coaching staff that recruited Seth and coached him his freshman year. "Seth wasn't a major prospect coming out of high school," Eaker remembers, while noting that he thought major programs might "take a gamble" on Seth given his brother's success.
"Stephen Curry was written about after he accomplished college things," Eaker says. "But before Seth even played his first game, we'd had national media contact us."
Seth answered those expectations by leading the nation's Division I freshmen in scoring. His offensive performances were monstrous: twenty-four points against Clemson, twenty-six against Virginia, thirty against Northern Colorado, thirty-five against Virginia Military Institute. He'd inherited and honed what his current teammate Nolan Smith, also the son of a former NBA player (the late Derek Smith), calls "the Curry jump shot." As the season continued, teams began to double- and triple-team Seth. His numbers fell off a bit, but he still pushed forward.
"He handled the pressure really well because while he's very quiet, he's an absolute competitor," McKay says. "He compares himself to the best, so he's not satisfied at being the best."
Seth says that after Liberty's loss in the conference tournament, he went home to Charlotte. He and his dad were washing his car in the driveway when Dell brought up the possibility of Seth transferring. "I had a good year at Liberty, but there were times I wasn't getting better and I wasn't getting pushed, and my dad was seeing the same thing," Seth says.
"I think if you can play at the highest level and compete, that's where you should be," Dell says. "[Seth] felt the same way. I told him, 'You'll be surprised at the teams that'll call, teams like Duke.' I had no idea if Duke would call, I hadn't talked to Coach K. And then look at that, here he is."
McKay says that after Seth announced his intention to transfer, the coach fielded somewhere between fifty and seventy calls from interested parties within the first forty-eight hours. "I don't think [Seth] left because he was too big for Liberty, I think he left because he wanted to prove himself against the best," McKay says. "Hence his choice of Duke."
Seth says he'd been a Duke fan ever since attending the Blue Devils' youth basketball camps. The first time he witnessed the Cameron Crazies in person was at a Davidson-Duke matchup during Stephen's freshman year. Watching the frenzied student section continuously taunt the Wildcats as the Blue Devils extended their lead, Seth couldn't help but be intrigued. "They just killed Davidson," he says, shaking his head with a slight grin.
"When we heard that it was in his plans to transfer, for us it seemed like a no-brainer," says Duke assistant coach Steve Wojciechowski. "He's a great kid from a great family, a really good student, and a very talented basketball player."
Due to NCAA rules, transferring meant sitting out of games for an entire year. So Seth focused on improving in practice, as captain of Duke's "blue" squad. He matched up against All-American Jon Scheyer and Smith, now a senior captain for the defending national champions.
"He is a tough guy to guard because you can never relax going against him," Scheyer says. "From Day One, he made me and Nolan really work hard guarding him every day in practice. He has a really great, quiet confidence about him."
"Even though he had to sit out last year, he was as much a part of this team as anyone," Smith says. "He's had a whole year to work and learn the game of the ACC. Now he looks to get to the basket more, uses his three-point threat to his advantage and still puts it on the ground and makes plays."
Seth says that while sitting the bench was difficult, he realized that the competition he faced in practice was as tough as any he'd see on the court. He calls himself a classic shooting guard and relies on several weapons: an adept jump shot from as deep as thirty feet; a quick dart left, then right, then left again as he beats his defender off the dribble. He also sees himself as versatile, a court leader who can shoot but still makes plays for his teammates. Smith tweeted earlier this year that he believes Seth may emerge as the best shooter Duke has ever seen.
During home games, Seth kept a keen eye on his competitors, studying their weaknesses and telling teammates how to exploit them. "Seth was always in my ear, telling me, 'You can get him with this because he's slow footed,' or, 'You can beat him here,' " Smith says. "He was a coach for me all year."
Seth says that what has attracted him the most to Duke's program is not only the success, but also the camaraderie. No amount of individual talent is rewarded more or considered "better"; instead, they focus on the team as a unit, a different experience than what he says he'd encountered elsewhere. At the beginning of this season, the coaches handed a sheet of paper to each player with one word inscribed on the front: brotherhood.
Seth's roommate last year and this year, teammate Miles Plumlee, cites Seth's basketball IQ and his tenacity as two of his underappreciated strengths. He also points to how well Curry handles the attention and expectation that stems from being part of such a basketball-centric family. "I admire the fact that he's proud of it," says Plumlee, who has two basketball-playing brothers. "I'd be maybe frustrated at times or down on myself, but he takes a different outlook. It motivates him, and he's forging his own path."
When not studying or practicing, the roommates often play video games until the wee hours of the morning. Seth is a self-professed "movie and TV-show addict," with a constantly full Netflix queue. He also operates a Twitter account, which is up to almost 12,000 followers. He and Stephen talk or text almost daily and send messages via Twitter. A September 14 tweet reported that Seth was accompanying Plumlee to Gamestop to purchase the newest edition of Halo, which had been released earlier that day.
Though he's yet to play in a game for Duke, fans already expect Seth to be the key ingredient for a repeat national title. CrazieTalk.com wrote earlier this year that the player they were most excited to see, and the one with the most to prove, was Seth. A fan began the blog Seth Curry Saves Duke! when he announced his intention to transfer. Though, as Seth laughed last May following his team's national title, "I don't know how much saving they need."
Still, he worked even harder this summer than previous off-seasons. When asked about his buffer build, the six-foot-two Seth sits up proudly, describing how he jumped from 168 to 184 pounds. The added muscle was honed, in part, at the Accelerate basketball center in Charlotte, where Seth participated in a grueling regimen of weight lifting, drills, and skills training. He worked at driving the lane faster, making plays over bigger defenders, and improving his on-the-ball defense.
"Basketballwise, I wouldn't be surprised if he's better than me,
to be honest," says Stephen Curry about this brother.
The latter skill was also tested in the backyard against his brother, where the results didn't always favor the elder. Seth smiles when asked how many games he beat Stephen, offering only that the total tally wasn't as lopsided as in years past.
"He's quiet, but also very confident in himself, almost like excess confidence," Stephen laughs about his brother. "With the pressure that me and my dad have put on him, it's made him a little tougher, so he can handle adversity." He pauses, before adding: "Basketballwise, I wouldn't be surprised if he's better than me, to be honest. He's pretty good right now, and with three years left at Duke, things are stacking up for him to be successful."
Besides boasting one of the nation's best all-around players in Kyle Singler, Duke returns Smith, the Plumlee brothers, and several other veterans. Premiering alongside Seth will be much-touted McDonald's All-American freshman Kyrie Irving. Competition for playing time will be stiff—exactly the way Seth likes it.
"I just can't wait," Seth says. "That first day, my heart will be pumping. I want to compete at the highest level and now I'm at a school where I can be in that fire. I'm definitely more comfortable on the court than anywhere else. It's where I'm confident and know how to do well."
When a reporter visited the Curry home last April, Seth was upstairs, sleeping. He'd moved out of his Duke dorm the day before; Dell and Stephen had driven from Charlotte to Durham and back to help him pack up his room.
Seth says that he awoke as Stephen and Dell played a game of H-O-R-S-E in the backyard, but he didn't feel like coming downstairs. He could hear the slam of the basketball as it banged against the garage wall. Dell, wearing Duke basketball shorts, and Stephen, dressed in Golden State Warriors warmups, battled until Stephen's H-O-R-S beat Dell's H-O-R-S-E. They laughed, waved to the camera, and walked back inside. Their legacies—whether finished or ongoing, have been solidified. But Seth stayed out of sight. That wasn't his story.
His story begins now.
Anna Katherine Clemmons is a writer for ESPN.com.