Is Your Guest Room Missing These 7 Essential Features?
Be the best host with these furnishing tips.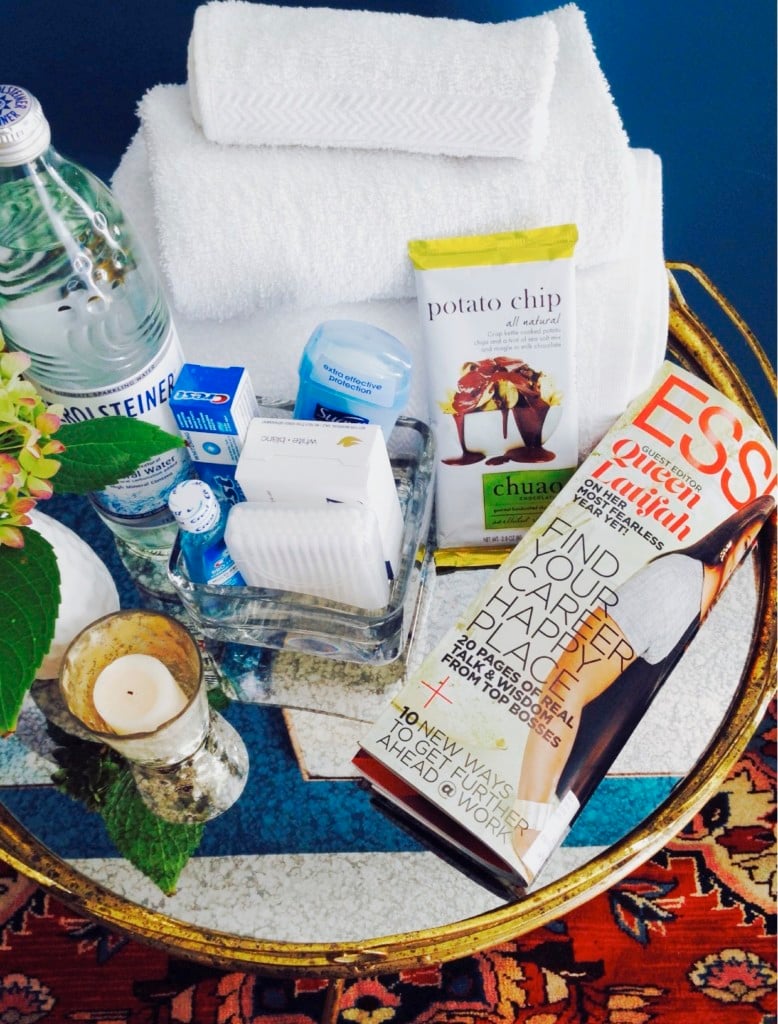 Aunt Jill is coming to town. And Nana. And that guy who married your sister. It's officially the holidays.
This time of year is notorious for the influx of house guests that travel near and far to be with family and friends. Some homeowners welcome the company with open arms while others might reluctantly extend the invite. Either way, though, the fact remains: People will be staying at your house soon.
But is your house ready?
Furnishing your guest room(s) might seem simple at first—bed, check; light, check; blankets, check. That's pretty much it, right? Wrong. So very wrong. Nothing tells guests they're not welcome quite like a poorly equipped guest room and guest bathroom. If you want people to come back next year, consider using the below checklist for your guest room. And if you don't want people to return next year, well, you should still be a good host. C'mon, Scrooge.
We asked decorating expert Ariene Bethea, Owner of Dressing Rooms Interiors Studio, to give us her must-haves for great guest rooms, and she opened with this advice: "Think of your guest room like a hotel suite and match that level comfort." We also included a couple of our best tips.
What Your Guest Room Needs
Connectivity. Even children have smartphones these days. You'd be sorely remiss to assume your guests have unlimited data and don't want to connect to your WiFi. Bethea says a simple way to let guests know they can connect to your home network is to print out your WiFi network name and password and place it in a frame next to the guest bed. Another stylish way to display this information is on a small chalkboard stand.
Toiletries. Much like a hotel would, Bethea suggests providing guests with all the small toiletry items they might forget: cotton swabs, deodorant, a bar of soap, toothpaste, mouthwash, shampoo, and conditioner. She says you can place these toiletries neatly in a basket or tray.
Mirror. It sounds silly, but think of the last time you were in a room without a mirror. It feels weird, right? Make sure your guest has a mirror so he or she doesn't have to play the guessing game when getting dressed.
Hydration and snacks. Whether your guests need to take medication before bed or simply need to hydrate post-party, it's always a thoughtful idea to place several bottles of water near the guest bed. Nobody likes going thirsty! Bethea also notes that a chocolate bar or assorted nuts would be welcome additions.
Suitcase spot. Take another clue from hotel rooms, and provide your guests with a table, chair, or bench to place their suitcases. Nobody likes bending down to the floor to sift through their suitcase, especially if they are elderly or have back problems.
In-room entertainment. If your guest bedroom doesn't have a television, Bethea says, consider providing other forms of entertainment such as Charlotte Home + Garden magazine or a local newspaper. This way, your guest has a nice way to start or end the day.
Towels. Lastly, don't forget to lay out bath towels and washcloths so your guest doesn't have to ask for them.