It Takes Two
How To Choose A Wedding Band That Pairs Well With Your Engagement Ring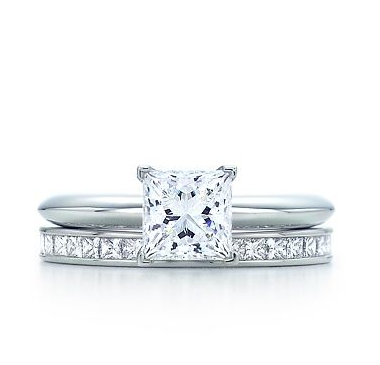 Choosing a wedding band to complete your ring set can be a daunting task for more than one reason: First you have the challenge of finding a ring that balances precisely in the middle of complimenting the engagement ring and not detracting from it. Add on the pressure of choosing a tangible symbol of forever, and you've got a potentially tense retail trip on your hands. Luckily, the pairing of engagement rings and wedding bands is as simple as a few style tips and an underlying allegiance to tradition. So here are some pointers to keep you on the right track in your pairing process.
In The Family
When it comes to bands and engagement rings, it's most aesthetically pleasing to keep your metals in the same color family. While you may think mixing yellow and white gold looks artful or of-the-moment, it's a jewelry faux pas. The engagement ring and wedding band should look seamless, and by keeping the colors the same, you instantly create that effect.
Balancing Act
While some brides employ the 'more is more' motto when it comes to bling, it's actually ideal to practice proportions in your set. For instance, a solitare diamond ring will pair beautifully with a pavé wedding band. Think of your wedding band and engagement ring as a top and bottom to an outfit. Balance out simplicity with detail, and you'll end up with a set that feels elegant and timeless, rather than ostentatious or gaudy.
Trouble With The Curve
Uniquely shaped engagement ring bands or stone settings are widely popular. Finding a band that lies flush (or very close) against the engagement ring is key. Thus, should your engagement ring necessitate such, steer clear of straight bands and seek out a curved design that compliments your engagement ring's shape.
Color Swatch
A subtle way to add a bit of interest to a minimalistic engagement ring is to incorporate color into your wedding band. Try a pavé or baguette band with alternating diamonds and gemstones. However, best to keep your gemstone choice classic–opt for sapphire or emerald. Yellow diamonds are a stunning choice as well. This is also a lovely option for those who have colored stones in their engagement rings. It gives an added element of cohesiveness in the set.
Shape Shifter
Should you choose to incorporate stones into your wedding band, you'd ideally like to keep your shapes similar throughout the set. For instance, round diamonds in an engagement setting will pair nicely with pavé diamonds in your band, just like emerald cut diamonds will pair nicely with baguettes.