It Would Have Been Easier to Tear Down Our Myers Park Ranch and Start Over.
But homes like these were built to last, so we gave ours a second chance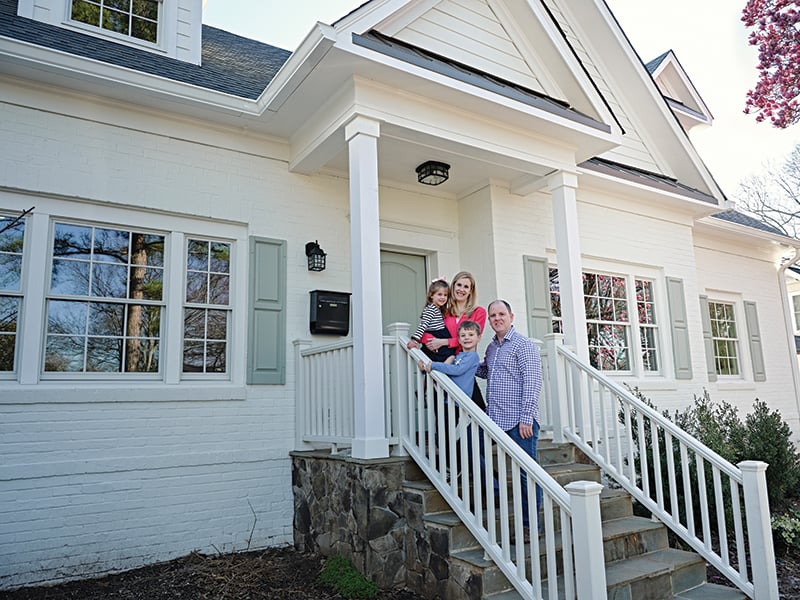 WHEN WE MOVED into our 1,900-square-foot Myers Park ranch in 2014, my husband and I were first-time homebuyers with a baby approaching his first birthday. The yellow brick house, built in 1947, had all the quirk and charm we love—the hardwood floors creaked under our feet, and an old-time telephone niche accented the main hallway—so I could overlook the lack of storage and tiny bathroom. The kitchen had been updated in the mid-'90s, and while the light wood cabinets and dark granite countertops weren't my taste, it functioned just fine. The house was in a good school district and within walking distance of Little Sugar Creek Greenway and Park Road Shopping Center. We could make it work.
A year later, we had our daughter. I soon shared a bathroom with two toddlers, and we all huddled over one sink to brush our teeth. We talked about moving into a bigger house. But we loved our neighborhood and had to stay within a one-mile radius to keep our kids in the school district. It was a common Charlotte dilemma: We wanted a four-bedroom, move-in-ready house, but we could no longer afford our own neighborhood.
We considered tearing the house down and building a custom home, as our neighbors had. It seemed easier than working with our existing footprint. We could raze our house for $15,000 and replace it with something new in nine months for about $300,000. But first we'd have to pay off the mortgage—in essence, we'd buy the house outright just to tear it down.
As we spoke with builders and contractors, we learned that many new homes aren't built to last. With building codes that change constantly, and new materials, tools, and technology hitting the market every year, a prefab home built today could be outdated in a decade. Also, modern building materials like low-quality wood, drywall, and vinyl siding don't last as long as the wood and stone used in older homes.
We considered our 73-year-old brick ranch, with its wood plank subfloors and original copper pipes, and decided to extend its life expectancy. We'd preserve the things that worked and update the things that didn't. At first, we doubted ourselves. But I went to art school. My husband works for a structural engineering company, and we watch a ton of HGTV. We could do this.
***
I FOUND THE HOME'S original floor plan and drew it again and again on layer after layer of tracing paper, rearranging walls, windows, and stairs. I relocated the kitchen and added a master suite, a mudroom, and a bonus room. I blew out the tiny closets and clunky cast-iron radiators. I considered where the kids would enter the house with muddy soccer cleats, where they'd hang their backpacks, and where their friends would use the bathroom. I worked around the chimney and existing plumbing, and I kept intact as much of the home's façade as I could.
My husband researched spray foam insulation and solar panels and shopped around for maple cabinets and oak flooring. We'd upgrade to a tankless water heater and add a new HVAC system, but I resisted the urge to look at farmhouse sinks or gold hardware or any other design trends that would look dated in 10 years. We'd update our house for the 21st century, sure, but it would still look like our house.
After two years of planning and saving, we turned my drawings over to a drafter and designer who translated them into a full set of plans for engineering and permits. This took another six months.
We planned to tear off the roof to add a second floor, gut the interior, and replace every window. We'd add 1,400 square feet, but I didn't want it to look like an addition. I wanted it to look seamless, and we found a contractor who got that. Larry would match the brick, the white Georgian windows, and the crown molding. He could even reuse our pedestal sink and keep the old porcelain-coated, cast-iron bathtub in its place.
He said the project would take seven months, so we found an apartment a few streets over and signed a nine-month lease. (We knew this wouldn't shake out like an episode of Property Brothers.) I chose our flooring, cabinets, appliances, tile, lighting, fixtures, paint colors, and anything else I could select in advance, and put it in a spreadsheet for Larry. Once construction began in April 2019, I wanted to be hands-off.
***
A FEW WEEKS into demolition, a storm came through, blew off the blue tarps that had temporarily replaced our roof, and soaked the first-floor ceiling. Larry's crew had to tear out the old 8-foot ceiling, which set us back two weeks—but they replaced it with the 9-foot ceilings I wanted anyway.
Three months later, someone stole $10,000 worth of windows from inside the house. Larry told us theft happens on construction sites more than we'd like to think. The copper pipes in older homes like ours are often the first things stolen because copper is such a valuable scrap metal. We filed a police report, but our case wasn't exactly a priority for CMPD. Insurance came through, and we ordered new windows, but it set us back four more weeks.
My plan to be hands-off didn't hold up. I assumed each subcontractor would know exactly what to do. But before the electrician could rewire the house, I had to walk through the barely framed structure, visualize it with walls and doors, and decide where each outlet would go. When the tile and flooring were delivered, I had to put each box in its corresponding room and draw out the brick lay pattern with arrows so the installers knew which way to run it.
At times, I thought my head would explode from all the moving parts. If the plumber didn't put the waterline in the right place, the appliance guy couldn't install the dishwasher or refrigerator. If the countertops were cut 3/8 of an inch too long, the range wouldn't fit. If the brick masons rested their scaffolding against the neighbor's fence, said fence would collapse in the neighbor's driveway. (True story.)
By December, I wondered if we'd done the right thing. If we'd gone with a new build, we could be finished by now. Instead, I felt like we had to ask this home's permission every time we altered or updated anything.
***
FOR THE LAST six weeks, we were there every weekend installing closets, shelving, hooks, handles, and anything else we could to keep our momentum. To make our February 1 deadline, we had to pass what felt like a thousand inspections—electric, solar, gas—and without our final building inspection, we would be squatting in our own house.
Then, 24 hours before our move-in date, the lights came on. We had hot water and Wi-Fi and permission from the county to move back in. The kids unpacked boxes of toys that had been in storage for 10 months, and my husband and I had our own bathroom for the first time in six years. An avalanche of furniture and pictures and books would need to be sorted, but we were home.
Some quirks remain, like the slight dip in the floor between the dining room and kitchen, where the old house ends and the new one begins. Our original fireplace mantel is there, and the old plantation shutters fit back into place. The built-in phone niche and random toilet in the laundry room are gone. But everything worth saving still stands, and the house we fell in love with six years ago is still ours.
Taylor Bowler is lifestyle editor for this magazine.