iTheeWed
Release your white-knuckle grip on that wedding binder. With mobile technology and cool apps, here are some ways to help organize and enjoy your big day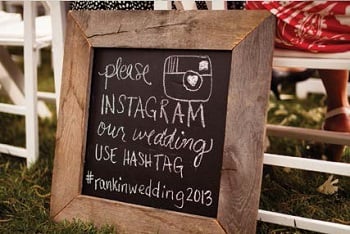 The Engagement
Obviously, you've already called your mom and sister and BFFs and changed your Facebook status from "In a Relationship" to "Engaged." What's next? Radio personality Cassiday Proctor from Kiss 95.1's Drex and Maney show went all out on wedding technology, using it to reach out-of-town family, guests, and even her listeners. "To be creative and save money where we can, we did the save-the-date through Paperless Post. I got flack from my radio co-hosts, but I'm all about social media. It's fun and very us to send an e-save-the-date—plus, it's free and green."
Paperless Post, Minted, and Wedding Paper Divas have beautiful new lines of save-the-date electronic letters and postcards, with options for keeping track of RSVPs, addresses, and food preferences—matching web and print designs by The Indigo Bunting, Kate Spade, and more. A QR code can instantly direct guests to your website, Tumblr posts of your flash mob proposal, or sweet welcome messages from you and your honey. Some stationery companies even create letterpress or traditional engraved invitations with QR codes, which guests can scan to RSVP, drool over your dynamite menu, check the registry, or book a hotel.
Like it local?
Try Bowtied.com, created by Charlotte app developer Aaron Byrum. The app is a bride's go-between for vendors and guests. Bowtied.com wraps up your time line, budget, checklists, vendor messages and agreements, RSVPs, and photos, all in one tidy app. Tell your guests to download it through Facebook, e-vite, invite, or save-the-date and everyone stays in the loop.
Managing the Details
Pinterest.com can be a bride's best friend, but it takes on a whole new level of usefulness when you can collaborate on an inspiration board with your wedding planner. Erica Stawick, wedding planner for Ashley Baber Weddings, always asks her brides to start a fresh, private board that they can access together. "These are for concrete ideas, once we've nailed down the budget, colors, and date. I can add ideas too, and if she doesn't like them, she can delete them."
Proctor, with her mom in Kansas and mother-in-law in New York, uses Pinterest to let them feel involved. And since the two families have never met, the moms communicate via Skype to discuss details and décor. Proctor's New York florist FaceTimed centerpiece displays, and the dress shop offered to Skype her dress fitting. "It's been a struggle planning the wedding by myself, and I don't think I could have done it without social media," says Proctor.
She's even asked her listeners to vote on various hairstyles and makeup looks for her big day.
The Big Day
Ten years ago, disposable cameras at each table were a reception staple. Nowadays, wedding guests get to play amateur photographer with smartphones, hashtags, and tagging.
A recent survey on wedding technology by Wedding Paper Divas showed that the average guest shared 22 wedding-related photos to social media sites, and four in 10 recent wedding guests reported a specific hashtag was provided and social sharing was encouraged.
With hashtags, you can collect candid shots from guests months before a professional photo album arrives. First, choose your specific hashtag, such as a name mashup with your date or city: #bobkatwedding2013. (If you just choose #joneswedding, you may end up sifting through some other brides' photos later.) Add a pocket-sized card to your invitation packet or scattered on cocktail tables at the reception. Stawick has also seen brides display hashtags on pretty framed chalkboards. Photo apps like Wedding Snap and WedPics—both free—automatically compile guests' photos in online albums with beautiful filters and options for private albums.
Local social media fans Gretchen and Bill Voth got plenty of ribbing during their wedding toasts for being on Twitter 24/7. But they never expected their guests to conspire to make the couple's 2011 wedding trend locally on Twitter. "It's a very 21st century way to share your real-time experience of an event," says Gretchen.
The Voths spent the day after their wedding checking out all of the tweets and messages from their wedding day, following the hashtags, and responding individually to each wedding tweet, thanking friends who were present or not. "It was a different kind of album that chronicles our day from the perspectives of friends and family," she says.
Privacy
If privacy is an issue, Capsule, which connects with apps like Instagram, gives you the option of a private join code. Guests can take photos of the wedding that automatically upload to Capsule, and later, you can order prints, thank-you cards, and TinyBooks to celebrate your big day. Only your wedding guests can see your photos, even if they are shared on Facebook and Instagram. Other great print services, like Printstagram, PostalPix, StickyGram, CanvasPop, and Blurb, can create stickers, posters, magnets, and more from your favorite Instagram shots.
A gentle reminder: After you say "I do," don't instantly pull out that smartphone. Instead, look into each other's eyes and take in the moment—to love, not "Like."