ITINERARY: A Summer Night Out With New Uptown Adventures
In Partnership with Charlotte Center City Partners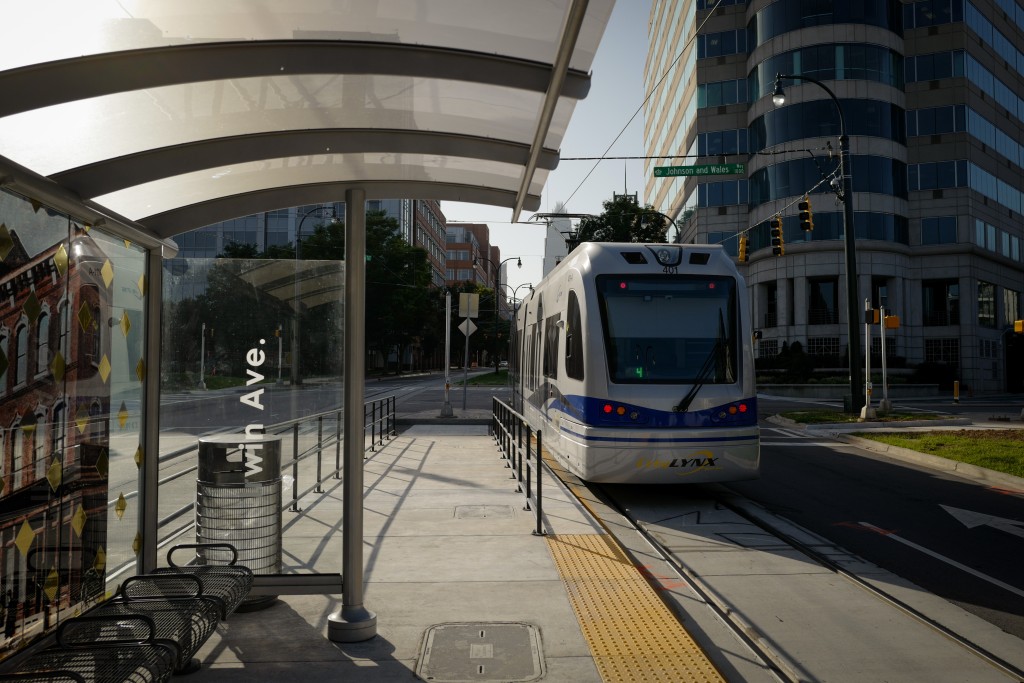 ANYONE WHO'S BEEN there recently agrees: Uptown is buzzing with energy again. And over the past couple years, even more eating and entertainment options have opened. This summer, you might want to consider making a day of trying something that's opened within the past year inside Charlotte's central district. Below, we've assembled an itinerary for a night out that makes uptown feel new again:

START OFF WITH A SKY-HIGH DRINK
Aura Rooftop (JW Marriott Charlotte, 600 S. College St.)
Aura's botanical-inspired cocktails, with a lush rooftop backdrop, are an ideal way to kick off the evening. This JW Marriott opened last August, with three restaurants, a full-service spa, and this bar and pool (with private cabanas) in tow. For something light, go for a Second Ward Spritz, with gin, lavender, Italian apéritif, lemon, vanilla, and bubbles.
DINNER
La Belle Helene (300 S. Tryon St.)
5th Street Group reopened La Belle Helene in uptown last year, reviving one of the most gorgeous dining rooms in Charlotte. The French brasserie-modeled spot features spins on classics from Top Chef alum Jamie Lynch, including the highly popular ratatouille. The Le Steak Burger is also beloved, with its cantal fondue, garlic aioli, and caramelized onions.
OR
MOA Korean BBQ & Bar (128 S. Tryon St.)
Continue the adventure with the a visit to a grill-at-your-table experience that's quickly become an uptown favorite. The impressive menu is fall of shareables, giving you a chance to discover new dishes together. Charlotte magazine lifestyle editor Taylor Bowler says the seafood Korean pancake, in particular, "will be your new favorite comfort food."

EVENING ENTERTAINMENT
Charlotte FC Games or Concerts (Bank of America Stadium, 800 S. Mint St.)
Lifelong Panthers and Hornets fans will agree that there's something special about being there for a major league team's first season. Our soccer team's inaugural run continues to break records, and they play throughout the entire summer at Bank of America Stadium. The stadium also hosts major concerts this summer, which is a relatively new development for the venue, and the schedule includes Def Leppard, Mötley Crüe, Poison, and Joan Jett & the Blackhearts (June 28); Garth Brooks (July 15); and later in September, Red Hot Chili Peppers (Sept. 1) and Elton John (Sept. 18).
OR
A New Touring Show at Blumenthal Performing Arts' Belk Center (130 N Tryon St.)
This summer's slate includes Blue Man Group (July 15-17) and To Kill a Mockingbird (July 26-31).
OR
A Mural Tour
This one is something you can place earlier in the evening, too, if you'd rather dine after your entertainment. Lately, you might have noticed some new paint adorning the buildings across uptown. Art Walks CLT, which expanded over the past couple years with new live walks and resources, continues to catalog those new pieces. You can either join in on one of their excursions this summer or go at your own pace using Art Walks' maps. Just a couple of the newer murals to check out: Sydney Duarte's "Where the Magic Happens" behind Knight Theater (430 S. Tryon St.) and the gorgeous portrait by Sam Guzzie, Owl, and Kalin Renée Devone next to the Charlotte Convention Center (501 S. College St.). That piece was part of a partnership between the Charlotte Rail Trail and U.S. Bank.
HAVE A NIGHTCAP
Novelty House Rooftop (123 E. 5th St.)
Let's go full circle and head back up into the clouds with Novelty House Rooftop, a spot that gives you views of all four sides of the Bianco Tower, which includes uptown's biggest mural (crafted by Alex Duncan). Though the setting is also several floors up, it's an entirely different vibe from our first stop. This upscale spot has a line-up of champagnes, cocktails, Charlotte beers and seltzers, and more.
To plan your Uptown adventure, check out the guides at uptowncharlotte.com.