It's the Jam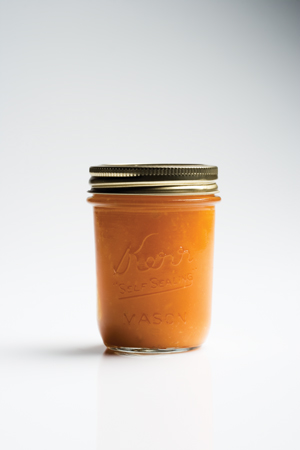 When Ritz-Carlton executive chef Jon Farace was deciding what to serve in the new Urban Sip, Carolina-grown sweet potatoes came to mind. His creation, a sweet potato jam, is velvety smooth, with a hint of vanilla and a flush of ginger that lingers on the back of the tongue. At Urban Sip you'll find it served with several types of charcuterie and artisanal cheeses and, until now, you could only enjoy the jam at the Ritz. But here Chef Farace shares the surprisingly simple recipe.
2 pounds sweet potatoes
1 3/4 cups granulated sugar
3 vanilla beans, seeds only
(pods discarded)
1 tablespoon ginger, very
finely grated
Zest of 1 lemon
1 cup water
Salt and white pepper to taste

Heat oven to 350 degrees. Roast the sweet potatoes, skin on, until soft, about 30 to 40 minutes. Combine sugar, vanilla, ginger, lemon, and water in a saucepan and heat until the sugar dissolves. Carefully, remove the sweet potato from the skin and add to the seasoned sugar water. Simmer for 8 to 10 minutes, then purée in a food processor until smooth. Pass through a fine mesh sieve for an even smoother texture. Keeps refrigerated for two weeks.
PAIR IT WITH:
Duck Breast
The jam brings a brightness to the meat, fresh or smoked. "The ginger in the jam helps to balance the richness of the meats," says Farace. Serve it alongside, as a condiment for a duck entrée, or dollop a bit over the top of thin, rare slices arranged on a canapé.
Grilled Pork Chop
Grill extra-thick, bone-in chops over hickory charcoal (or chips) until medium, with crunchy char marks (but pink in the middle and still juicy). Pass the sweet potato jam, allowing dinner guests to slather at will.

Antipasti Platter
Arrange plenty of salty prosciutto and soppressata salamis with shards of Parmigiano-Reggiano cheese and roasted vegetables around an earthen pot of jam. The sweetness plays well against the salt and spice of the cured meats, melds with the Parm, and shares the vegetables' earthy notes.
Brie de Nangis
Hailing from the Ile de France region, this pasteurized cow's milk cheese is buttery and extraordinarily creamy, almost runny, when at room temperature. Spread with the jam on crisp, thin crackers, this makes a perfect nibble when paired with sparkling wine.