Jaclyn & Harry
September 5, 2009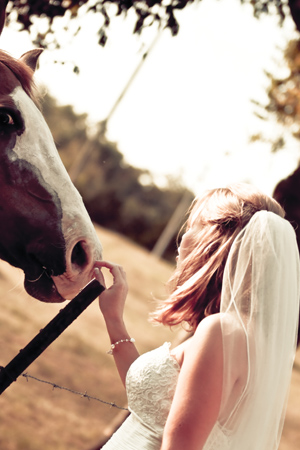 The Dairy Barn at Anne Springs Close Greenway
When the minister marrying Jaclyn Holly Bender, twenty-seven, and Harry Bohli, twenty-eight, spoke of "life's utmost surprises," a leaf fell from the tree above and floated right down into Jaclyn's silk strapless Angelina Bridal Couture gown. But the couple's first real surprise came during their chance meeting over pizza. After Jaclyn and a friend were seated next to Harry and his friend at a café in Rome, they shared conversation, a bottle of wine, and eventually a long-distance relationship. The couple planned a rustic but elegant wedding for fall 2009 that was just as relaxed and natural as their first encounter.
Jaclyn — who'd grown up horseback riding and always envisioned herself getting married on a farm—chose The Dairy Barn at Anne Springs Close Greenway in Fort Mill for its beautiful scenery. Flanked by LulaKate-clad bridesmaids and groomsmen in tan sports coats, the couple exchanged vows under towering trees overlooking a picturesque landscape.
Dinner and dancing for 100 guests took place inside the 1940s barn with white paper lanterns hanging from the ceiling of the "milk parlor" and blue mason jars with green hydrangeas serving as centerpieces. The reception began with the couple's first dance — a choreographed version of Marc Broussard's "Love and Happiness." "We wanted something a little upbeat and jazzy," says the bride.
"It was fun to add a little sass." And the sass lasted through the last dance, when Harry carried Jaclyn out sporting her cowgirl boots. —E. L. Z.