Jared Allen Brings Unique Personality to Panthers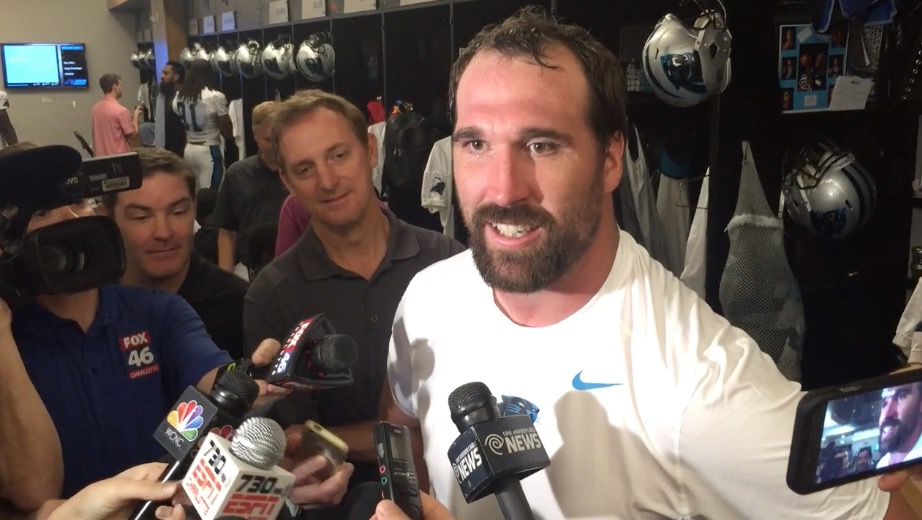 Watch out Josh Norman.
The fiery and outspoken Carolina Panthers cornerback may now have some competition for the biggest personality in the locker room.
As defensive end Jared Allen turned from his locker Wednesday to meet with local media for the first time, he made sure nothing was hanging from his nose.
"That would be a terrible first impression, wouldn't it?" he asked with a laugh.
Eh, it wouldn't be anything a few sacks couldn't make people forget.
When the Panthers traded Chicago a 2016 sixth-round pick for Allen on Monday, they picked up one of the NFL's well-known extroverts. He's played some pretty good football over the years, as well.
No one playing right now has as many sacks as Allen, whose 134 puts him at No. 9 all-time. But through three games in the Bears' new 3-4 defense, he had none. No sacks and no wins.
What's it's like to go from an 0-3 team to one that's 3-0?
"Praise God, honestly. That's just the coolest thing ever," Allen said. "To go from last to first, you gotta have a smile."
Allen, who on Monday morning asked Bears' management for a trade, made clear that request had nothing to do with Chicago's struggles. It was more about a 12-year veteran struggling to fit into a new position.
"I'm not a standup 3-4 guy. I gave it the old college try and I put the work in," Allen said. "They allowed me to go back to my more natural position.
"I understand the game with my hand in the ground. I feel like I can play faster, stronger, have better leverage, have better technique. This is where my heart and my home is in a 4-3 defense."
Even though he'll have had less than a week to study his new playbook, Allen is expected to start Sunday in Tampa Bay. Coach Ron Rivera said he hopes Allen can play between 35 and 40 snaps at right defensive end, where he played his entire career before the Bears moved to a 3-4 this season. That means Kony Ealy will shift to the left side for the first time in his pro career.
With Charles Johnson out until at least Thanksgiving, the Panthers are banking on Allen to help their fledgling pass rush. That's no sure thing. While he has eight seasons with double-digit sacks, he's managed just one in his last seven games. That goes back to last season when he totaled a career-low 5.5 in his first year with the Bears.
But as they were scrambling Monday to find a solution for Johnson's upcoming absence, the Panthers saw flashes of a havoc-inducing pass rusher when they watched Allen's tape. They also got a thumbs up from cornerback Charles Tillman, who was in Chicago with Allen last season. And he wasn't the only former teammate to chime in.
"One of my other former players texted me about him – Brian Urlacher – and just said, 'Coach, you're really going to like this guy,'" coach Ron Rivera said. "When a guy like Brian reaches out to tell you something you most certainly do listen."
Like playing in a 3-4 defense, what most affected Allen last year could be seen as an excuse. But it's a pretty good one. He battled pneumonia early in the season, losing 15 pounds. After missing a Week 4 loss to the Packers, he returned to face the Panthers in Charlotte. He had seven tackles and a pass defensed, but left tackle Byron Bell kept him off quarterback Cam Newton. Allen wasn't himself.
"Last year when I played (against the Panthers) I was 239, so I fought that all year. I own it though. When I'm on the field, I want to be the best," Allen said. "Five-and-a-half sacks is below my standard."
Allen is currently back to his ideal playing weight. Or, as he describes it:
"I've got the same 'dad bod' I've had the last five years. 255, holding strong."
When Allen arrived at Bank of America Stadium on Tuesday, he ran into a guy who always had trouble keeping weight on during his playing days. These days, Panthers longtime left tackle Jordan Gross is perfectly content keeping it off.
"He's about 185 pounds!" Allen said. "I was like, 'Dude, why weren't you this skinny when we played against each other?' I would have had so many sacks on him."
In four head-to-head meetings from 2004-2013, Allen totaled 14 tackles and two sacks when matched up against Gross. Now, Allen will wear his former opponent's number – 69.
"I told him I would take good care of it," Allen said. "I'll borrow it and then they can retire it for him one day."
Besides Gross, Allen has recognized a few other familiar faces in the building, like assistant offensive line coach Ray Brown and receivers coach Ricky Proehl.
"The only bad thing is I've played against a couple of the coaches, so that makes me feel real old," the 33-year-old Allen said.
"The good part is I'm not even the oldest guy, even though I'm a little mad at [safety Roman] Harper. He's got my 2009 Super Bowl ring somewhere. Still stings."
Tillman, 34, is currently the Panthers' oldest player. Like Allen, he doesn't have what Harper does. In 2009, his Saints beat Allen's Vikings in overtime of the NFC Championship. Two weeks later, New Orleans won the Super Bowl.
"He's already been talking trash," Harper said. "He's trying to get back on me for that.
"It's been great to actually meet him and put a personality with the name and face. I've definitely known who he is and the way he plays from tape. So now having him in our locker room is great."
Not only could Allen be good for the Panthers' pass rush, but his experience is also a welcome addition. Of the four other ends on the active roster, fifth-year pro Mario Addison has been around the longest.
"I'm going to watch him. I'm going to watch everything he does, hopefully I can soak in all this knowledge," Addison said. "A man who has that many sacks, he knows what he's doing.
"One day I want to be able to say I had 134 sacks."
Addison currently has 12 in five seasons. 11 of those have come in this last 35 games, though.
We're talking a lot of numbers here, which brings us back to the age thing. When Tillman signed with the Panthers in March, he told reporters, "One of the disheartening things about our profession is people worry so much about age."
Sure, but with good reason. Guys don't play forever. Perhaps Allen doesn't have anything left in the tank. Or maybe, like Tillman, he'll be another former Bear resurrecting his career in Carolina.
"You have your days, but I really don't," Allen said when asked if he feels his age. "I'm wiser.
"33, it is what it is. I'm still going to go out and try to have fun and play like I'm 18."