Jared Allen Favors Kansas City Barbecue Over NC Barbecue. Otherwise, He Seems Like an Alright Guy.
The Panthers defensive end spent Monday night watching football with Fort Bragg servicemen and women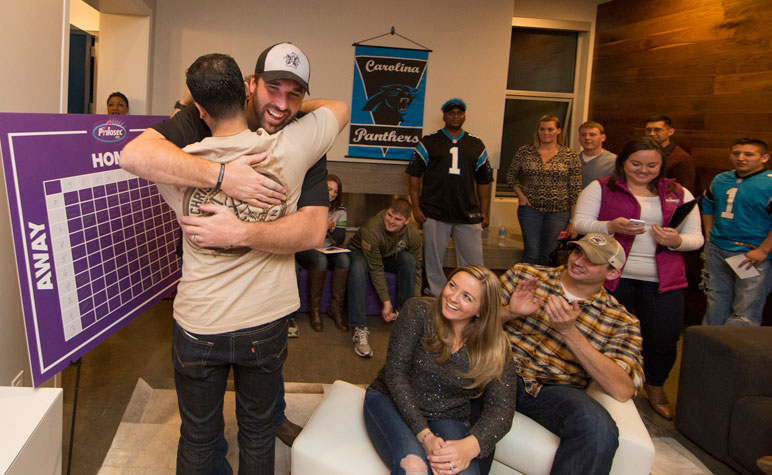 Carolina Panthers defensive end Jared Allen is likely a future Hall of Famer. He has 136 sacks in 12 seasons in the NFL, putting him in the top 10 all-time. Add in his 6-foot-6, 255-pound frame, and you have a lot of numbers that would make meeting him intimidating. Yet Monday night at a "Homegating" event hosted by Taste of the NFL and Prilosec OTC, Allen was just a guy hanging out with new friends—more than 40 soldiers, who had taken a three-hour bus ride from Fort Bragg to spend the night with him. Blake Hartwick, the executive chef at Bonterra, was on hand to serve up the "homegating" dishes, with some help from Allen.
"I'm super stoked we've got the guys coming up from Fort Bragg," Hartwick said before the event. "To get to feed them and let them enjoy themselves and be around Jared a little bit—they deserve that."
Taste of the Nation events raise money for the Second Harvest Food Bank, and this year, the collaboration will feed nearly one million people, Hartwick says. (The next dinner is Nov. 29 with coach Ron Rivera. Get more info here.) Monday's event with Prilosec was an extension of those events. The group watched the Texans-Bengals Monday Night Football game while noshing on Hartwick's creations, an environment that the chef says enables easy conversation.
"It's kind of like an ice breaker, it takes the edge off, because you're adding another dimension to what your surroundings are," he explains. "It's like 'Hey, what's going on?' There's no real subject matter to it. … It definitely adds a buffer, where you can talk about the food and how good it is—and that will lead to other conversations."
After the game wrapped up, the servicemen and women hopped back on the bus for the three-hour return trip, full of food. Here's what Allen had to say about the event, how his Italian wife changed his eating habits, and North Carolina vs. Kansas City barbecue.
Charlotte magazine: What is it about food and football that makes hanging out with a professional football player so easy?
Jared Allen: The idea of homegating is pretty cool. I always laugh—you know, you always see the guy up in the nosebleeds—and I'm like, you realize the best view is probably at your home on the couch. … For me, I love food and I think it's really cool with Prilosec OTC bringing the military up from Fort Bragg. I'm a huge military supporter.
… I'm a Christian man, so one thing the Bible has talked about is breaking bread with your brother. So for me, food is in my family, and I married an Italian. It's a huge part, family dinners and cooking and comfort, I think it really breaks people down, too. It's not a stuffy formal, you're not waiting in line signing autographs and shaking hands, [where] you get a couple minutes. You get to hang out, people's guards get let down, you're laughing at a joke, you have a bite to eat, and I think it's one of those things, it's at the core of what everybody does.
CM: You played in Kansas City for a while. Let's talk barbecue.
JA: I know Charlotte's probably going to hate me for this, hands down I think Kansas City has the best barbecue in the world. They have a variety. You can go to Arthur Bryant's up there and get kind of the Carolina style, the more vinegar-y, and I'm not huge on the vinegar. Although it is nice because it's not as smoky, but for some reason when I think I'm going to get barbecue, I plan on being really miserably full at the end of it. You know? [Editor's note: The Panthers are 9-0. Nobody here can hate you. Unless you talk smack about Price's.]
The good part out here is that I'm not miserably full. It's not that heavy; it's a lighter barbecue. But yeah, barbecue is great. It shows different kinds of cultures. You have Southwest barbecue, Texas is a totally different style, Kansas City is a totally different style, then you come out to the Carolinas, it's a whole different style. I've had Memphis barbecue, Chattanooga barbecue, which again is a whole other kind of style. I like it all. But my favorite is Jack's Stacks barbecue, the original out in Martin City, Missouri.
CM: Speaking of different kinds of cultures, you have guys on the team from all kinds of backgrounds and all over the country. Do you bond over different dishes from your pasts?
JA: When I was in Minnesota, we used to do a day at [defensive tackle] Kevin Williams' house, like a new dish Monday, everybody brings a dish. So guys would come over, it was fun, it was cool. But food is a huge part of what you do. You sit around, you [have] fellowship around breakfast lunch and dinner. So I don't know if it's so much someone's favorite meal, but you do get to spend a lot of time getting to know your teammates whether it's at breakfast, lunch, winning meals on Fridays and stuff like that.
CM: Do you feel like you have to sacrifice good food to stick with healthy food?
JA: Back in my younger days I was like, chicken and broccoli. Then I married my wife and met my wife and she's a phenomenal cook and she has a love for food. She always used to tell me, "Wouldn't you just feel bad if you died tomorrow and you didn't eat that delicious ice cream sundae?" And I'd be like, "Yes, I would feel bad." You sacrifice what you need. Obviously you can't absolutely gorge, but we put so much time and effort into the gym, and everybody's kind of different. As I've gotten older, I've learned ways to balance it to maintain my weight and what I need. But I love food, so I definitely am not missing meals, and I'm not missing delicious meals either.
CM: When you have a chance to watch a game at home, what do you do?
JA: [Sunday] night I tried to watch the game and I fell asleep. (Laughs.) You know, honestly, I watch so much football at work and on film and stuff like that I don't tend to watch too much at home. But in the off-season, we'll have big Super Bowl parties. We always have people over where we smoke ribs and burgers, typical tailgating foot in your back yard. It's great. I'm a huge fan of appetizers, so it seems like dinner always gets pushed back later and later or that the meat gets chopped up and just it's all appetizers. But typical tailgate stuff for Super Bowl parties, I've never been to the Super Bowl so I've had plenty of Super Bowl parties, if not, at least chips and salsa and hanging out watching the TV. [Editor's note: We hope that changes this year.]
CM: You're a hunter. Do you cook what you hunt?
JA: Absolutely. I've got a big thing of eat what you kill. So, goodness, I mean, I've had it all. I've never killed a mountain lion but I've eaten mountain lion, which tastes like chicken. No, not really. (Laughs). But I like predator hunting too, so bear, that kindof stuff. … My favorite thing is pheasant nuggets. Going out pheasant huntin', pressing those things up right there, and making pheasant nuggets are the best thing ever. Pheasant nuggets are all me. It's simple: you take a little flour, salt, pepper, garlic powder, you know, stuff like that, lots of butter and if you have a fryer, take peanut oil and fry them up, then take the trimmings and make a gravy and put mashed potatoes on it. Can't beat it.