Jasmine Jordan Talks Legacy, Her Life Inside the NBA
The Last Dance nudged her into the national spotlight, but she was building on her father's basketball legacy in Charlotte long before the ESPN docuseries aired. Here are 11 more things to know about the 27-year-old daughter of Michael Jordan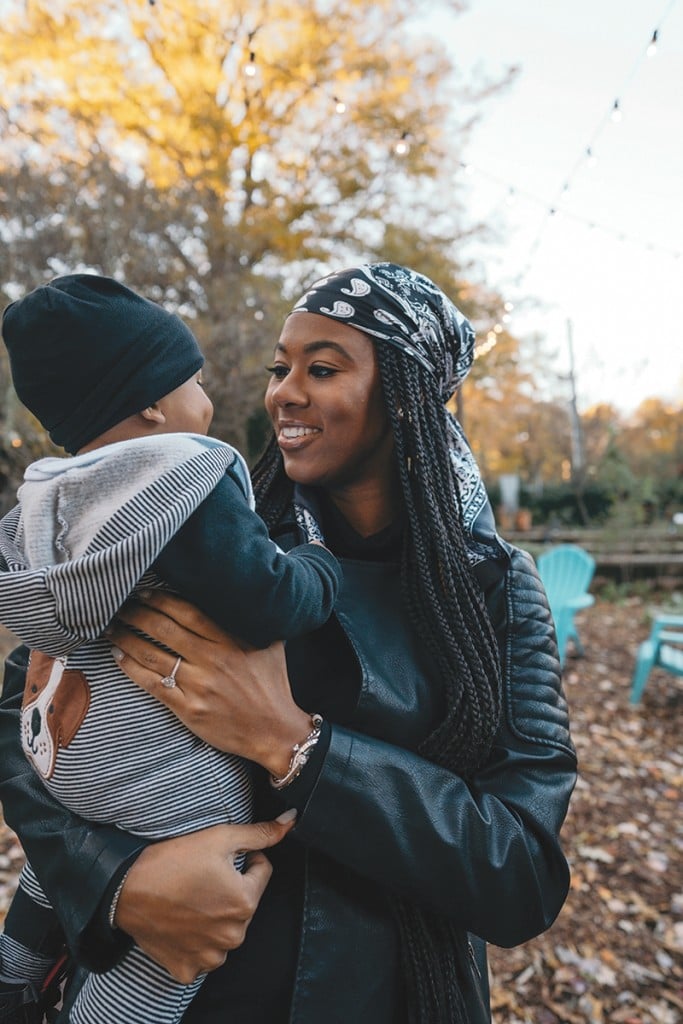 She's in the family business.
Jasmine works at Nike's Jordan Brand, where she represents players for the Charlotte Hornets, the team her father owns, as well as a handful of players from the Dallas Mavericks, the Washington Wizards, and the WNBA. It's her job to make sure her players have sneakers, apparel, and equipment for the season and coordinate all photo shoots and media appearances. She typically travels once a quarter to Portland, Oregon, where her older brother Jeffrey works in digital marketing in Jordan Brand's main office. Jasmine also designs shoes and apparel for the Jordan Heiress Collection, part of the brand's women's division. "I love going to work every day," she says. "That relationship with athletes and the creativity with fashion—it's a burrito of perfection."
She makes room for women in the huddle.
"I always wanted Jordan Brand to understand women," she says, "because it's not just men who wear our sneakers or play basketball." At 10, she would send her dad sketches of jumpsuits, rompers, and sweaters, which he'd give to the apparel team to create one or two sample garments to send back to Jasmine. She calls herself the "original test subject." Today she works side by side with the women's apparel team, and she represents WNBA stars Asia Durr, Kia Nurse, and Maya Moore, the three female athletes signed to Jordan Brand. "My goal is to have 10 or 12 female athletes signed," she says. "As long as I'm with the brand and I have that Jordan name, I'm gonna really push to get more female athletes and show the same love to our women as our men."
The Last Dance gave her a new understanding of her dad's fame.
The 10-part ESPN docuseries chronicles the untold stories of the Chicago Bulls' dynasty in the 1990s. Jasmine was just a toddler at the time, so she saw a side of her dad she never knew when she tuned in each week. "We already have a family group text, and it would explode on Sunday nights. I was like, 'Dad, did you really have to punch Steve Kerr?' My dad is so sweet, caring, and lovable, so to see that light switch come on was kind of scary," she says, laughing. "Like, this is who you are on the court? There were moments where I said, 'Dad, you could have eased up,' or 'I'm gonna need more details on this.'"
Growing up Jordan was surprisingly normal.
Jasmine went to public school in Bannockburn, Illinois, and says she's still friends with classmates from kindergarten. "My parents had to have those sit-downs at school and say, 'This is who we are, let's not make it awkward.' So I didn't get any special treatment," she says. She admits it took her a while to realize why her dad is such a big deal. "I had to Google him when I was 10 or 11. I needed to understand why everyone kept saying my dad was so cool," she says with a laugh. "I don't think my dad ever called himself the greatest of all time—that was given to him."
Her mom is a superstar, too.
Jasmine's mother, Juanita Vanoy, now divorced from her father, didn't participate in The Last Dance. But Jasmine credits her with instilling a sense of normalcy and humility in her and her two older brothers, Jeffrey and Marcus, while her dad was off winning championships. "At one point, I thought I didn't want to go to college, but my mom really hammered in the importance of having that degree," she says. "She told me, 'As a female you work 10 times harder, and as a Black female, you work 20 times harder.' I wanted to build upon my legacy, but I had to make sure I went about it the right way, not just riding the family name."
Competitiveness runs in the family …
"I don't like to lose, and I know I get that from him," Jasmine says. The Jordans have epic game nights, where they play UNO and Jenga. "But our competitive juices can send everyone home. My brothers and I will go weeks without talking to each other." She also loves watching competitive reality shows and wants to go on Floor Is Lava or American Ninja Warrior. "It's an itch I need to scratch," she says.
… but basketball never came naturally to her.
Jasmine grew up watching Lisa Leslie and Sheryl Swoopes in the WNBA and played basketball through middle school. She was always the tallest girl in her class, so many people assumed she'd be an ace on the court. But she laughs and says her height—she's 6-foot-1—is "wasted." "I always loved the game, but more as a fan," she says. "I danced competitively—that was my passion."
She made His Airness a grandfather.
Jasmine is engaged to Rakeem Christmas, whom she met at Syracuse University before he went on to play for the Indiana Pacers from 2015 to 2017. In May 2019, they welcomed their son, Rakeem ("Little 'Keem"), MJ's first grandchild. "As soon as (Dad) laid eyes on him, he was silly putty," she says. "They're gonna be best buds. They FaceTime every day. He calls him Grandpop."
She stays in contact with the Hornets players, even off the court.
During the NBA's suspension of play, and as the Hornets remained outside the NBA bubble (the quarantined facilities in Disney World where 22 NBA teams lived and played games in isolation), Jasmine often checked in with "her guys." "Dwayne (Bacon) is diving into his music career; he loves to rap and write. Cody (Zeller) is turning into Bob the Builder," she says. "They're keeping busy, but they're itching to get back to the game." She says she supports the Hornets and other teams outside the first bubble getting back on the court as long as the right safety measures are in place.
She stood with her dad when he stood up against racism. Jasmine supported her father this year when he uncharacteristically spoke out against systemic racism. After George Floyd's murder in May, Michael Jordan said, in part, "I see and feel everyone's pain, outrage, and frustration. I stand with those who are calling out the ingrained racism and violence toward people of color in our country. We have had enough." He announced that he and Jordan Brand would donate $100 million over the next 10 years to organizations dedicated to racial equality. "When my father spoke out on it, I was proud," Jasmine says. "He is very private but there are times when you have to or need to speak out, and this is one of those times."
Charlotte is her home.
Jasmine's first home was Chicago, but she's grown and strengthened her ties to North Carolina. "It's where my family has been created and cultivated. Even though my dad played in Chicago, he's true to his roots. He reminds you of that, that he's from North Carolina," she says. "I got engaged here; I had my son here. I love it here, and I want to give back and be a part of the community that's supported us from day one. I want to make sure Charlotte knows who I am as Jasmine, a humble individual, but part of an incredible family."
> Read more from our interview with Jasmine in the October issue of Charlotte magazine.