Jay Z Delights Fans at Charlotte Concert After-Party (Photos and Video)
The hip-hop mogul gave plenty of face time at party he hosted at Label nightclub on Saturday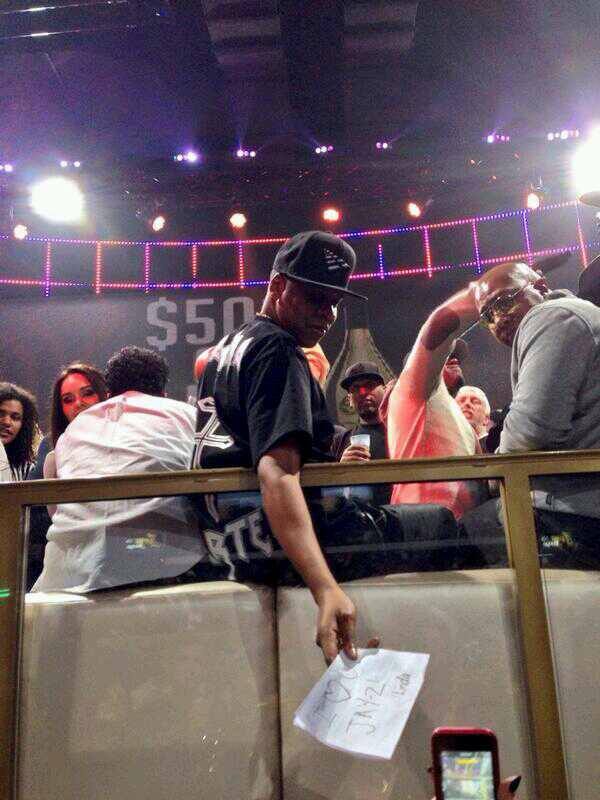 Unlike many celebrity-hosted parties in which those in attendance barely get a glimpse of the star they came to see, last night's Magna Carter Tour After-Party at
Label
was a treat for Jay Z fans. The "Holy Grail" rapper showed up to the nightclub shortly after midnight, which was pretty impressive considering his concert at Time Warner Cable Arena had only ended about an hour earlier.
The party was presented by
D'ussé
, the brand of cognac that launched less than two years ago (it's a VSOP that's aged at least four and a half years) that Jay Z has a partnership with. And he took center stage, literally, as his VIP section was on the stage at the front of the large nightclub. He could've easily mingled in the middle of VIP, leaving himself out of view to most. Instead, for about an hour and a half, he perched himself atop the back of one of the white leather couches, leading his entourage and other special VIPs (including locals such as
NC Music Factory
co-owner Rick Lazes and legendary-rapper-now-Charlottean Ed "Special Ed" Archer) to do the same. Jay Z would periodically turn around and wave to fans and even took a moment to sign a few autographs.
A number of celebrities also made their way over to HOV's VIP to say what's up. One of the most noticeable was South Carolina Gamecocks football star defensive end Jadeveon Clowney—it would be hard to miss the six-foot, six-inch-tall Rock Hill native. Jay Z's Roc Nation Sports agency was widely known to be courting Clowney, anticipating his decision to enter the 2014 NFL Draft. But a day before the footballer and the rapper were hobnobbing at Label, Clowney
reportedly signed with a different sports agency
. He still proudly shared the
photo he took with Jay Z
on his Instagram account though.

Photos by Jon Strayhorn/Media Arts Collective.
Below is a two-and-a-half-minute
video
I took of the party.
Be sure to bookmark www.charlottemagazine.com/Blogs/Dusk-Till-Dawn to stay plugged into Charlotte's nightlife and social scene. Click here to sign up to receive the weekly Dusk Till Dawn e-newsletter. Follow me on Twitter @HollidayInk; email me at jarvish@grownpeopletalking.com.