Jazz Alley, Soulful House Party, Latin Fridays, Black Attire Affair, and More – Nov. 13-16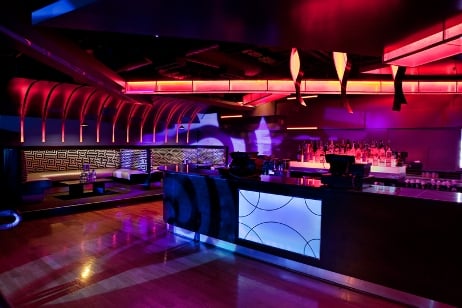 There are only a couple more weeks before the holiday season begins to dominate your schedule. Enjoy your varied social itinerary while you can.
Thursday, November 13
The Thursday After-Work Flow
Taking place the second Thursday of each month, this after-work event features a live jazz band, followed by hip-hop and R&B music from DJ Shogun, and food and drink specials. Presented by Digital Divas and Talk of the Town Marketing and PR. 6-10 p.m. Free admission. Sydney's Martini and Wine Bar, 401 N. Tryon St., sydneysmartiniandwinebar.com, conta.cc/1v8u9yT.
We.Are.CLT Presents The Social Hour
It's a networking event series, complete with an after-party, with drink specials, light hors d'oeuvres, and music by Harvey Cummings and DJ Stampede. Network and mingle, 7-9:30 p.m.; after-party, 9:30 p.m.-until. Free admission until 9:30 p.m. with RSVP. Suite, at EpiCentre, 210 E. Trade St., suitecharlotte.com, thesocialhouratsuite3.eventbrite.com.
International Night
Dance to music from around the globe, played by DJ Nando and DJ Dim. 9 p.m.-2 a.m. Free admission; VIP tables available. Bubble, at EpiCentre, 210 E. Trade St., bubblecharlotte.com.
Friday, November 14
Release: Classic and Soulful House Party
The organizers promise "real house music, the kind that permeates your mind, body and soul." Featuring DJs: Deep House Providers, Gary Jackmaster Wallace (Chicago), Marcuis, Badala Brown (New Jersey), That Guy Smitty, Marshall Jones (New York), Stacey Blackman, and more. 7 p.m.-2 a.m. $5 before 10 p.m.; $10 after. Petra's Piano Bar, 1919 Commonwealth Ave., petraspianobar.com, facebook.com/events/727892883964331.
Art. Fashion. Music.
Bubble, New Gallery of Modern Art, and Lipp and Silverfly boutiques bring you a night of art, fashion, and music featuring a fashion show inspired by a selection of works by Robert Mars. There will also be complimentary appetizers, a complimentary glass of champagne, a silent auction, and the first 100 people will receive a gift bag. 8-10:30 p.m. Free admission. Bubble, at EpiCentre, 210 E. Trade St., bubblecharlotte.com.
Latin Fridays (weekly event)

DJ Will DC will play a mix of Latin hits, while you enjoy the tequila flights drink specials. 9 p.m. Free admission. Texicali Taco & Tequila Bar, 900 NC Music Factory Blvd., texicalicharlotte.com.
Jazz Alley: An Evening of Jazz, Billiards and Bowling
Charlotte's contemporary jazz lovers are invited to unwind, socialize, and enjoy smooth jazz from saxophonist Dante Lewis and guitarist Jmichael Peeples, along with bowling and billiards. Admission includes one drink ticket and light appetizers. Presented by Carolina Jazz Friends. 9 p.m.-midnight. $18 and up. Strike City, at EpiCentre, 210 E. Trade St., strikecitycharlotte.com, eventbrite.com/e/jazz-alley-an-evening-of-jazz-billiards-and-bowling-tickets-13445627233.
Dance-Aholic Tour
Popular EDM DJ Benny Benassi returns. Brought to you by Disco Donnie Presents and Sugar Society. 9 p.m.-2 a.m. General admission, $25. Label, 900 NC Music Factory Blvd., labelcharlotte.com.
Saturday, November 15
Vintage Charlotte Winter Market
VTG CLT is popping up for its third annual winter market, offering an afternoon of shopping from more than 60 local vintage and handmade vendors. There'll also be coffee from Central Coffee Co., swag from Yelp Charlotte, and food from Juan Taco Food Truck, Bleu Barn Bistro, and King of Pops. 11 a.m.-6 p.m. Free admission; or $5 for 10 a.m. entry. The Fillmore Charlotte, 1000 NC Music Factory Blvd., facebook.com/vintagecharlotte.
Twonkaholics Fall Tour
DJs Brillz and Snails will rock the party. Brought to you by Disco Donnie Presents and Sugar Society. 9 p.m. $20 in advance. The Chop Shop, 399 E. 35th St., chopshopnoda.com.
Eclipse: The Annual All Black Attire Affair
Several Charlotte party promoters are joining forces on this event, and your finest black party attire is requested. 9:30 p.m.-2:30 a.m. General admission, $10; VIP booths available. Phoenix, 300 N. College St., phoenixcharlotte.com, eclipseclt2014.eventbrite.com.
Cocktails | Dance
This South End nightclub typically reaches capacity on Saturday nights, and this go-round celebrates the club's marketing director and promoter James Nguyen. Music by DJ Edward Shouse. 10 p.m.-2 a.m. Free admission; VIP tables available. Oak Room, 200 E. Bland St., oakroomclt.com.
Fifth Annual W.U. Homecoming Alumni Party: Garnet Wishes & Gold Dreams
Winthrop University alumni and friends are invited to this homecoming weekend party, with music by DJ Skillz. 10 p.m.-2 a.m. $20 in advance. Studio Movie Grill, at EpiCentre, 210 E. Trade St., epicentrenc.com/venues/studio-movie-grill, wuhomecoming2014.eventbrite.com.
Off the Wall: Best of the '80s Vol. 6
Celebrate 1980s hip-hop and pop music, played by DJ Justice and DJ Aing. And you're encouraged to wear attire inspired by that era. Presented by The JETA Team. 10 p.m.-3 a.m. Free admission. Crown Station Coffee House & Pub, 1425 Elizabeth Ave., crownstationpub.com.
Sunday, November 16
Art & Soul
This community-focused event will feature tastings from local restaurants, live music, an art auction, and showcase local businesses. Presented by Historic West End Partners. 3-6 p.m. Free admission. Latibah Collard Green Museum, 720 Tuckaseegee Rd., latibahmuseum.org,
Biz Launch 101
It's a business and networking seminar, offering a step-by-step guide to establishing your brand. There'll be gift bags, giveaways, food, and drinks. 3-6 p.m. $15. Ashleigh P. Hair Studios, 3120 N. Davidson St., bizlaunch101.eventbrite.com.
Label On Sunday: Panthers vs. Falcons After-Party
This edition of the weekly Sunday night party welcomes Panthers and Falcons fans, and will include music from DJ Ngenius and DJ Cuttz. 10 p.m.-2 a.m. Wear your team's jersey for free admission before 11:30 p.m.; general admission, $10 and up. Label, 900 NC Music Factory Blvd., labelcharlotte.com, thesolkitchen.com.
One to Watch… The Week Ahead
Wednesday, November 19
Dusk Till Dawn Social Series
Charlotte magazine's monthly #DTDsocial continues, and guests will enjoy a complimentary first cocktail (get there early), complimentary hors d'oeuvres, drink specials, and the chance to win a gift card from the event's sponsor, Diamonds Direct. 5:30-7:30 p.m. Free admission; RSVP required. Enso Asian Bistro & Sushi Bar, at EpiCentre, 210 E. Trade St., www.charlottemagazine.com/DTDSocialSeries.
Verify dates, times, prices, and other info at the web addresses listed for each event.
Be sure to bookmark www.charlottemagazine.com/Blogs/Dusk-Till-Dawn to stay plugged into Charlotte's nightlife and social scene. Click here to sign up to receive the weekly Dusk Till Dawn e-newsletter. Follow me on Twitter @HollidayInk; email me at jarvish@grownpeopletalking.com.