Jazz at the Bechtler Marks Museum's Fifth Birthday at Knight Theater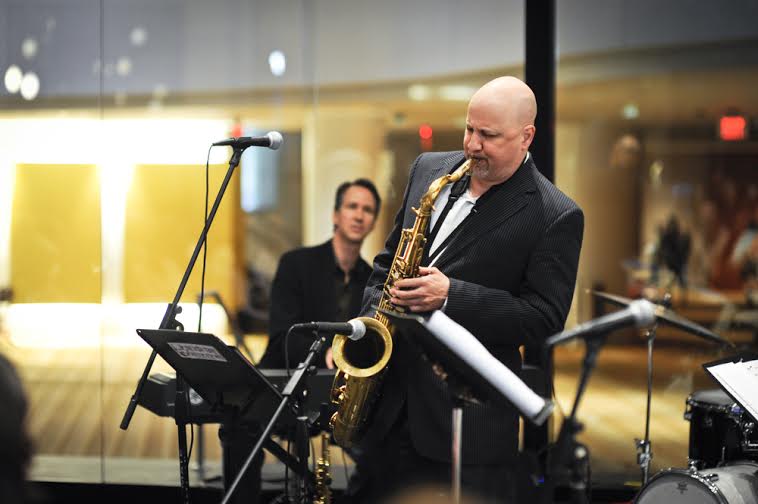 Since 2010, the Ziad Jazz Quartet has packed the Bechtler Museum of Modern Art's lobby. The formula for the program, dubbed Jazz at the Bechtler, is simple: one quartet, one theme, one lobby, and two shows on the first Friday of each month. But for Jan. 2's Birthday Bash, the variables were changed. "We decided, 'Let's do something big,'" said Ziad Rabie, the saxophonist who leads the quartet each month. "It's the museum's 5th anniversary, and that's a huge deal."
Friday's program is a single show, and for one night, the backdrop is the Knight Theater, the 1,191-seat venue connected to the Bechtler. Like the venue, the quartet will also get bigger, adding past guests like keyboardist Noel Friedline, drummers Rick Dior and Al Sergel, bassist Ron Brendle, percussionist Jim Brock, trumpeter Jon Thornton, trombonist Rick Simerly, and vocalists Toni Tupponce and Maria Howell.
"By virtue of what we were able to do over the last 4-and-a-half years, we'll be pulling on that," Rabie says. "We're bringing some of those guest artists who have been with us over the years and we'll try to reprise that time."
Jazz at the Bechtler started shortly after the Bechtler opened, on January 2, 2010. It only took a few shows for the program to begin it's sell-out streak, which is still going strong. Themed concerts have become traditions for Charlotte fans, including the "Holiday Jazz" concert and February's "Jazz for Lovers."
"I think there had been a local jazz audience that was looking for a presentation that was professional and enjoyable," Rabie says. "It brought them out of the house, in a way. With a place like the Bechtler, that's where they wanted jazz and how they wanted to see it."
It would appear that the jazz scene has only gotten stronger, too. The Jazz Room, another Charlotte series, takes over the Stage Door Theater each month. Both programs are notable for featuring local and touring talent, reaching not only local jazz-lovers, but professionally trained musicians who call the city home. With that, and other opportunities to sit in across town, Charlotte retains its jazz players.
"It's a beautiful thing that jazz is taking hold in Charlotte, and that other people are doing it," Rabie says. "This town is ripe with talent that has never been recognized. They had the ability and deserved to be playing it places like this, and now they are."
For those who have attended Jazz at the Bechtler shows since the beginning, the Friday concert is a chance to reflect. Selections from "Celebrating Five Years: A Jazz at the Bechtler Birthday Bash" are teased as "standards and classics" on the Bechtler's website. Rabie gives another hint to what we'll hear, adding that visiting performers are involved. "We'll look at some of the popular songs that each of the guests has done over the years," Rabie says.
But can he get specific? "I can't do that," he laughs. "But longtime fans are going to be pleased."
"Celebrating Five Years: A Jazz at the Bechtler Birthday Bash" is set for 7 p.m. Friday. Tickets run $25 for non-members and $22 for museum members. The price for Jazz Affinity Group Members, Firebird Society Members, or Modernist Society Members is $18. Purchase tickets here.