Jazz Pianist Claire Ritter Finds Inspiration on Horseback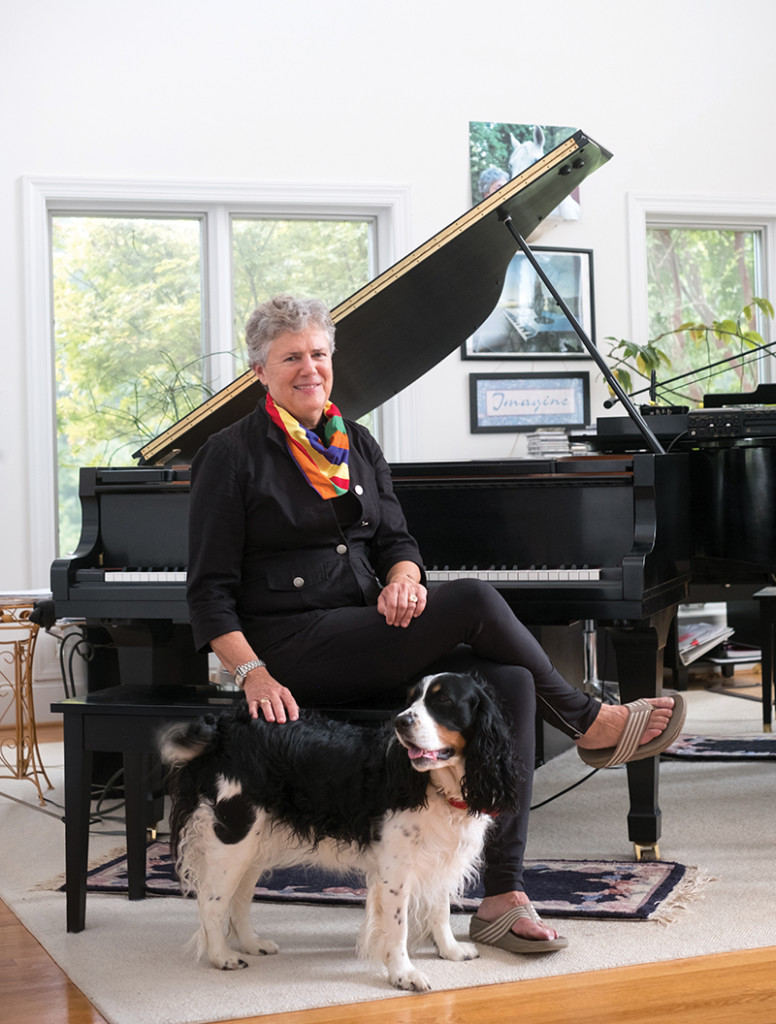 SURROUNDED BY a 14-acre family stand in Weddington, sultry summer breezes, and red-shouldered hawks, acclaimed jazz pianist and composer Claire Ritter rides in solitude with the equestrian skill of her great-uncle, fabled Hollywood cowboy of 1930s westerns Randolph Scott.
Though she lives only 25 miles from uptown, Ritter finds frequent muses in the property's wispy grass, blue herons darting about the lakes, and her aunt's well cared-for horses.
"It's my slice of paradise," she says. "The land has been in the family since 1958, and we've always had horses. I remember riding bareback as a young girl through these fields, and finding arrowheads from the Indian paths leading to Waxhaw."
Ritter, a North Carolina Arts Council jazz fellow and four-time recipient of the Arts & Science Council's Regional Artist Grant, has studied and performed with some of contemporary jazz's greatest minds. She's worked with pianist Ziggy Hurwitz, a Charlotte Symphony arranger and jazz teacher, and Mary Lou Williams, who arranged numbers for Duke Ellington and Benny Goodman.
Curious and devoted jazz fans can experience her music on October 7, when Ritter performs at Queens University. Pianist Ran Blake, a MacArthur "genius grant" recipient and Ritter's longtime mentor, will join her for the concert, which will premier new work by each. Cellist Tanja Bechtler and saxophonist Kent O'Doherty will also sit in.
Ritter met Blake decades ago, back when she left her native Charlotte in the early '80s and took her voice to Boston in search of a more developed jazz scene. The two connected at the New England Conservatory of Music (NEC), where Blake is the founding chair of the contemporary improvisation department.
The conservatory is known as a hotbed of the "third stream" approach to jazz. The term was coined by former NEC President Gunther Schuller, to describe the offspring of the marriage between classical and jazz music. The resulting crisp and stylish flow evokes a sporty convertible speeding along a coastal highway on a cloudless day. Blake expanded the notion to include fusion, involving an even wider variety of global influences.
Ritter studied with Blake at NEC and, in her final year there, she taught a contemporary songwriting class while an artist-in-residence. Although Ritter made important professional connections while in Boston, the call of North Carolina's open space became too great to resist.
"I got homesick, especially for my horse," she says. In 1997, Ritter returned to the solitude and inspiration for her music in Weddington. She built a home and studio, where a dense line of trees flanks the gravel road leading to her front door. A burnt-red barn sits silent sentry along the approach, fronting an open pasture ringed by a chalk-colored fence. Visitors are welcomed by a sign that reads "Tangos Hill." The moniker comes from Ritter's composition "Beyond a Tango," from her 2001 album Castles in the Air.
"Claire's anchor is jazz, yet her rudder and map are uniquely her own," says Craig Bove, chair of the music department at Central Piedmont Community College. Bove has worked with Ritter on several concerts at CPCC, and is familiar with her compositional style: "She likes to explore what jazz language can render, and within that framework, she finds paths that other composers don't often discover."
Ritter's approach to modern jazz—melding classical music and contemporary jazz stylings—can be likened to a pastry chef combining the distinctive flavors of chocolate and coffee to achieve mocha. Each element is distinct, yet complementary of the other. Ritter's compositions yield clean, structured chords that still leave room for improvisation, surprising phrasing, and nuggets of interesting note combinations.
"Jazz musicians love to record Claire's music because of the sound of surprise," says Blake, whose appearance in Charlotte will be his first here. "At times, it seems clearly defined, and suddenly she'll pull the curtain from the window and you'll be very surprised. Her work is so natural and refreshing; she has pop sensibilities but knows when to put horseradish into her music."
When Ritter's voice breaks out in her music, much of her inspiration comes from the space that surrounds her at home. "I love wide-open spaces," she says. "Things that intrigue me, that are enigmatic, are things I'm curious about and inspire me."
MICHAEL j. solender is a Charlotte-based freelance writer. Find him at michaeljwrites.com.
What: Pianist/composer Claire Ritter and modern pianist Ran Blake
When: October 7, 7 p.m.
Where: Dana Auditorium, Queens University, 1900 Selwyn Ave.
Admission: Free